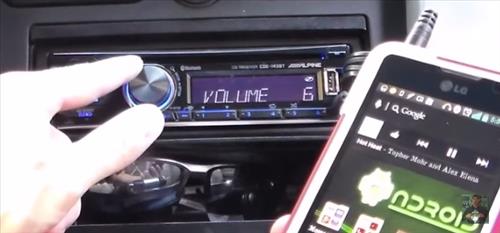 Connecting a smartphone (android or iPhone) to a car audio system can be done cheaply and easily.

Here are five ways it can be done picking the one that is easiest for you.

FM Transmitters
A FM transmitter can play music on its own from over-the-air sources or sync with a smartphone to play music from it. This include poplar services such a Pandora and your own audio files.

FM Transmitter On Amazon


Portable Speakers
Another option is to bypass a cars audio system and use a set of portable speakers. Most are powered by rechargeable batteries and don't have to always be plugged in to work. This is also a good option for going to the beach or camping.

Portable Speakers On Amazon


Bluetooth
Bluetooth is another option if the car stereo is capable of transmitting Bluetooth. It can drain a phones battery but it can always be simply plugged in to charge.

Check out the video at the bottom of page to see how.


Bluetooth Add-on Devices
If your car or truck stereo doesn't have a Bluetooth option than a Bluetooth add on device can be bought to transform it into a one. The most common way is to use the sterio jack that is feed into a Bluetooth transmit/receiver which a smartphone can than transmit to.

Portable Wireless Bluetooth Device Amazon

Analog Cable
If your vehicles radio has an audio jack than a cheap audio cable can be bought that runs from a smartphone to the radio.

This is one of the cheaper solutions and possibly the most common method.

Analog Cable On Amazon
Sentey Audiophile Grade 3.5mm Audio Cable Stereo 3ft Male to Male


Summary
One method does not fit all and choosing the right one will depend on the scenario. Hopefully one of the above methods of playing music from your smartphone to a cars audio system will work for you.