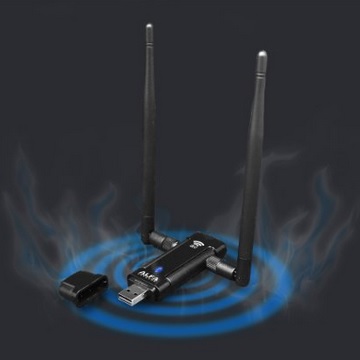 When it comes to gaming a wired connection is always preferred over WiFi but is not feasible in many cases.

If you find yourself in a scenario were only a WiFi connection can be used than not to worry as there are many USB adapter options.

First lets break down what makes for a good USB WiFi connection.

Distance
As anyone who has used WiFi knows distance is a problem. The farther you are from a access point the worse it becomes.

Things that can help with distance is better antennas, minimal barriers, and the frequency that is used. USB adapters that have bigger antennas can always help but what many don't realize is that the frequency used is also a big factor.

The new 5 GHz frequency that many dongles use simply don't transmit as far as the old 2.4 GHz band.

This is because of the physics of lower frequencies able to transmit better past barriers.

Most newer dongles come as dual band USB adapters so this isn't much of a issue. The reason for the 5 GHz dongles is since the 2.4 GHz band has become so crowded.

If you don't live in a crowded WiFi environment the 2.4 GHz band will be better for distance.

Speed
Speed is always a factor with WiFi and here are some facts to know.

The newest WiFi protocol in 2015 is the 802.11ac protocol. This measures what frequency that is used and how fast a dongle can transmit.

802.11ac can transmit up to 1.3 Gbps.

802.11ac only works in the 5 GHz band so if distance is a factor using the older Wireless-N in the 2.4 GHz range may be better.

Wireless-N can transmit up to 150/300 Mbps.

So what is the best USB wireless gaming adapter?

Since everyone's computer setup and price range will be different here is our picks.

Our Picks for Best USB Wireless Adapters For PC Gaming
The TP-LINK T4U AC1200 is a dual band 802.11ac adapter.

It has WiFi speeds of 5GHz (867Mbps) and 2.4GHz (300Mbps) and can transmit on both at the same time.

The TP-LINK AC1200 is a follow up to their popular AC600 series of USB adapters adding 802.11ac support.


The Alfa AC1200 is a dual band desktop USB adapter that is built for range and speed.

Its two 5 dBi antennas help to pick up and transmit to signals that are farther away.