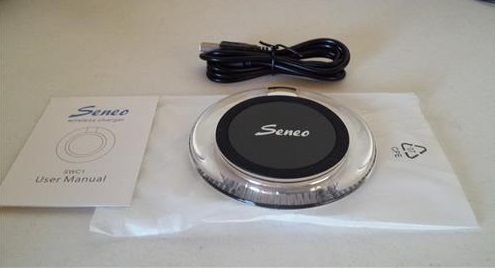 This unit was sent to me to review with my honest opinion and results below.

Wireless charging no doubt has a lot of advantages, is very cool and a lot of fun.

Also called Inductive charging it uses an electromagnetic field to transfer energy between two devices.

Setting a phone on the charging pad with out plugging in any wires and watching the phone charge is an amazing feature.

The functionality of a wireless charger is also beneficial since there is no need for wires being plugged into the phone.

The charging station needs to be plugged via a cable and setup in a spot that is easy to set your phone on.

The surface is flat and the phone simply sits on top of to charge.

There are many units to chose from with the one we are reviewing today called the Seneo Qi Wireless Charging Pad.

The Seneo Qi is a android charging station for Qi-enabled phones and devices such as the Samsung Galaxy S6, Edge, Plus or any other of the many other QI capable devices.

It comes with a USB charger, instructions, and the wireless charging pad itself.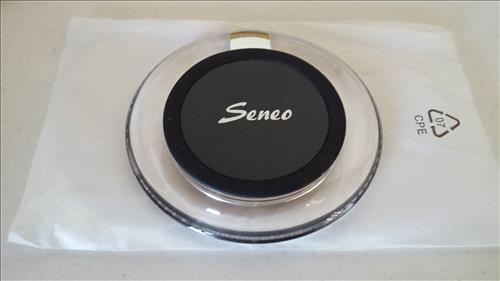 Using it is simple enough as it simply needs to be plugged in and once a QI-enabled phone is set on top of it the charging automatically starts.

Keep in mind wireless charging is slower than using a cable and plugging it in.

This will make little difference for overnight charging but will matter if you need the battery charged quickly.

It will depend on the phone being charged for how quickly it charges but in general it can take twice as long. You may get much faster times deepening on the phone and placement on the pad.

*This post contains affiliate links which at no cost to you allows us earn a commission on product purchases.

Read More Reviews Here on Amazon
Seneo iPhone X Wireless Charger, Qi Wireless Charging Pad Stand for Apple iPhone X iPhone 8 iPhone 8 Plus, Samsung Galaxy Note 8 S8 S8 Plus S7 S6 Note 5 and All Qi-enabled Smartphones



Summary
The Seneo Qi is a good low cost charger for those on a budget.

The the USB charging cable that goes to the Seneo didn't come with a A/C wall outlet adapter.

I have many small USB ports to plug it into but it is something to keep in mind since you will need a USB port to plug the charger into.

Also placement of a phone on the pad can be critical to get the best charge.

Each phone model will be different placement on the on the mat as well as how fast it takes to charge.

Wireless charging is a great feature and beneficial to many owners, simply be aware of its limitations.

Something I have found great about using such a device is if the power plug on a phone is going bad it no longer needed replacing.

As always be sure to read the reviews on Amazon or elsewhere to be sure it is a good fit for you.