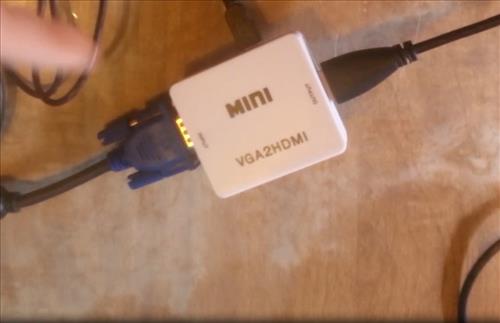 Recently I bought a new flat screen TV for my small office space which was great until I tried to hook up my laptop to it and there was no VGA port.

The only Video input on the new flat screen was HDMI and component video. And the only Video output on my laptop was VGA.

The laptop is 2-3 years old but does everything I need it to so I have no need to upgrade it yet.

My first thought was I could simply buy a cable that would simply reroute the wiring to a new HDMI plug. But this is not the case with VGA to HDMI.

The older VGA standard video is not compatible with HDMI so a converter box is needed to convert a VGA signal to a HDMI signal.

I read up on a few an Amazon and ordered one but it didn't work for me and I ordered another one called Portta White WSPETVHP VGA Audio to HDMI 1080p Converter Adapter, that was slightly more but worked great.

Here it is on Amazon
Portta VGA + 3.5mm Audio to HDMI Mini Converter v1.3 support Uncompressed 2 Channel such as LPCM White


It didn't come with any VGA or HDMI cables but I had some laying around.

All I had to do was plug the connections in and it began working.

At first the screen jittered slightly so I lowered the video resolution and it stopped.

Here is a video I made hooking it up.