cCloud is a popular IPTV Kodi addon that streams live TV.

It is located in the poggod repo which is located at top tutorials repo.

Installing it is the same as any Kodi add-on with having to install the repo url.

For those who simply need the URL it is http://toptutorials.co.uk/kodi within repos and is the repository.podgod-1.7.zip.

For those new to installing Kodi add-ons below is the step by step install with pictures.

Step by Step How To Install cCloud Kodi add-on

1…System–>File Manager



2…Add Source



3…Click the box that says "None" and enter this URL. http://toptutorials.co.uk/kodi



4…
Click "Enter a name for this media and type", Top Tutorials Repo



5…
Be sure everything is correct and click OK.



6…
From the main menu click, System–>Settings



7…
Add-ons



8…
Install from zip file



9…
A box will slide open click, Top Tutorials Repo



10…
repos



11…
Select repository-podgod-1.7.zip if there is a newer version install it.



12…
The bootom right of the screen will popup and say installed or updated.



13…
Install from repository



14…
podgod repo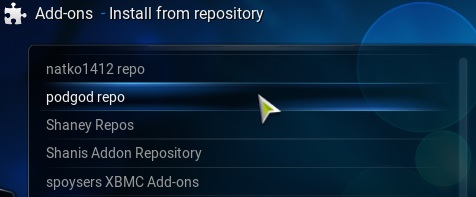 15…
Video add-ons



16…
Click cCloud TV and it will install.



17…
After it is installed it will be located in Videos–Add-ons from the main menu.




Manual Download and Install
If you have problems installing the repo above the files can be downloaded and installed manually.

Installing the repository with-in Kodi is the most common method but a manual install can also be done.

Go to the URL http://toptutorials.co.uk/kodi/repos/ and download repository.podgod-1.7.zip



From System–>Settings–Add-ons click Install from zip file and direct it to the file location.


For PC computer users save the file to C: as Kodi will not see the Desktop or Download folder.

You will than be able to follow from step 13 above.