External USB WiFi adapters are a easy solution to give a computer wireless internet capability.

Setting one up is easy and usually Plug and Play as long as it matches the correct version of Windows installed.

A WiFi adapter also called a dongle simply plugs into a USB port and transmits a WiFi signal.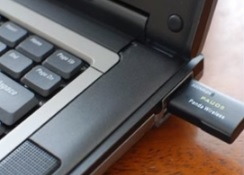 Wireless dongles are used for a variety of situations, from the internal WiFi on a computer going bad to simply wanting to upgrade for a better signal.

Which WiFi dongle is best will depend on your computer setup, transfer speed, distance, and budget.

*This post contains affiliate links which at no cost to you allows us earn a commission on product purchases.

Our Picks for Best External USB WiFi Adapter Dongles for a PC

This small wireless USB adapter from Panda can work with most any operating system.

The makers have good support and always update the drivers to work with new operating systems such as Windows 10.

It is small so the range will be about the same as a laptop built-in WiFi.

If you want a simple cheap Plug and Play option that will work with most any OS form Windows XP to Windows 10 than this is a good one to get.


……
The TP-LINK T1U is a dual band USB dongle .

Dual Band is when a adapter works in both the old 2.4 GHz frequency and the new 5 GHz frequency.

It also has the newest 802.11ac wireless protocol for high speed data transfer. The 802.11ac protocol can work up-to 3X as fast as the older Wireless-N.

The TP-LINK T1U supports any version of Windows from XP to Win 10.


…….
The Alfa Long-Range Dual-Band AC1200 is built for speed and distance.

Most go with the smaller adapter like those above and wont need something with large antennas.

If you are looking for distance and speed than this one is worth a look at.


Summary
As always be sure to read the reviews on Amazon or elsewhere to be sure the adapter is the right one for your setup.

Most setups will only require a small cheap adapter which have about the same range as a laptops built-in WiFi.