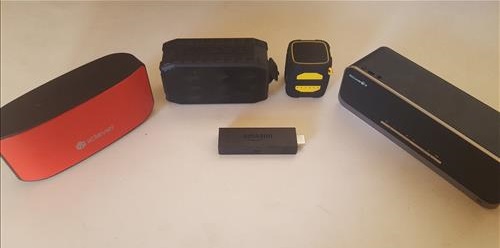 The Amazon Fire TV Stick is nice for streaming content into your home, from videos to music.
A TVs built-in speakers play sound well enough depending on the brand with some better than others.
One way to improve the sound is to Pair a Bluetooth speaker to the Fire TV Stick which is a nice quick easy upgrade.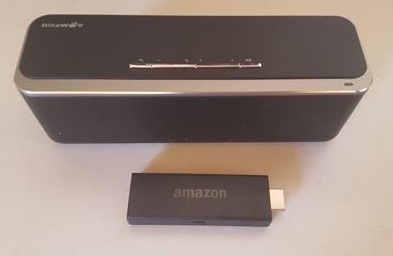 A nice feature of a Bluetooth speakers is they can be moved about and taken to the best spot for sound.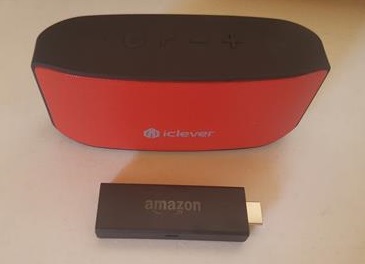 There are many good Bluetooth speakers available for the Fire TV stick with some of our favorite options below.
As always be sure to read the reviews on Amazon, forums, here, or elsewhere to be sure a unit is a good fit for you.
*This post contains affiliate links.
Our Picks for Best Amazon Fire TV Stick Bluetooth Speakers 2019
TaoTronics Bluetooth Soundbar

Soundbar, TaoTronics Three Equalizer Mode Audio Speaker for TV, 32-Inch Wired & Wireless Bluetooth 4.2 Stereo Soundbar, Optical/Aux/RCA Connection, Wall Mountable, Remote Control

Having a soundbar connected to a TV gives the best sound on a budget and is easy to hook up.

There are many soundbars available with the TaoTronics unit one of the best for the money.

It can hook to a TV with a wired or wireless Bluetooth connection.

The Fire TV Stick can connect wirelessly to the soundbar playing stereo audio from a TV.

If you want the best TV audio experience a good soundbar is hard to beat.


ZoeeTree S1

ZoeeTree S1 Wireless Bluetooth Speaker, Portable V4.2+EDR Stereo Speakers with Loud HD Audio and Bass, Built-In Mic, FM Radio, 12H Playtime

The ZoeeTree S1 is a low-cost unit with a blue outline.

It has strong Bass for a nice sound along with 10 hours of battery life.

It is nice unit for home and Pairs easily with a Fire TV Stick.


DOSS

DOSS Touch Wireless Bluetooth V4.0 Portable Speaker with HD Sound and Bass, 12H Playtime, Built-in Mic, Portable Wireless Speaker for iPhone, Samsung (Black)

DOSS makes this Capacitive touch model that comes in black, blue, red, or white.

It has a 12 hour battery life and two 12W stereo.

It is a unit that works great with the Fire TV Stick and has a good sound.


JBL Flip 4

JBL Flip 4 Bluetooth Portable Stereo Speaker – Grey

The JBL Flip 4 is a very nice unit that for those with more to spend.

It has built-in 3000mAh battery with up-to 12 hours of play time.

It also can connect with 2 smartphones or tablets.

How To Setup a Bluetooth Speaker With the Amazon Fire TV Stick
Paring a Bluetooth speaker with the Amazon Stick is easy.
Go to Settings and Controllers & Bluetooth Devices.

Select Other Bluetooth Devices

Select Add Bluetooth Devices

The Fire Stick will then go and search for any Bluetooth device within range. Simply select the unit to automatically Pair.


Most Bluetooth speakers will automatically be ready to be paired when powered on.
Summary
Having a external speaker with the Fire TV Stick is not necessary if you are happy with a TVs built in speakers.
If you are unhappy with your TVs internal speakers than external Bluetooth units are a good low cost solution.
A nice thing about Bluetooth speakers is they can easily be Paired with another device such as a smartphone, which makes them multi-use devices.
Units range from small to big and low cost to expensive.