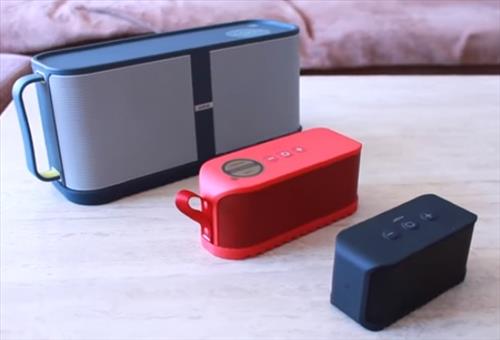 Smartphones, tablets, and laptops have become incredibly useful devices for media consumption over the past few years. Between more portable form factors, bigger/clearer displays, and faster performance, the process of using our devices for playing games, listening to music, and watching movies has only gotten more and more enjoyable.

However, one area that is often overlooked on our portable gadgets is the audio speaker. Manufacturers change the placement of the speaker and partner with various audio-centric companies to get the best sound possible out of their products, but you can only pack in so much punch to built-in speakers.

You can definitely get loud volume out of them, but if you love your audio to hit you in the face with a whole lot of bass, built-in speakers more than often leave you wanting something more.

While you could plug in a full speaker system to enrich your audio, that diminishes the portability factor of your devices. So how can you amp up your audio to get powerful bass while still keeping your smartphone, tablet, or laptop portable?

Lets take a look some popular portable Bluetooth speakers.

…….
When you think of audio, one of the first companies to come to mind is more than likely Bose.

Bose has been in the speaker industry for over 50 years, and their SoundLink III is considered by many to be one of the greatest Bluetooth speakers ever made.

It is one of the largest Bluetooth speakers on our list, but that larger size allows the SoundLink III to deliver an uncompromising punch.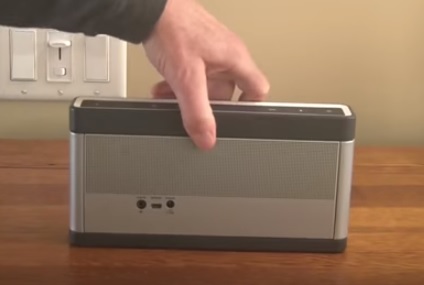 The speaker houses four drivers and two passive radiators which create for rich, luscious, and full-sounding audio.

This means that any and all bass in your music or videos will smack you across the face with more power than should be able to be had in a portable speaker of this nature.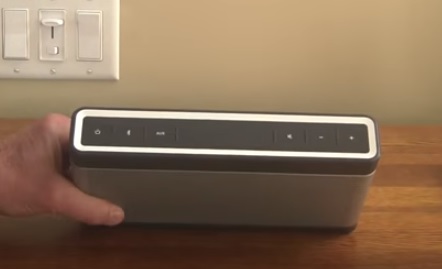 At under $300 you can be the proud owner of the Bose SoundLink III, but I believe it is well worth each and every penny. The saying what you pay for is what you get really does apply here.


…….
The Sony SRSX5 is very similar to the Bose SoundLink III in regards to its form factor.



This is another considerably large Bluetooth speaker, but the design isn't quite as flashy as that of the Bose.

The prices are also quite similar, as the Sony SRSX5 comes in at under $200. Don't let the slightly lower price or less inspired design fool you though, as this speaker is rated to have some of the best bass you can find in this category.

Sony packed in 20 watts worth of stereo power and a subwoofer with dual passive radiators that produce 50Hz to 20 kHz.


If you arent an audiophile, that essentially translates to bass with extremely powerful thumps.

The SRSX5 weighs slightly less than the Bose which makes it a bit more portable (2.6 pounds versus 3 pounds), but the battery life is rated for just 8 hours compared to the Bose SoundLink IIIs 14 hours.

If you are craving bass, I believe the Sony SRSX5 has exactly what you're looking for and then some. Just don't be surprised by the hefty price tag or less than average battery performance.


…….
The speakers we have looked at so far have been big, expensive, fancy gadgets. While still more portable and cost effective when compared to a full-on surround sound speaker setup, the larger size and heavier price tag can be a bit of a deal-breaker for some people.

If that is the case for you, you will definitely want to consider taking a look at the Jabra SOLEMATE.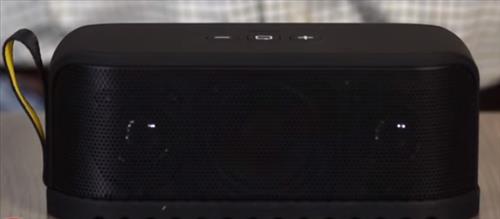 The SOLEMATE gets its name from its shoe-like appearance, and it is substantially smaller and lighter when compared to the Bose SoundLink III and Sony SRSX5.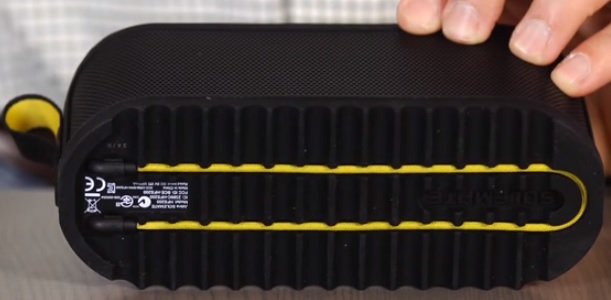 The SOLEMATE weighs it at just 1 pound and is small enough to carry around in a backpack, but dot let the smaller size give you the wrong idea. Jabras speaker is home to three front-facing speakers and two acoustic tweeters, one subwoofer, and a proprietary passive bass radiator.

While the audio the SOLEMATE kicks out may not be quite as loud or powerful as what the SoundLink III or SRSX5 are capable of, I think it really is quite impressive as to how much kick Jabra was able to cram into a speaker of this size.

The SOLEMATE delivers a surprising punch with deep bass levels and enough volume for your cookouts and parties. Plus, the rugged design means that the SOLEMATE will stay safe and secure no matter how wild your music-listening or move-watching sessions get. Jabras SOLEMATE will set you back at under $100, making it considerably more affordable than Bose's or Sony's offerings.

With its smaller form factor, impressive audio, and lighter price tag, I believe the Jabra SOLEMATE easily deserves a spot on your Bluetooth speaker shopping list.


Summary
As with any product, the choices you have available to you reach far beyond the extent of whats been talked about in this article.

Bluetooth speakers are incredibly popular products, and with the summer quickly approaching, you will want to make sure you've got a device capable of delivering impressive audio when jamming out at all of your outdoor gatherings.

Boses SoundLink Speaker III is an insanely powerful speaker, and undoubtedly delivers ridiculously impressive sound with equally impressive battery performance. However, its hefty weight and massive price tag could be big areas of concern.

Sonyas SRSX5 has both a lower price and less-impressive battery life, but also delivers with a stupidly powerful subwoofer design. It may not be the prettiest Bluetooth speaker to look at, but where it fails in aesthetics, it easily makes up for in bass reproduction.

And finally, Jabras SOLEMATE is the ultimate speaker if you want rich bass, an extremely portable/rugged design, and a price that won't break the bank. The speaker you choose will ultimately come down to how you plan to use it, but with any of these speakers, you are sure to get some of the best bass you can find in the market of portable speaker technology.