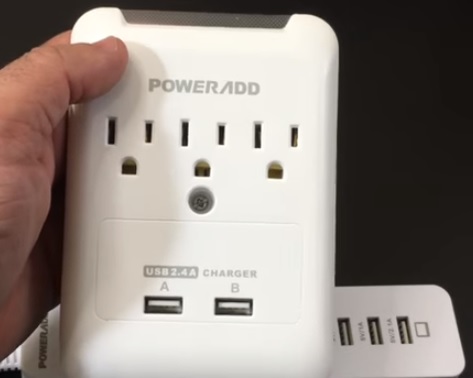 USB charging is here to stay and only more electronics built that charge via a USB slot.

The days of charging from a computer USB port are fading away with new devices able to charge up much more quickly than the amps a USB port on a computer can give.

The average USB port on a PC giving out .5 amps (1/2 amp) while the average phone charger now puts out around 2.4 amps.

New devices with Quick Charge 3.0 use at least 3 amps to rapidly charge.

With all the USB charging needing to be done buying a USB wall charger has become a common fix especially in a busy home or office.

There are many different styles of USB wall chargers including units that have both a AC outlet and USB charging ports.

Here is our picks, as always be sure to read the reviews on Amazon or elsewhere to be sure a unit is a good fit for you.

…….
CyberPower CSP300WUR1 Surge Protector 3-AC Outlet with 2 USB
This low cost unit is from CyberPower and has three AC wall outlets and two USB charging ports.

The two USB slots give out 2.1 amps.

2.1 amps is average for USB charging but is low for QC 3.0 or any rapid charging.

…….
Bestten Wall Mount Surge Protector with Triple 2.4A USB Charging Ports (3.1A Total)
This unit from Bestten has three AC outlets and three USB charging slots.

Each USB port can charge at 2.4 amps.

The design and layout is good and will have you easily charging your devices.

…….
TOPGREENER TU2154A Smart Ultra High Speed USB Charger Outlet 15 AmpTR Receptacle
For those who are handy and have no problem wiring in a outlet than this may be a good one for you.

This is not a plug in adapter it is a full outlet with two AC and two USB power outputs.

It is made to replace a old 110/120 AC outlets and add two USB charging ports.

Obviously this will not be for everyone as it does require some knowledge to wire it in and using one of the above AC power adapters would be a better plug and play option.


Summary
Setting up a home or office to have AC outlets and USB charging ports is becoming more and more common.

There is no escaping the fact that most all new electronics use USB power ports to charge up.

Having outlets that can do both are extremely handy and convenient.