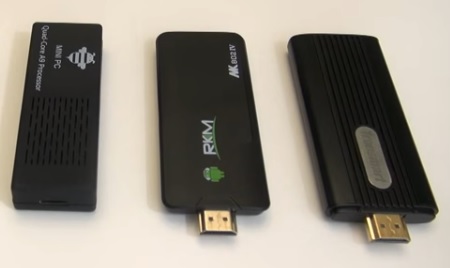 Kodi can now be installed on many different hardware platforms from a Raspberry Pi to a desktop computer.
One of the best ways to run Kodi is with a small wireless TV stick mini PC.
These small TV media dongles are small about the size of a USB flash drive and are packed with hardware.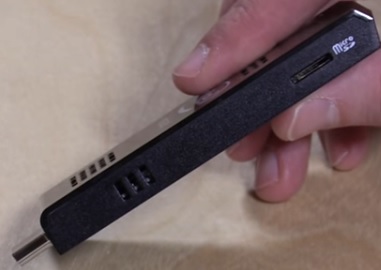 The best thing about such a small sized Kodi stick is that it is small and out of the way, sight unseen.
A Kodi dongle stick simply plugs into a TV HDMI port and is controlled from a remote.
This makes a setup much less cluttered looking than larger Kodi hardware boxes. There are several different Kodi dongles with different specifications and built-in hardware.
Kodi will run on less than the minimum requirements which I have tried but it can be frustrating.
Our Top Picks for Kodi Dongle Wireless Media Streaming Sticks
All-New Fire TV Stick with Alexa Voice Remote
Amazon Fire TV stick has been the go-to option for sometime now.
It does not come with Kodi pre-loaded but can be modified to run it. This does mean that you will need to get a bit technical and mod it but there is a lot of support including YouTube videos and other tutorials.
If you do not feel like you have the skill to mod one than below are options that come with Kodi installed.

Hardware Overview
Processor: MediaTek Quad-core ARM 1.3 GHz
GPU: Mali450 MP4
Storage: 8GB
RAM: 1GB
Bluetooth 4.1
Dual Band 802.11ac WiFi

…….
Intel Compute Stick CS125 Computer with Intel Atom x5 Processor and Windows 10
The Intel Compute Stick is a fully functioning Windows 10 computer in a TV dongle.
Like any Windows computer Kodi is easily installed and run from.
The Compute stick has the best hardware on our list but is also the most expensive.
There is are even better models such as the Intel Compute Stick CS525 which are much faster.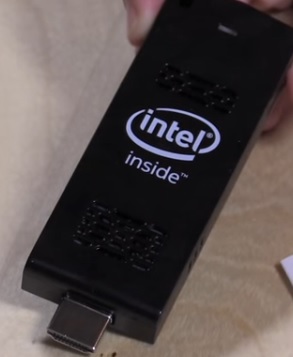 Depending on which one is bought they can come with Windows 10 installed or not installed for at a cheaper price.

If you have some tech skills than loading Windows onto a unit yourself will help save money, if not than get a unit with Windows installed.

While more costly than other options the Compute stick is the fastest mini PC dongle around.

Hardware Overview
Processor: Quad-Core Intel Atom x5-Z8300
Windows 10 (32-bit)
Intel HD graphics
2GB DDR3L RAM
802.11ac WiFi
Bluetooth 4.0
One USB 3.0 and One USB 2.0


Easytone CX919 Quad Core 2GB/16GB Streaming Media Player Android 4.4 TV Stick Wifi Dongle Smart Mini PC Strong Singal with MX3 Wireless Keyboard Mouse Combo

The Easytone CX919 comes loaded with Kodi and many other apps.

It is a good unit for those on a budget and looking for a HDMI TV dongle to run Kodi with.

It is about twice the size of a flash drive and plugs into a TVs HDMI port.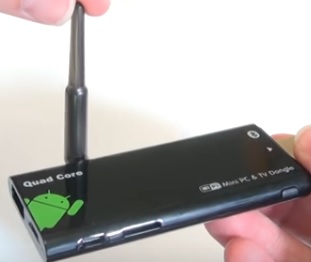 A remote control is included for input.

The has some impressive hardware for such a small unit but shouldn't be compared to a large android TV box, or high-end Mini PCs.

Hardware Overview
Processor: RK3188T Quad-core
GPU: Mali-400
Storage: 16GB
RAM: 2GB DDR3
Bluetooth 4.0
Dual Band 802.11ac WiFi
WiFi: 802.11n


Summary
Having Kodi loaded on a small HDMI TV dongle is a nice way to make any TV into a truly smart TV.
Small units that run Kodi can have less hardware than bigger boxes but are much more portable and good not just at home but while traveling.
For example, plugging a unit into a hotel TV would be a quick and easy task, of course WiFi would be needed.
When deciding with Kodi dongle is right for you be sure to read the review on Amazon or elsewhere to be sure it is a good fit for you. when it comes to the hardware stay at least within the minimum Kodi requirement, dual core CPU and 1 GB of RAM. However you get Kodi up and running it is more than awesome and definitely worth it.
The minimum requirements to run Kodi is a dual core CPU and 1 GB of RAM.