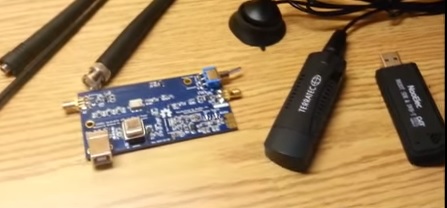 SDR (Software Defined Radio) has become ever easier thank to the many tuners that have come on the market.

A software defined radio USB dongle stick that can pick up a range of frequencies combined with the right software can display a multitude of wireless transmissions.

Everything from train communications to real time plane schedules can be listened in on and watched.

Today's world of SDR takes the old Ham Radio hobbyist to a new level of wireless frequencies and communications.

Software Defined Radio USB Tuner Dongle Sticks

RTL-SDR Blog R820T2 RTL2832U 1PPM TCXO SMA Software Defined Radio (Dongle Only)

RTL-SDR Blog is a known and trusted name in the SDR community.
Product Features
R820T2 tuner
Frequency capability 24 MHz to 1.7 GHz


…
NooElec NESDR Mini 2 SDR & DVB-T USB Stick (RTL2832 + R820T2) with Antenna and Remote Control

This SDR stick it can pick up frequencies from 24MHz-1750MHz, which will allow to listen in on CB radio, FM broadcasts, Fire, Police, or even planes going overhead. No software is included but most SDR software is free to download on the internet.
Product Features
RTL2832U interface IC
R820T2 tuner
Frequency capability 24MHz-1750MHz
Telescopic antenna included


…
NooElec NESDR XTR: Tiny RTL-SDR & DVB-T USB Stick (RTL2832U + Elonics E4000 Tuner) w/ Telescopic Antenna & Remote. Low-Cost, Extended-Range Software Defined Radio Compatible with Most SDR Software!

This is a custom modified DVB-T USB dongle tuned for SDR usage. It can work with most SDR software such as MATLAB HDSDR, SDR Touch, SDR#, Planeplotter and so on.
Product Features
E4000 tuner
Frequency capability 55MHz- 2300MHz
Includes a telescopic metal antenna and a remote control


…
RTL-SDR, FM+DAB, DVB-T USB Stick Set with RTL2832U & R820T. Great SDR for SDR, HDSDR

This is a great starter SDR tuner dongle at a great price.
Product Features
RTL2832U and R820T tuner
MCX input
Frequency capability 25MHz-1700MHz