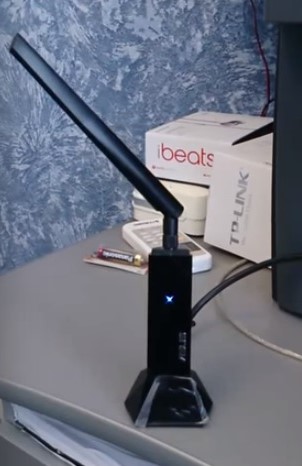 Wireless internet adapters for a PC come either as a built-in card or as a external USB adapter.

Built in cards can be beneficial since they are often faster and out of the way.

External USB adapters are easier to setup since they plug into a USB port and there is no need to open up a computer case and install a WiFi card.

External USB dongles also where limited by USB 2.0 with its max speed of 480 Megabits per second. The new USB 3.0 has eliminated this barrier with speeds up-to 5 Gigabits per a second.

Of course many will not be able to use the highest speed available especially while online.

With most home internet speeds maxing out at 20-50 Mbps many users will be able to user slower wireless adapters and never notice a difference.

There are exceptions to this such as a transferring data over a home network or public WiFi spots with high speed internet.

Our Picks for Top Wireless Internet Adapters

Alfa AWUS036H USB adapter 2.4 GHz…….Amazon
Alfa AWUS036H USB adapter 2.4 GHz…….AliExpress.com

The TP-LINK TL-WN722N is a Wireless-N USB network adapter.

It has a external 4 dBi antenna for better coverage.

The TP-LINK TL-WN722N is a well known USB adapter that is used in many environments from Linux to Windows.

While not the fastest USB dongle it will have most any PC setup up and running.


…….
Panda PAU05 2.4 GHz…….Amazon

The Panda PAU05 is another well known USB adapter.

It works in most any environment from a Raspberry Pi to Windows 10.

The small size does limit its range to about that of a laptops built-in WiFi card.

If you are looking for a quick Plug-and-Play low cost option the Panda PAU05 is a good choice.


…….
Asus (USB-AC56) Dual-band Wireless-AC1300 USB 3.0 Wi-Fi Adapter

The Asus USB-AC56 is a fast 802.11ac USB 3.0 network adapter.

It is dual band so it can transmit in the 2.4 GHz frequency and the new 5 GHz band.

It is one of the fastest USB dongles available with speeds up-to 1300 Mbps, 867Mbps over 5Ghz and 400Mbps over 2.4Ghz.

This is a nice fast USB dongle that can fit into most any network. It also comes with a USB extender that can improve the signal if needed.


Summary
With the many operating system available and computer PC types there is not a one size fits all wireless internet adapter for a PC.

There are however many different types of dongles available. If in doubt which dongle to get get a dual band Wireless-N dongle since it will work in most any network.