How Does a Wireless Fax Machine Work?

Fax machines may seem ancient but are still used all the time in business or other times when documents need to be sent.
There are many services that will send a fax for you if you don't do much faxing.

But what about the person who does do a lot of faxing needs a fax machine and wants to go wireless?

With technology such as VOIP a fax can now be sent over the internet with no land-line or be setup with a wireless dongle for a existing land-line.

Thanks to products like the OBI 202 a fax phone line can now be replicated over the internet with no need for a legacy landline. Devices such as the OBi202 can be setup to fax from a smartphone, tablet, laptop or desktop.

If you have an existing land-line than there is other options. So let's take a look at both of these methods of faxing wirelessly.

Wireless Fax Machine Options
Currently there are two options depending on if you want to use a land-line or use the internet.

Option One
For someone who has a land line there are simple wireless phone jacks that plugs one side into a phone outlet and the other side into a fax machine.

Here is one such wireless phone jack.
Using a wireless phone jack is a common option if you have an existing fax machine and land-line that simply needs wireless added to it. This can be taken a step further with WiFi printer/Copier/fax machines that can communicate with a computer via WiFi.

Option Two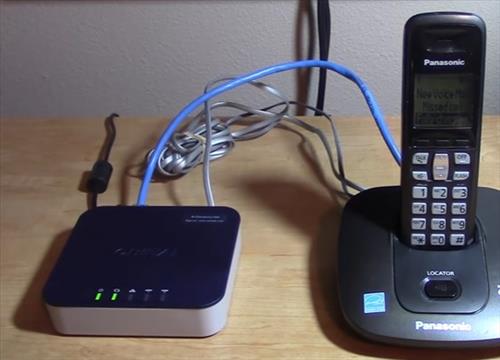 The second option is to use VOIP (Voice Over Internet Protocol) where the Internet is used to transmit a fax. VOIP allows phone calls to made over the Internet, with the right equipment, and can also allow a fax to be made.

One such device is the OBi200 or OBi202 VoIP Phone Adapter, T.38 Fax from OBiTALK. The OBi200/202 use VOIP providers such as Google Voice to allow a standard phone to work with only a internet connection. No legacy land-line phone is required.

It also will allow regular phone calls to be made over the internet using the VOIP protocol without the need for a land-line.



Google Voice is a widely used VOIP system since it is free but there are many others paid and unpaid. If you are dependent on getting faxes for your business than getting a paid VOIP service that works with the OBI 202 is always an option. Even though Google Voice works well and has been free for many years doesn't mean that they will continue this free service. The good news is that there are many alternative VOIP providers.

Using one of the two options above a fax machine can be setup to work either with a land line or with WiFi over the internet using VOIP.

Both options will work even with old legacy fax machines or new printer/copier/fax machines combos.

If you have an existing phone line than the first option would be the best and simply get a wireless phone jack to go from the land-line to the fax machine.

If you don't want to use a land-line or want to get rid of one then using VOIP enabled devices to send and receive a fax over the Internet would be the best option.

Summary
As you can see there are more options than ever in 2015 when sending a fax. Many people are dropping land-lines as cell phones become the norm. This does not mean that you cannot send a fax. Faxes can be easily sent via router Wi-Fi using the VOIP protocol to send and receive faxes easily.