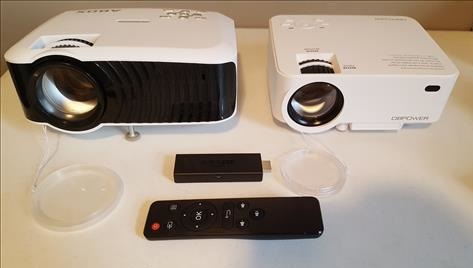 Using a Fire TV Stick with a flat-screen TV is no doubt the most common way to interact with its interface.
While using a TV is great, there are other ways that can make for a great viewing experience, including using a home theater projector.
Projectors are great since they can make a huge HD screen on almost any flat surface making for a low-cost home theater experience.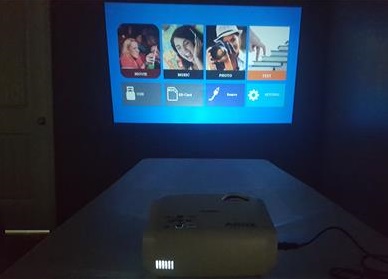 Can the Fire TV Stick be Used With a Projector?
Yes, almost all newer projectors have multiple inputs, including HDMI, which the Fire TV Stick uses.
This means that at a low cost, a portable home theater can be set up and used with the Fire TV Stick in any room or even in a backyard.
There are many good units available, from basic low-end to high-end models with many built-in features.
With that in mind, here are some of our picks for the best projectors to use with the Amazon Fire TV Stick.
As always, be sure to read the reviews on Amazon, here, in forums, or elsewhere to be sure a unit is a good fit for you.
*This post contains affiliate links.
Our Picks for the Best Home Theater Projector for the Fire TV Stick
AuKing

Available Here on eBay
The AuKing Mini Projector is a low-cost unit that, for the money, works very well.

It is not a top-end unit but a low-cost budget projector that works with the Fire TC Stick.

It has input ports for USB, VGA, and HDMI, which will work with the Fire TV Stick.

The setup is quick and way by plugging in the Fire TV Stick into the HDMI port and adjusting the projector display.

DBPOWER T21

Available Here on eBay
The DBPOWER T21 is a good low-cost unit that works well with the Fire TV Stick.

It has many inputs, including HDMI, SD Card, AV, VGA, and USB.

This means it will work with almost any device, from a laptop to a Fire Stick, and project the image on a wall.

Video quality is very good and, like most projectors, depends on the surface being projected onto.

A large flat white surface will give the best results with the lights off.

It is a good budget unit that makes for a good low-cost setup.

ARTLII Enjoy 2

Available Here on eBay
The ARTLII Enjoy 2 is a mid-range 720p video projector that has built-in WiFi, Bluetooth, and HDMI port.

The unit can play media from HDMI, VGA, SD-Card, USB, Miracast, and iOS Cast.

This makes it a good projector in many scenarios and able to display a screen from almost any device including a Fire TV Stick.

ViewSonic PJD5555W

The ViewSonic PJD5555W has been a top-end unit in the past and has dropped in price.

While there are no better top-end units the drop in price and being a top unit only 1-2 years ago make it worth a look.

It has very good brightness meaning it can also play during the day.

It also has good controls for focusing an image on a wall making it in many situations from playing videos to giving presentations.


Croyale PJ-58

The Croyale PJ-58 is a very nice projector that works with the Fire TV stick and many other devices.

It can display up to a 200-inch screen at 3200 Lumens of brightness. This makes the screen able to be seen in light as well as in the dark.


A Fire Stick works very nicely with the unit by plugin into one of the HDMI ports and using the remote to set the right input.

Summary
Using a projector with the Fire TV Stick is easy to do and has the same setup as a TV.
Almost any projector with an HDMI port will be able to project a screen onto a wall or other flat surface.
High-end units are nice, but low-end budgets unit also have their place and work well with the right projection surface and lighting.
A Fire Stick and projector do make for a very nice home theater setup that can be created on a budget and bring in hours of entertainment.