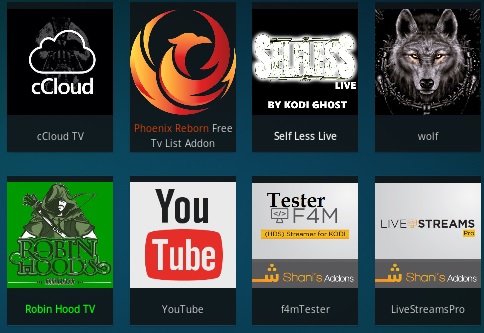 Kodi live TV add-ons are a bit of a hit-or-miss if they work or not, but are improving constantly.

Like any Kodi add-on it depends if the server is full or not if a link will stream.

This means that one day you will have no problems while the next day, or hour, the stream no longer works.

This up and down of working and not working can be frustrating, so it is always best to stick to shows already recorded and find a good server if possible.

With that said there are some good ones that have steadily improved Live TV, just don't expect it to be as dependable as Cable TV.

Using a good VPN with Kodi is always suggested for privacy and security. If you need a good low cost VPN to use with Kodi Try IPVanish it has multiple worldwide high speed servers with no throttling or logs.

*WirelesSHack.org has No affiliation with Kodi, any Addons, Repos, or Builds. WirelesSHack.org is a news and informational site which does not support or condone copyright infringement. Kodi should only be used with content that is bought and owned personally or is in the public domain.






Top Best KODI Live TV Addons 2019
World TV


World TV is a Kodi IPTV (Live TV) add-on from Man Cave Repository.

Section include Sports, Pakistani, Indian, Turkish, South Indian, Kids, Religious, Portugal TV, Science, UK, USA, Arabic, Bangla, Indonesian, Australian, German, French, and much more.

XJC Tiger


Tiger is a new All-In-One Kodi add-on from XJC Repository.

Sections include Search, Movies Menu, TV Show Menu, My Movies, My TV Shows, New, Swift-Streams, TV-tap, Tiger TV, 1-Click, Cartoons, Music, Radio Stations, Standup Comedy, Fitness, Box-sets, Kids, Documentaries, and much more.

Robin Hood TV


Robin Hood TV is an International Kodi IPTV add-on located in the Tojelako Repository.

The main section has Live TV Balkan and Live TV World.

The Live TV World sections has live streams from all around the world including USA and UK.

Phoenix Reborn IPTV


Phoenix Reborn is an International Live TV Kodi add-on with a lot of sections.

The English channels are under the World section midway down the main menu.

It also includes German, Music TV, Italian, UK/US, World Sports, Rest of the World and more.

How to Install Phoenix Reborn IPTV


cCloud TV


CCloud stand for Community Cloud and is a community of people dedicated to streaming live TV online.

Most any channels you can think of can be found in sections from news to cartoons.

It is a free IPTV to use, there is a server section to see which ones are up or down.

Like always it depends on if a server has too many users before they start to kick connections.

This means popular channels will be difficult to watch especially if a popular show is playing. Less popular channels are usually easy to start streaming.

Instructions For Installing cCloud TV


Self Less Live


Self Less Live is a Kodi IPTV Addon with Live TV Streams from Ghost Repo.

Sections include Movies, TV Shows, Net.tv, Mobdro, Swift Streamz 1/2, TV Tap, Red Box TV, and USA News.

Each section is its own standalone live streaming source all in one place.

While testing the Live section Net and Mobdro worked very well along with many of the others.

How To Install Kodi Self Less Live


Live Net TV


Live Net TV is a new Kodi international IPTV add-on located in the Diamond Wizard Repo

It has many sections including Sports, Entertainment, News, Cooking, Music, Kids, Religious, Movies, Documentary, French, Australian, Bangla, South Indian, Afghan, Filipino, German, Portugal, Thailand, Italy, Canada and Indonesia.

Like all free IPTV add-ons some channels don't work but many do with it a currently a good Live TV add-on in combination with others.

Vukovar


Vukovar is a Kodi IPTV add-on located in the Zadar Repo.

It has streams from many Countries including Italy, English, France and more.

The menu is displayed in Croatian but the streams have their own language spoken.

For example Engleska TV is English / American streams.

TV One


TV One is a Live TV Kodi Addon that recently received an update.

Sections include Documentary, Food, Kids, Movies, Music, News, Sports, UK / USA, and more.

Zeus


Zeus is a multi language Live TV Addon that has a long list of streams to play from.

Sections include TV International, Portugal, Brazil, and Test.

It is mainly in Portuguese with many streams speaking English with subtitles.

ULTRA TV


ULTRA TV is Live TV Streaming Kodi Addon located in the AJ Builds Repository.

Sections include Documentary, Food, Kids, Movies, Music, News, Religious, Sports, and UK/USA Channels.

Summary
Live TV streams and Kodi are currently just not to the point of being a real option if you want dependability.

Much like streaming any recorded content was with Kodi a few years ago it will no doubt steadily improve with time.

Remember many free stations from popular networks are broadcast for free over the air in digital format, all that is needed is a good antenna.

If you live in a large city often 30-40 channels can be picked up for free over-the-air and may currently be the best for live TV.

Free over the air TV is mainly good for live news and weather, but many stations are also available including ABC, NBC, and CBS.