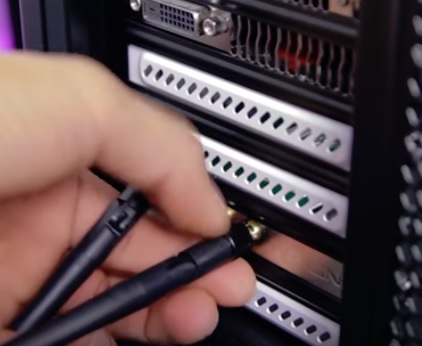 Adding WiFi to a desktop computer is easy to do with some options easier than others.

There are basically three ways to add wireless to a PC including an external USB adapter, Ethernet WiFi adapter, and internal WiFi card.

Here are the top three option for installing wireless to a desktop PC.

*This post contains affiliate links

3 Way to Add Wireless to a Desktop PC
USB WiFi Adapter


A USB WiFi adapter is a very good option and the most popular way to add wireless to a desktop.

There are many USB adapters available and depending on the unit bought are very low-cost items

Some are built for range with larger antennas and some are small almost hidden once plugged in.

Wireless 802.11 standards have evolved becoming faster over the years with new versions able to work in the 5Ghz band while older units only work in the 2.4GHz frequency.

Dual Band refers to an adapter that can work in both bands and is usually the best option.

The wireless protocol also matters since new ones can transfer data faster.

Main WiFi Protocols
802.11G or Wireless-G – Speed up-to 54Mbps
802.11N or Wireless-N – Speed up-to 300Mbps
802.11AC or Wireless-AC – Speed up-to 866 Mbps

While older protocols still work getting a Wireless-AC unit is the best option.

Basically when looking for a USB adapter, get a Dual Band Wireless-AC unit as it will fit into almost any network.

Example Dual Band 802.11AC USB Adapter on Amazon
USB WiFi Adapter 600Mbps EDUP 802.11ac Dual Band 2.4G/5G Wireless Network Adapter USB Wi-Fi Dongle with 2dBi Antenna Support Windows XP,Win Vista,Win 7,Win 8.1, Win 10,Mac OS X 10.7-10.14


Read Here for Our Picks of Best Wireless USB Adapters



Ethernet-to-Wireless Adapter

Ethernet-to-wireless adapters are another good option to add WiFi.

The BrosTrend AC1200 is one such unit that has many different wireless modes.

It can extend a WiFi signal, add an access point or add WiFi to non-wireless devices.

The unit can add WiFi to any Ethernet-only device such as a smart TV of gaming console or desktop computer.

It works very well and will have a laptop or desktop computer online using Ethernet-to-WiFi.

It also uses the new 802.11ac protocol, is dual band, and works in both the 2.4GHz and 5GHz frequencies.

This makes it a very good unit with the latest wireless protocols.

BrosTrend AC1200 Ethernet-to-Wireless Adapter on Amazon
BrosTrend 1200Mbps WiFi Range Extender Signal Booster Repeater, Add Coverage up to 1200 s.q.f.t. in Your House, Extend 2.4GHz & 5GHz WiFi, Easy Setup


Read Full Review Here


Internal PCI Wireless Card


If you have some technical skill installing an internal wireless card is a very good option.

Depending on the computer USB can sometimes bottleneck slowing down a connection.

An easy way around this is to install a PCI wireless card into the PC.

They also are out of the way and don't take up any USB slots.

Be sure to check that there is an open slot to use and the type of expansion slot which is usually PCI.

Installing a card is not difficult but does require opening up the computer and inserting the card which may not be for everyone.

If you are wary of opening the case a USB adapter would be a better option.

Example Dual Band 802.11AC PCIe Wireless Card on Amazon
TP-Link AC1300 PCIe Wireless Wifi PCIe Card | 2.4G/5G Dual Band Wireless PCI Express Adapter | Low Profile, Long Range, Heat Sink Technology | Supports Windows 10/8.1/8/7/XP (Archer T6E)

Summary
Setting up WiFi on a Desktop PC is easy to do with any of the above options.
The easiest way is to simply buy a wireless USB adapter with many units available in all shapes and sizes.
If you are a technical person installing an internal WiFi card is also a good option and can often see the best performance since there is no bottleneck from the USB.
Both internal and external Wi-Fi card work well and most setups will have no problems with either.
Keep in mind some motherboards have WiFi built in and don't have the option setup.
This is not common but depending on the motherboard your computer may already have built-in WiFi.
Check the boards documentation to see if it has this feature.
As always be sure to read reviews on Amazon, here, or elsewhere to be sure a unit is the right pick for you.