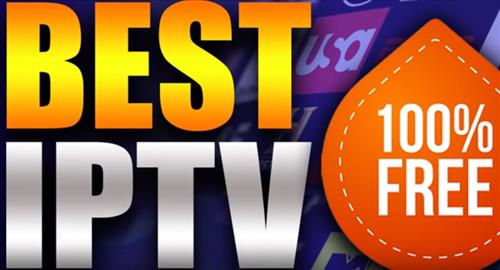 Video streaming services have exploded over the last few years with many websites now available both paid and free.
The paid services are well known such as Netflix, Amazon, and Disney Plus but there are also many free legal services.
While the free legal services won't have the newest movies and TV shows it can be surprising what they do have with huge libraries of videos ready to stream on-demand.
Below is our picks for the best free and legal IPTV services that are good for any cord-cutter setup.






Best Free Live IPTV Legal Services for Watching TV Shows and Movies
Roku Channel


Roku is best known for its streaming media devices but also has a free streaming video service.

A Roku device is not required with anybody able to watch and play videos from their library for free.

They have a lot of sections including Movies, TV shows, Relax and Stream, Whats Cooking, Summer Travels, News and more.

Click Here for Roku Channel Website

Tubi TV


Tubi TV is a great IPTV with TV shows and movies in all genres on-demand.

It doesn't have the latest movies and TV shows but does have a huge video library with something for everyone.

Besides movies and TV shows it also has many older reality TV shows such as Storage Wars, Kitchen Nightmare, Duck Dynasty, Dog the Bounty Hunter and much more.

It also has a huge collection of B-movies from Asylum film company and other sources.

The streams can be watched on any device with a browser, app, or from Kodi with a Tubi TV add-on.

How To Install Tubi TV Add-on Kodi

Pluto TV


Pluto TV is another free source for Live Streaming of movies and TV shows.

There is a Live section as well as an On-Demand section.

The Live section has a TV guide interface that sends out live streams that can be watched much like traditional TV.

The On-Demand section has videos that can be watched anytime along with play/pause options.

It can be installed on almost any device using a browser or an app for Android, iOS or even the Fire TV stick.

For Kodi users, the Add-on Temp TV has a section for Pluto.

How To Install Pluto TV on an Amazon Fire TV Stick

Locast TV


Locast is a service that rebroadcast TV channels usually picked up with a TV antenna.

For those who have never picked up free over-the-air TV signals from a major TV market, there can often be 80 or more free channels to watch.

This includes all the major networks such as ABC, CBS, Fox and many more.

Currently, there are 16 markets available with a user needing to be living near the area to use the Locast service.

While Locast TV is free there is an annoying reminder to donate that will repeatedly come back until a donation is made for at least $5.

If you have a TV antenna the same channels can usually be picked up and watched for free with no need for the Locast service.

But is you have no antenna or difficulty receiving OTA TV signals Locast can be a real benefit.

IMDB TV


IMDB is known best for its movie database and user reviews on movies and TV shows but it also now has a streaming service.

IMDB TV is a free movie and TV show provider.

It is supported by ads and requires a signup with an email address.

Click Here for IMDB TV Website


Crackle


Crackle is another source of free movies and TV shows with a huge video library.

It has a lot of classics such as All In The Family, 3rd Rock from the Sun, Barney Miller, Fantasy Island, Bewitched, Charlies Angles and much more.

It also has many newer TV shows such as Dr. Ken, Just Shoot Me, Men at Work, Rosanne and more.

The movie section has a lot of classics mixed in with newer 2000-2010 releases such as Anaconda, 3000 Miles to Graceland, Chappie and much more.

Snag Films


Snag Films is also a free streaming site with on-demand movies and TV shows.

They have a lot of movies and TV shows you likely never heard of in all categories and genres.
Summary
The above list is for those looking for free and legal online sources to stream videos from.
While these sites don't have new blockbuster movies they do have many good classic TV shows and movies.
They also have many reality TV shows, animation, documentaries, B-movies and other genres.
Have you found any good free and legal online streaming services? Let is know in the comments below.