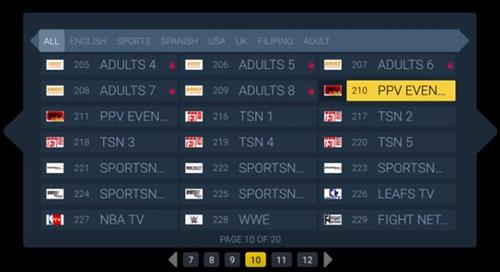 Page Table of Contents
1. What Is IPTV?
2. What Makes a Good IPTV Service?
3. Known Legal vs Grey Hat IPTV Services
4. Who Has the Best IPTV Service?
5. Best Free IPTV Services 2022
6. Best Paid Known Legal IPTV Services 2022
What Is IPTV?
IPTV is short for Internet Protocol Television and has been around for many years.
It allows for a user to pick and choose what content they want to watch and see it live On-Demand.
For example, a person who wants sports can buy an IPTV sports subscription package.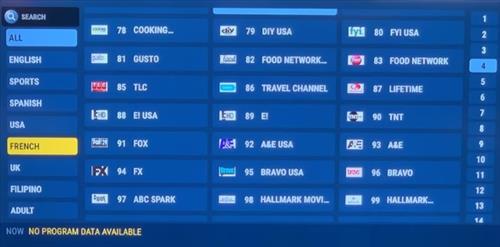 Another person may just want to cut their cable bill and have a basic package with a few added extras.
For this reason, there is no best IPTV as it needs to fit the user and the content they want to watch.
There are many good all-around providers which offer hundreds of channels of just about everything imaginable, from sports to movies.

What Makes a Good IPTV Service?
Minimal Buffering
Use on Multiple Devices
Free with Ads or Free Trial
Monthly Plans (Don't Pay for 1 Year of Service)
If Possible Pay with PayPal
A good IPTV Service will have many channels available that don't buffer at a reasonable cost.
Most will buffer once in a while but it should be minimal and not happen often.
Remember since it is streamed online your internet service will also need to be fast.
The average internet speeds needed are 10Mbps for Standard Definition, 15Mbps for 1080p, and 25Mbps for the new 4K Ultra HD, of course, faster the better.
The IPTV box hardware being used should also be fast and able to handle the streams along with playing HD resolution.
Read Here for the Best IPTV Set Top Boxes
A good IPTV will also have Apps that can play the service on most any device such as an Android TV box, PC, Smartphone, or even the Fire TV Stick.
Another thing that is also important, at least to me, is the ability to use more than one device.
Like having a standard Cable TV service being able to use it in more than one room is nice to have.
Being able to test the service first with a free trial is also good to be sure it fits your setup.
Don't pay a year worth of service up-front as to not lock yourself in with one service.
If possible use PayPal as they will mediate a refund if there is a problem.
Known Legal vs Grey Hat IPTV Services
The last few years have seen many IPTV services start streaming content to users.
With the many services available some do fall into a legal grey area that may or may not be legitimate.
These types of websites have been constantly shut down.
This crackdown on gray/black hat IPTV services has made them very unreliable up one day and gone the next.
For these reasons, gray/black hat IPTV services are not listed here.
There are known fully legal paid and free services which are listed below.
So Who Has the Best IPTV Service?
Finding a good IPTV is always challenging often having to search through forums, websites, and all kinds of links to see if the work.
Below are some of the current most popular legal IPTV services in 2022 but there are many more.
I have also listed free IPTV services which have greatly improved over the last few years.
I am not recommending any single IPTV over another with this simply information on what is currently available.
Hopefully, this post can help you find a good IPTV service.
Best Free and Legal IPTV Service Providers
Tubi TV


Tubi TV is a great IPTV source with lots of content to stream and best of all it is free and legal.

The downside is it doesn't have the latest movies and TV shows but does have lots of content to find something to watch.

While free services will not have the best content it can be surprising what they do have.

Tubi TV can be set up on most any device, there is even a Kodi add-on to play content with.

While Tubi may not have the best content it is always working free source.

Click here for Tubi TV Website

Roku Channel


Roku is best known for its streaming media devices but also has a free streaming video service.

A Roku device is not required with anybody able to watch and play videos from their library for free.

They have a lot of sections including Movies, TV shows, Relax and Stream, Whats Cooking, Summer Travels, News and more.

Click Here for Roku Channel Website

Pluto TV


Pluto TV is a very good free online source that is similar to Tubi TV but with different content.

Like Tubi TV they don't have the newest movies or TV shows but are loaded with content that is free and legal to watch.

It has a TV guide interface to show what is available with 1-click to play a stream.

The On-Demand section has videos that can be watched anytime along with play/pause options.

Pluto TV can be watched from a computer and has apps for smartphones and even works with the Fire TV Stick.

Click here for Pluto TV Website

Popcorn Flix


Popcorn Flix is another longtime favorite for many people with more than 1,500 movies that can be found on this site.

They have many popular classics and more recent films.

If you're having trouble finding something to watch scroll down to their staff picks and you'll find some great recommendations

Click Here for Popcorn Flix Website

Hoopla


Hoopla is different than the services mentioned so far as they stream from your local library services.

If you have a library card from your local library and they participate you'll have the ability to borrow movies TV shows audiobooks and other content from the comfort of your home.

Their selection does change periodically and some titles are only available for a limited time.

Kanopy


Kanopy is another free service that like Hoopla requires a library card to stream videos.

They offer a large selection with a heavy focus on independent and classic films.

A library card is required to sign up.

VUDU


VUDU is a free streaming service that has a lot of content to choose from including Movies, TV, Comedy, Horror, Family, Action-Adventure and more.

You will have to register an email address and commercials play periodically but it is free.

Signing up is quick and easy and the commercials usually last only 15 seconds.

IMDB TV


IMDB is known best for its movie database and user reviews on movies and TV shows but it also now has a streaming service.

IMDB TV is a free movie and TV show provider.

It is supported by ads and requires a signup with an email address.

Click Here for IMDB TV Website

YouTube


YouTube is often overlooked as a source of movies and TV shows but has a huge collection of videos.

Movies and TV shows uploaded by users need to pass the algorithm looking to take them down so will often change the titles.

Typing in a movie name plus Full-Length-Film in the search box will usually bring videos that can be watched.

Click Here for YouTube Website

Veoh


Veoh much like YouTube has user uploaded content.

They have many sections and categories along with older movies and TV shows.

Classic Cinema Online


If you like old movies pre-1970s from the 20, 30s, 40s, 50, and 60s Classic Cinema Online is a good source.

They have a lot of old movies from James Cagney, and John Wayne, to Charlie Chaplin.

The videos stream very well with no sign up required.

Click Here for Classic Cinema Online Website

Crackle


Crackle is another source of free movies and TV shows with a huge video library.

It has a lot of classics such as All In The Family, 3rd Rock from the Sun, Barney Miller, Fantasy Island, Bewitched, Charlies Angles and much more.

It also has many newer TV shows such as Dr. Ken, Just Shoot Me, Men at Work, Rosanne and more.

The movie section has a lot of classics mixed in with newer 2000-2010 releases such as Anaconda, 3000 Miles to Graceland, Chappie and much more.
Best Paid Legal IPTV Services 2022
Prime Video (Amazon Prime)

Amazon is best known for the products they sell but is also a top streaming service with a lot of good content.

Amazon has created its own ecosphere with the Amazon Fire TV Stick and Box that streams Amazon Prime content.

Their service can be played on almost any device so there is no need for a Fire TV, but with the millions of Fire TV devices sold it shows how big their streaming community is.

If you have an Amazon Prime account for free shipping the Prime Video is included.

If you don't have Amazon Prime account they have a 30-day free trial to test it out.

Disney Plus

Disney Plus has a lot of content with top movies and TV shows from Pixar, Marvel, Star Wars, Nat Geo, and more.

They had a big hit with the Mandalorian but mainly have lots of movies and TV shows from past Disney films.

Netflix

No list would be complete without Netflix as it is currently the go-to streaming provider for many.

While they do have lots of content unless you can find one of their original movies and shows interesting it can become stale quickly.

Don't get me wrong many people love Netflix and it has lots to offer but not everyone will find their new movies and TV shows worth paying for.

They do have lots of older shows which is great for binge-watching.


Hulu

Hulu like Netflix is another top online streaming TV and Movie service.

It has a lot to offer with many old TV shows and movies.

For example, it has Married with Children, Family Guy, South Park, Greys Anatomy, Top Chief, and much much more.


HBO Max

HBO Max has a big selection of Movies and TV shows to stream with different packages.

They have many fan favorites such as Friends, Fresh Prince, Reno 911 and more.

FuboTV


FuboTV is an IPTV that has many channels available including sports, movies, TV shows, and news.

FuboTV is a legal IPTV service with many channels and sports packages.

They have different plans including a family plan, standard, ultra, Latino, and many sports packages.

Each package has a different price. For example, the Family package has 100 plus channels and costs $64.99.

The Sports Plus with NFL RedZone under the add-ons section currently cost $10.99.

The streaming quality is very good along with a free 7-day trial to test the service out.

Philo

Philo is an IPTV service that has some basic Tv channels to stream at a low-cost.

The channels they offer are not premium but are good for basic TV watching for those on a budget.

Sling TV

Sling TV is another streaming IPTV service that has some good basic channels.

They have Showtime and Starz for a low monthly fee.

Sling TV is a good provider for basic channels at a low-cost.
Summary
There are many IPTV providers with the number only growing daily, some shady while others are good.
Finding a good one is always tricky and can be difficult at times.
For example, in the past, I used Set TV which was good for a while but shut down by ACE shutting off the service and communication.
This is why it is best to only pay monthly and pay with a service like PayPal since they will help get your money back if things go wrong.
If you are new to online video streaming it would be best to use the known legal services such as FuboTV, Disney Plus, Amazon, Netflix, or Hulu.
If one of the other grey/black hat services is used be sure to use a VPN for just-in-case protection.
Having a good IPTV service is much cheaper in comparison to many cable TV plans with many more channels to choose from.
Of course, a good internet connection is needed with at least 25Mbps or better speeds to watch HD 4K videos.
When choosing a plan be sure to shop around and get one that fits your viewing habits the best.