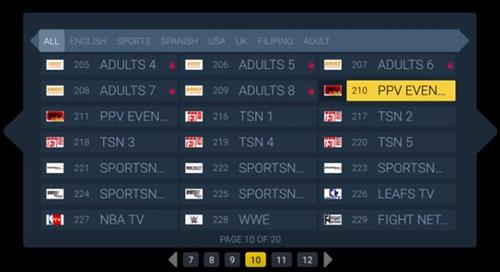 IPTV is short for Internet Protocol Television and has been around for many years.

It allows for a user to pick and choose what content they want to watch and see it live On Demand.

For example a person who wants sports can buy an IPTV sports subscription package.

Another person may just want to cut their cable bill and have a basic package with a few added extras.

For this reason there is no best IPTV as it needs to fit the user and the content they want to watch.

There are many good all around providers which offer hundreds channels of just about everything imaginable, from sports to movies.

What Makes a Good IPTV Service?
A good IPTV Service will have many channels available that dont buffer at a reasonable cost, usually less than $30-40 dollars.

Most will buffer once in a while but it should be minimal and not happen often.

Remember since it is streamed online your internet service will also need to be a good.

The average internet speeds needed are 10Mbps for Standard Definition, 15Mbps for 1080p, and 25Mbps for the new 4K Ultra HD, of course faster the better.

A good IPTV will also have Apps that can play the service on most any device such as an Android TV box, PC, Smartphone, or even the Fire TV Stick.

Another thing that is also important, at least to me, is the ability to use more than one device.

Like having a standard Cable TV service being able to use it in more than one room is nice to have.

And last being able to test the service first with a free trial is a must to be sure it fits your setup.

So Who Has the Best IPTV Service?
Finding a good IPTV is always challenging often having to search through forums, websites, and all kind of links to see if the work.

For this reason I can only give the results I have found and what works for me.

In the past I have used a few services including SetTV which was good for a long time but now shut down.

Currently I am using Sky Stream IPTV service which is so far working very well and the best provider I have found.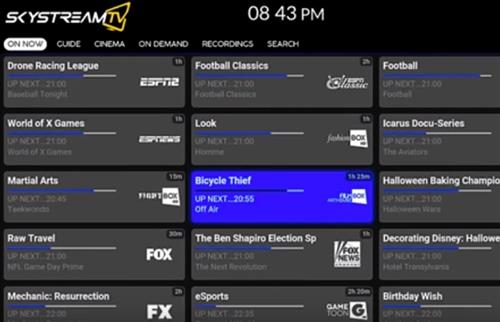 They have a 7 day free trial to test it out and decide if it is good. Currently the service is only available in the USA.

Click Here for The Sky Stream IPTV service 7 Day Free Trial Page.

They have Apps to work on most any device including Roku, Apple TV, Android TV Boxes, and Fire TV Sticks.

Currently they have 65 channels along with an on-demand and sports sections.

Like all IPTV services I have found some channels will buffer at times or not work which is usually temporary.

The service is $35 dollars a month with a free 7 day trial.

I also use Kodi which is free and nice to have but can be a pain when Addons go down.

Read Here for A Guide To Kodi

If you have found a good IPTV service let us know in the comments below.

Summary
As stated above there are many IPTV services out there to choose from.

There is even some free IPTV's available but by their very nature are prone to go down and become hit or miss if they work, especially during a showing of a popular program.

Read Here for a list of free Kodi IPTV addons

Having a good IPTV service is much cheaper in comparison to many cable TV plans with many more channels to choose from.

Of course a good internet connection is needed with at least 25Mbps or better speeds to watch HD videos.

When choosing a plan be sure to shop around and get one that fits your viewing habits the best.