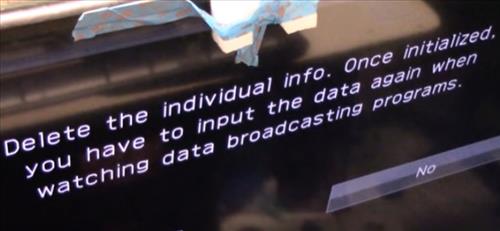 If you need to factory reset a Sharp TV, there are three methods that can be used.
The first method is often used to clear out simple errors and will delete some data but not all.
The second method is the easiest and uses the menu to delete individual data.
The third method will delete all data and set the TV back into the state it was when new.
Be sure to always follow the manual that came with the TV. The below steps are general information for most Sharp TVs, but steps may differ between models.
Factory Reset Sharp Aquos LCD TV Using Buttons
Unplug the TV.

Hold the Power Button for 30 seconds.

Plug the TV back in and power it on.
Factory Reset Sharp Aquos LCD TV from Settings
Press menu and go to Initial setup.

Select Reset.

Select Yes on the popup to delete the data.

The TV will display Deleting individual info. After Installing. Restart Automatically. Please Wait.

The TV will restart, and the TV should be factory reset.
Factory Reset Sharp Aquos LCD TV with Secret Menu
Unplug the TV

Hold both the Volume Down and Input Button at the same time and plug the TV back in.

The TV should turn on and display a blue box at the top left corner.

At the same time, press the Volume Down and Channel Down Button, and a menu will come up.

Use the TV remote control press the down arrow to Industry INT.

Press the right arrow button to turn on Industry INT.

Press the Enter Button to activate Industry INT.

A screen will display saying Industry INIT Success.

Unplug the power to the TV again.

Wait 30 seconds and plug the TV back in.

Power the TV on, and everything should have been factory reset.
Summary
Factory resetting a Sharp TV is usually a simple task by using one of the options above.
Setting the TV back in a factory reset is usually done before selling the TV or giving it away to remove all data.
It also can help to fix errors that may occur with the TV, such as a black screen appearing and the Sharp TV will not turn on.
Have you factory reset a Sharp TV? Let us know your thoughts below.