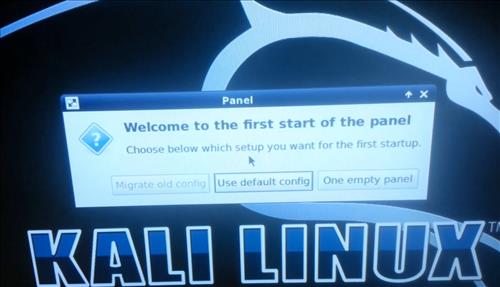 Kali Linux can be installed on a Raspberry Pi 2 and earlier models such as the A or B+.
To get Kali running on a Raspberry Pi we need to download the image file and then burn it to a media such as a micro SD card or flash drive.
If you have never flashed a image file before it is a easy task to do.
An image file is a operating system that is pre-setup and simply needs to be copied to a bootable media.
Since the hardware on a Raspberry Pi 2 is already known there is no need to compile a kernel install drivers and so on.
An image file saves you the trouble of doing all that an simply need to be written to a SD card/Flash drive.
Steps to Installing Kali Linux on the Raspberry Pi
Step 1…
Download the correct Raspberry Pi image file from Kali Linux download section here. https://www.offensive-security.com/kali-linux-arm-images/

UPDATE: Kali has been updated to Kali 2.0. Some have had problems with Kali 2.0 so I have uploaded Kali 1.1 to 4shared which can be found here.
https://www.4shared.com/file/U1-TTKK0ba/kali-110-rpi2img.html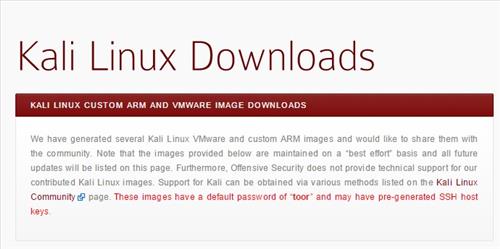 Be sure to get the correct image for your model since there are image files for model A, B+, and the Raspberry Pi 2.

Step 2…
Download Win32 Disk imager here. https://sourceforge.net/projects/win32diskimager/

Step 3…
Download 7-zip here.http://www.7-zip.org/

The image file will be in a .XZ file format that needs extracting. Most likely you don't have the software to unzip a .XZ file.

Step 4…
Extract the Raspberry Pi Kali Linux image file.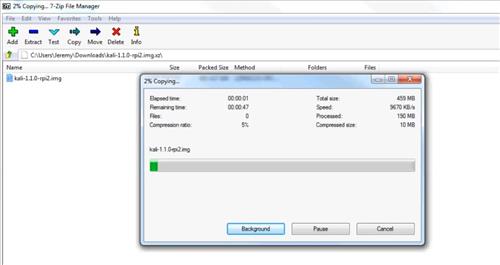 Step 5…
Run Win32 disk imager and load the image file into it. Select the right drive the SD Card/flash drive is on and click write.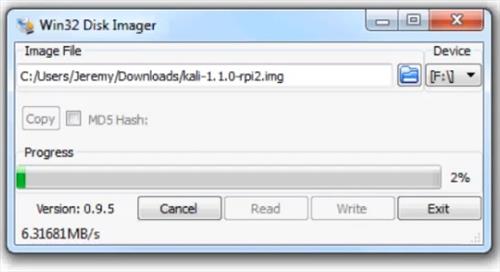 Step 6…
Insert the SD Card into the Raspberry Pi, power it up allowing Kali to boot and it will come up to a login screen.

The login is "root"

The password is "toor"

Type the command "startx" to run the GUI.

Here is a step by step video.