After buying a wireless USB adapter or router range can become a concern as the default range of many devices can often be limiting.
One way to solve this problem is with wireless boosters or amplifiers. These come in a variety of packages from simply adding a bigger dBi Antenna, to boosters that will screen out noise making them more effective.
Simply buying a bigger dBi antenna can work in many cases but here are some things to keep in mind.
Higher gain antennas have a very narrow radiation angle.
Low gain (3dBi) antennas have a thick/broad doughnut-shaped ring, so that their near-field coverage is quite good. This gives them good near-field performance (within your house) when your receiving antenna might be several feet above or below the center-line of the 3dBi antenna.
High gain (9dBi) antennas have a nearly flat "metal washer" shaped radiation pattern, with only a very few degrees of radiation angle. This means that unless you are quite a distance away from them, you must be exactly perpendicular to the center of that antenna, or you will not see the gain.
This is how "high gain" antennas get their gain, by compressing the radiation pattern into a tightly focused beam, causing it to extend the working distance out much farther, but this severely sacrifices the near-field coverage angle.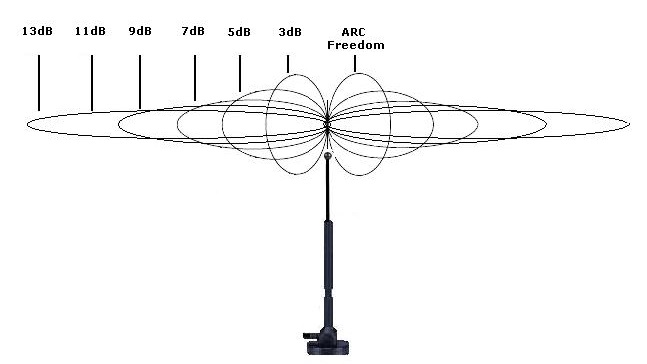 Are wireless boosters better than bigger dBi antennas?
Because of the reasons listed above many times people do not see much of an increase in range from simply buying a bigger antenna. The distance and size of an antenna is crucial to get the maximum benefit.
Another way to go is to buy a booster that uses electronics to boost the signal which often give much better results.
Boosters work by taking a signal and amplifying it through a electronic circuit and reducing the noise the signal picks up along the way.