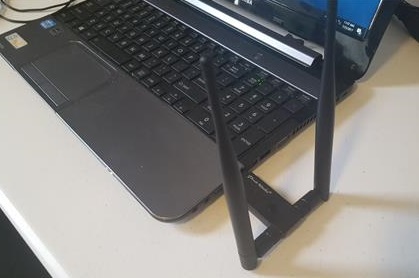 A WiFi antenna booster can help a laptop that has a weak built-in WiFi card get better reception.

They can also upgrade a laptops WiFi protocols that have been introduced in recent years.

There are many available in all shapes an sizes with the best long range units having a larger antenna.

Below are some of our picks we have used and reviewed that can boost a WiFi signal for a laptop.

As always be sure to read the reviews on Amazon, here, or forums to be sure a unit is the right fit for you.

*This post contains affiliate links to products on Amazon.

Our Picks For Top WiFi Antenna Boosters for Laptops

Alfa Long-Range Dual-Band AC1200 Wireless USB 3.0 Wi-Fi Adapter w/2x 5dBi External Antennas – 2.4GHz 300Mbps/5GHz 867Mbps – 802.11ac & A, B, G, N

The Alfa AWUS036ACH is a long range wireless USB adapter that is compatible with most any operating system, from Windows 10 to Linux.

It is a Dual Band 802.11ac WiFi dongle that works in both the 2.4Ghz and 5GHz ranges.

During testing it gave some impressive WiFi speeds at 213Mbps Download, and 21Mbps Upload.

Two large 5dBi antennas are attached to get a better signal from a distance.

Read Full Review Here

…….
TP-Link AC600 High Gain Dual Band USB Wireless WiFi network Adapter for PC and Laptops (Archer T2UH)

The TP-LINK Archer T2UH is a dual band USB adapter and uses the new 802.11ac protocol.

It is backward compatible with other wireless protocols, such as N or G, this makes it able to fit into most any networks.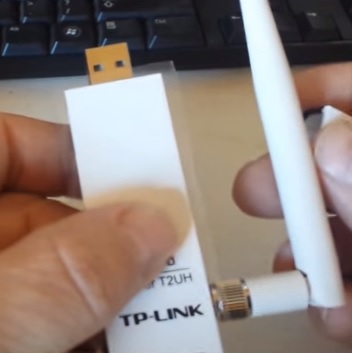 It uses a external Omni-Directional antenna to get better range than a laptops built-in antenna.

Read Full Review Here

…….
Panda Wireless PAU09 N600 Dual Band (2.4GHz and 5GHz) Wireless N USB Adapter W/ Dual 5dBi Antennas – Windows XP/Vista/7/8/8.1/10, Mint, Ubuntu, openSUSE, Fedora, CentOS, Kali Linux and Raspbian

The Panda PAU09 is a dual band wireless USB adapter with wide compatibility, from Windows 10 to Linux.

It has two large 5dBi antennas to improve a signal while transmitting and receiving.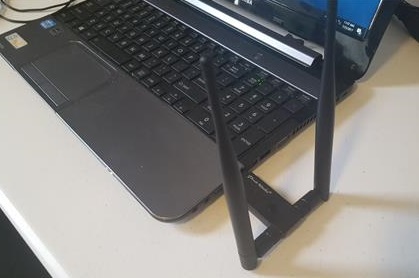 The one downside is it is only a 802.11n adapter which gives it a max speed of 300Mbps.

Even though it only supports wireless-N it still is a nice unit to use and work with most any operating system with good range at a low cost.

Read Full Review Here

…….
Asus (USB-AC56) Dual-band Wireless-AC1300 USB 3.0 Wi-Fi Adapter

The Asus USB-AC56 is built for speed and is one of the fastest WiFi dongles available.

It is dual band and is compatible with all WiFi protocols.

A high gain external antenna can be screwed on or off to get better range when needed.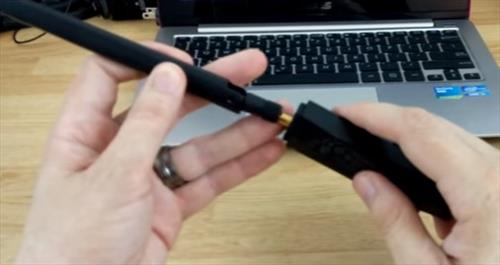 The Asus USB-AC56 may be a bit of overkill for many but is definitely a nice adapter.

Read Full Review Here


…….
Alfa Long-Range Dual-Band AC1200 Wireless USB 3.0 Wi-Fi Adapter w/2x 5dBi External Antennas – 2.4GHz 300Mbps / 5Ghz 867Mbps – 802.11ac & A, B, G, N

Alfa makes many USB adapters and are notorious in the wireless Pen Tester/Hacker community.

The AWUS036AC is one of their newest adapters that is built to get a signal at a distance.

It is dual band and works with any WiFi protocols so will fit into most any network.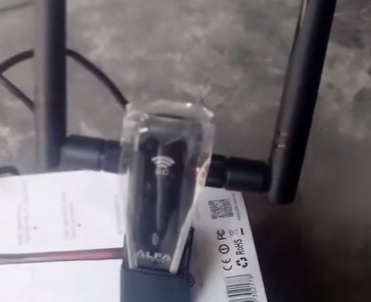 Two 5 dBi antennas are used to get a better signal. A USB extender cable can also be used to move it about getting the best possible bars.

Its size makes it more bulky than small dongles but the gain is a big boost.

New WiFi Frequency and Protocols
In late 2013 the 5 GHz frequency was introduced to routers and connecting devices.

5 GHz was introduced to help relieve the 2.4GHz band that has become overcrowded.

Along with a new frequency a new protocol was also introduced called 802.11ac.

The 802.11ac protocol can transfer data much quicker than the previous 802.11n protocol.

802.11n also called Wireless-N can transfer data at 150-300 Mbps while 802.11ac has a transfer speed of 750 Mbps.

This is a good upgrade if you need high speed WiFi connection.

It should be noted that 5 GHz doesn't travel as far as 2.4 GHz. This is because of the physics of lower frequencies able to travel farther than higher frequencies.

So while the new 5 GHz band combined with 802.11ac can move data faster for distance using 2.4 GHz is still better.

So What is the Best WiFi Antenna Boosters for Laptops
A 2.4 GHz USB WiFi booster will be able to transmit and receive better with distance.

The exception to this is in a crowded WiFi environment where there are many WiFi signals transmitting.

When two signals collide a router must resend the data which slows down the entire network.

In a crowded WiFi environment a 5 GHz booster may be better even if a signal cannot travel as far.

The best scenario is to get a USB booster that can do both, using either 2.4 GHz or the new 5 GHz frequencies.

When a booster can transmit on both frequencies each can be tried out to see which signal is best.