The BrosTrend AC3 is an 802.11ac USB WiFi adapter that has two large 5dBi antennas to help get a better wireless signal.
The adapter is USB 3.0 compatible and has a WPS button on the top.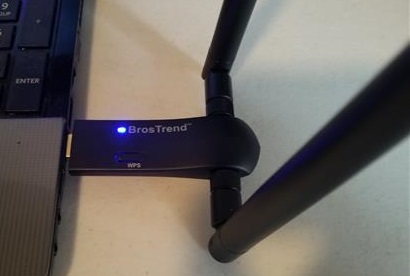 It is a large unit built for distance and would be a good fit for a Desktop PC.
A USB extender/cradle also comes with the unit if needed.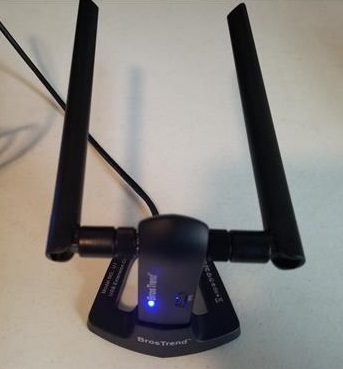 The cradle extension has a five foot reach and can be moved about to get a better signal.
*This unit was sent to me to review with my honest opinion and results below.
Specifications
Frequency: Dual Band (2.4GHz / 5GHz)
USB 3.0
Protocol: 802.11AC WiFi-5
Chipset 8812AU
Compatibility: Windows 7, 10, 11 MAC OS X 10.6-10.12
The package comes with the USB WiFi adapter, two 5dBi antennas, USB extender/cradle, Driver CD, and Installation Guide.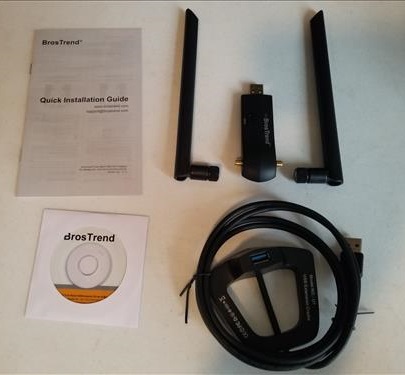 The unit can be plugged directly into a computer or extended with the included cradle.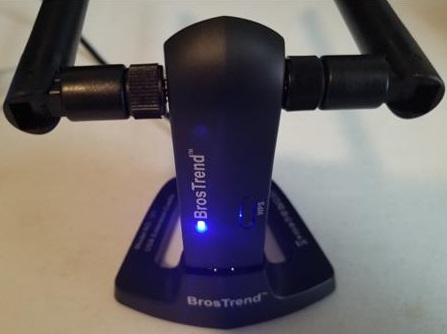 While the cradle is not necessary to use the adapter, it can be a good fit in many setups and can help get a better wireless signal by setting the entire unit up higher.
Plugging the adapter into a Windows 10 PC the adapter was automatically found with no need to install drivers.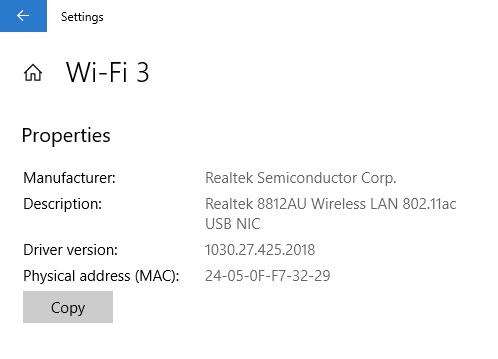 It is listed as using the Realtek 8812AU chipset.
BrosTrend AC3 WiFi Speed Test 2.4 GHz Band
All speed tests were done to a Netgear Nighthawk 802.11ac router 10 feet away past a wall.

Using the online site Speedtest.net, it gave the results of 44Mbps Download, and 20Mbps Upload.



The 44Mbps download speed is very good for devices using the older 2.4Ghz band.
While slower than the new 5Ghz frequency the 2.4Ghz band is compatible with all devices old and new using the Wireless-N protocol and is better getting a signal at a distance.
The 2.4Ghz frequency is necessary for use with legacy devices.
BrosTrend AC3 WiFi Speed Test 5GHz Band
Doing the same test again with Speedtest.net on the 5GHz band it gave the results of 225Mbps Download, and 20Mbps Upload.



This is some very good results and one of the faster USB adapters I have tested.
The 5Ghz band uses the WiFi-5 802.11AC which will get the fastest wireless speeds.
*This post contains affiliate links.
Availability
Available Here on Amazon
Summary
The BrosTrend AC3 is a very nice wireless USB adapter with good distance and speeds.
While it is compatible with most any PC its size makes it a good fit for a desktop.
The cradle is a nice option to set the unit in the best place to transmit and receive a signal.
Setting a unit 4-5 feet off the ground is often the best position for a WiFi adapter.
I am still testing the unit so far with good results and will update if anything changes.
As always be sure to read the reviews on Amazon, forums, or elsewhere to be sure a unit is a good fit for you.