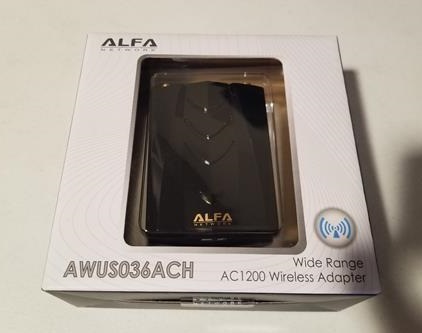 The Alfa AWUS036ACH is a long range wireless USB adapter that is compatible with most any operating system, from Windows 11 to Linux.
It is a Dual Band 802.11ac WiFi-5 dongle that works in both the 2.4Ghz and 5GHz ranges.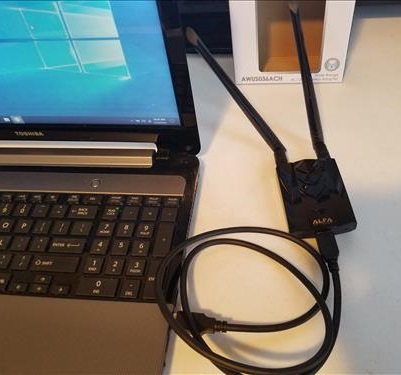 It is also a long range WiFi adapter with two 5dBi antennas that can swivel about.
I bought this adapter to see how well it performed with the results below.
Specifications
Model: Alfa AWUS036ACH
Protocol: WiFi-5 (802.11ac)
Chipset: RTL8812AU
Frequency: Dual Band 2.4GHz and 5GHz
Two 5dBi detachable antennas
Interface: USB 3.0 Micro-B
The package comes with the Adapter, Driver CD, Clips, Cable, Quick Start Guide, and two 5dBi Antennas.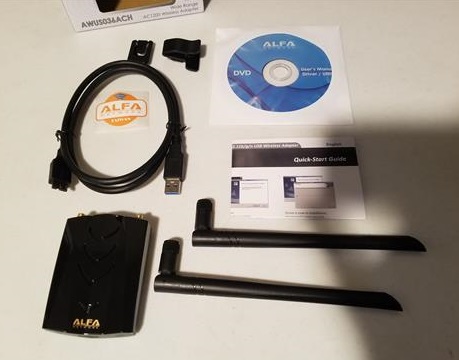 It uses a USB 3.0 Micro-B Cable for fast transfer speeds.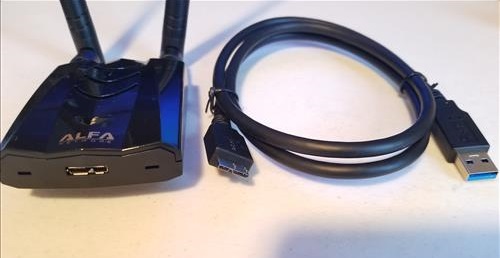 While it is backward compatible with USB 2.0 it will work best with a USB 3.0 port.
Two 5dBi detachable antennas are attached which greatly improves a WiFi signal.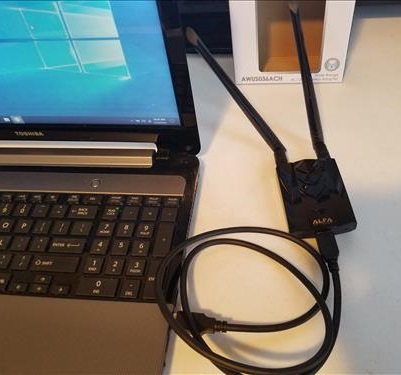 I plugged it in to a Laptop running Windows 10 Pro which automatically found the adapter with no need to install Drivers.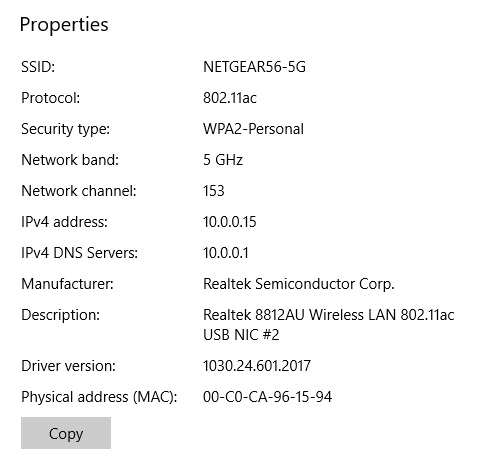 It shows it running the RTL8812AU Chipset.
Alfa AWUS036ACH WiFi Speed Test 5GHz Band
All speed test were done to a Neatgear 802.11ax WiFi-6 router 10 feet away past a wall.
Speedtest.net was used for some basic results since my internet connection maxes out around 200-220Mbps.
It gave some impressive speeds at 213Mbps Download, and 21Mbps Upload.


Alfa AWUS036ACH WiFi Speed Test 2.4 GHz Band
The same WiFi speed test was done on with the 2.4GHz frequency
Using the 2.4GHz Band with Wireless-N it gave 101Mbps Download, and 21Mbps Upload.



I plan to do much more testing with the Alfa AWUS036ACH and will update this post as I do.
*This post contains affiliate links.
Availability
Available Here on Amazon
Summary
The Alfa AWUS036ACH is a very good long range USB WiFi adapter with very good speeds.
If possible be sure to use a USB 3.0 port as to not bottleneck the transfer rate.
I am going to be doing much more testing with this adapter since it is known to be Kali Linux compatible and able to do Pen Testing.
Kali Linux comes with Driver support for RTL8812AU Chipset as of release 2017.1. Read Here for information.
This means it will be able to go into Monitor Mode and do Packet Injections.
Since it is a dual band 802.11ac device this will be the first Wireless-AC dongle able to do this.
As always be sure to read the reviews on Amazon, forums, or elsewhere to be sure a unit is a good fit for you.