The Amazon Echo DOT with Alexa was a surprise sleeper hit when introduced and now is even more popular.

The Echo DOT is a great device that along with Alexa has many uses, from playing music, to controlling other devices around a home.

While the DOT is a nice unit the built-in speaker can be lacking at times. The built-in speaker does work but it can be hard to hear in other rooms and is not good at playing music.

An easy fix to this is to Pair a wireless Bluetooth speaker with it and have nice sound while playing music or simply when using Alexa.

Below is our picks for best Amazon Echo DOT Bluetooth speakers.

In full disclosure these units have been sent to us from companies to review which we have done with our own honest opinion and results.

As always be sure to read the reviews on Amazon, forums, here, or elsewhere to be sure a unit is a good fit for you.

*This post contains affiliate links.
Our Picks for the Best Amazon Echo DOT Bluetooth Speakers
GGMM D6

GGMM D6 Power+Cordless Portable Speaker for Dot 2nd Generation, 20W 360-degree Powerful Sound Alexa Speakers, 5200mAh Power Supply for Your Dot (Black)(Dot not Included)

The GGMM D6 is a nice low-cost unit built for portability.

It pairs easily with the Echo DOT and with a 33 foot wireless range it can be placed in the best spot in a home.

The bass can go real low with little to no distortion with a nice volume when needed.

With its sleek design and good sound it is a mid-priced speaker that doesn't disappoint and makes a good Echo Dot companion.


ARCHEER A320

ARCHEER 25W Bluetooth Speaker (A320) with Super Bass, Loud Bamboo Wood Home Audio Wireless Speakers with Subwoofer

The ARCHEER A320 is a nicely built speaker with Bamboo on the front and back, and felt on the sides.

It Paired to the Echo Dot quick and easy with a very nice sound and deep Bass.

Read Full Review Here


dodocool Selfie

dodocool Mini Wireless Speakers, Small Portable Speaker Built-in Mic and Selfie Remote Control, Low Harmonic Distortion for iPhone iPad Android Smartphone More (Black)

The dodocool Selfie is a very small and portable Bluetooth speaker that is also very low cost at under $20 dollars.

It is a good unit for someone who would like the combination of a portable speaker that can be taken anywhere, and be able pair to most any Bluetooth device, from a smartphone to the Echo DOT.

While very small it puts out some good sound, has a wireless range of 33 feet, and a battery life of 4 hours.

If you are on a budget and looking to not only greatly improve the sound from the Echo DOT, but have a multipurpose portable wireless speaker than the dodocool Selfie is worth a look.

Read Full Review Here


BlitzWolf BW-F4

Blitzwolf Bw-F4 Xbass 10W2 4000Mah Outdoor Hands-Free Aux

BlitzWolf also makes many good units with the BW-F4 a good unit to use with the DOT.

The case is solid and has a nice look made from aluminum and ABS.

It has 20W Strong Bass speakers with a rechargeable battery that last up to 10 hours, of course it can be simply left plugged in.

While it could also be used as a portable unit it fits nicely into a home or other settings.

Read Full Review Here


WAHEY C1

The WAHEY C1 is another nice Bluetooth speaker to use with the DOT.

It has a nice handle that can be used as a stand or carried around with making it a good portable unit.

The design is round and sleek with very good audio.

Read Full review Here

How To Connect A Bluetooth Speaker to the Amazon Echo DOT
The Alexa app has all the setup and controls for the Echo DOT which can be downloaded from the Google Play Store or Apple App Store.

First the Echo DOT will need to go through a quick setup the first time it is used such as connecting to your WiFi.

Using the Alexa App a Bluetooth speaker can quickly be Paired and be ready for use.

1… Open the Alexa App and go to Settings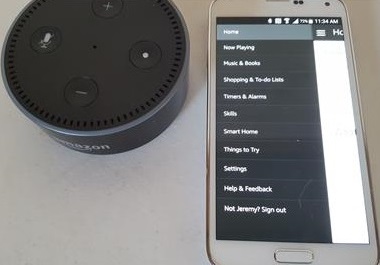 2… Select Bluetooth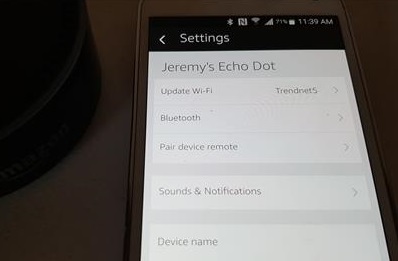 3… Select Pair a New Device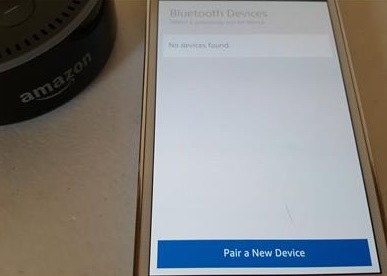 4… Your Bluetooth speaker will show up, select it to Pair.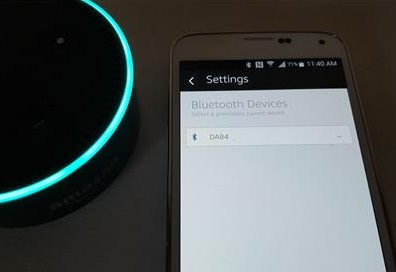 Summary
There is no doubt many good Bluetooth speakers to use with the Amazon Echo DOT. The above units are simply ones we have used and some of our favorite options.

There are also many more expensive top-end models which can be bought, but for the money the above units are hard to beat.

If you do have the money to spend than high-End units such as the Bose SoundTouch 30 Series III Wireless Speaker can be bought which no doubt is a nice very nice unit, along with the price to match.

For those looking for a more reasonable cost wireless speaker than there are many available that can sound good and not break the bank doing it.