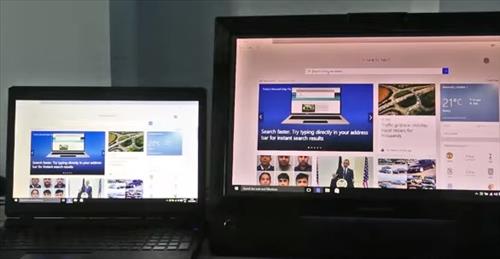 Miracast is a great option for mirroring a screen to a TV or monitor.
Windows 10 and many Android smartphones have the built-in ability to stream video to a TV wirelessly mirroring the screen.
This is a nice feature that can come in handy in a variety of situations, from office presentations to a family picture slide show.
How Does a Miracast Adapter and Windows 10 Work?
A Windows 10 capable dongle/adapter is plugged into a monitor HDMI port.

Windows 10 Actions Center is opened and the connect button clicked which will bring up the wireless dongle plugged into a TV or monitor.

A Windows 10 computer transmits to it via Miracast technology and mirrors the computer screen.

A tablet or smartphone also can be used that has Miracast built-in.
Windows 10 unlike other screen mirroring technology sets up a peer-to-peer connection straight to a display.
This can be beneficial in many ways since there is no need to have a router setup.
For example, taking a Windows 10 dongle with you to a meeting plugging in the dongle to a TV and displaying a power-point presentation with no need to set up a network connection.
It does have some downsides such as when used to play games. There is a slight lag that makes it annoying.
As with any wireless technology, distance will degrade the quality of the signal.
If you want to stream video to your laptop it needs to be as close as possible to the dongle, often within 5-10 feet if possible.
Miracast is ideal for displaying pictures, slide shows, videos, power point presentations, and much more.
There are many good units available with some of our favorite picks below.
As always be sure to read the reviews on Amazon, forums, here, or elsewhere to be sure a unit is a good fit for you.
*This post contains affiliate links.
Our Picks for Best Windows 10 Compatible Miracast Wireless Display Dongles
Microsoft Wireless Display Adapter 4K

Microsoft Wireless Display Adapter was created by Microsoft to mirror to a TV or monitor with Windows 10 and is the most popular option.

It uses Miracast technology so it will also work with any smartphone or tablet with Miracast built-in.

There are three versions of the Microsoft Wireless Display Adapter with the 4K version being the newest.

This is a straight to the point wireless adapter that does one thing which is to mirror a Windows 10 computer screen to a display.

Anycast

4K 1080P Wireless HDMI Display Adapter,iPhone Ipad Miracast Dongle for TV,Upgraded Toneseas Streaming Receiver,MacBook Laptop Samsung LG Android Phone,Business Education Office Birthday Gift

The Anycast is a HDMI Miracast dongle that wrks well and is low-cost.

The Anycast is built for a variety of devices to connect to HDMI and mirror a screen.

Actiontec ScreenBeam

Actiontec ScreenBeam Mini2 Wireless Display Adapter/Receiver (SBWD60A01) with Miracast, Black

The Actiontec ScreenBeam has been available for a while and is a good HDMI adapter for Miracast.

Like all Miracast adapters it plug into an HDMI port of a TV or monitor and displays the screen of the connected device.

Belkin Miracast

Belkin is a known manufacture of many wireless products such as routers and also has a Miracast device that works with Windows.

It has been available for a while and works with a with range of operating systems including Windows 10.
Summary
Miracast has many benefits and makes it easy to quickly display a smartphone or laptop screen to a TV or monitor wirelessly.
As long as your computer has a chip-set or wireless card that supports WiDi / Miracast which most new laptops support.
You will be able to take advantage of mirroring its screen to another display.
Most new Android smartphones sand tablets devices also come with Miracast built into them which can also be used.
As always be sure to read the reviews on Amazon, forums, or elsewhere, to get the best screen mirroring device for your setup.