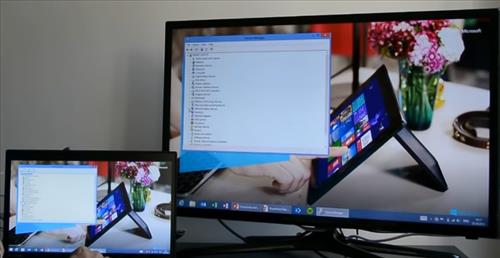 Transmitting a screen wirelessly from a computer to a monitor or TV can be done easily with several technologies that can be used.
Different kinds of technology can do this, such as Miracast, Airplay, and many proprietary setups.
There is no one unit for all scenarios with the many different setups possible.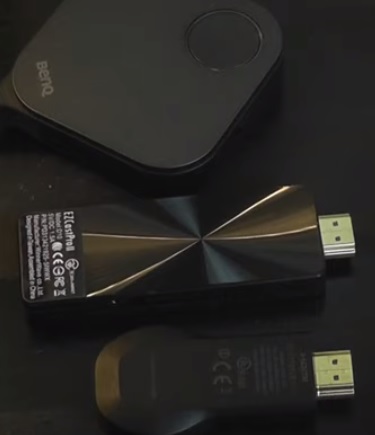 Things such as cost, resolution, and transmission distance all need to be considered.
For example, proprietary units are often the easiest to set up but often cost more.
With that in mind, here are our picks for the best wireless computer monitor setups.
As always, be sure to read the reviews on Amazon, forums, or elsewhere to be sure a unit is a good fit for you.
*This post contains affiliate links.
Our Picks for Best Wireless Computer Monitor Setups
Microsoft Wireless Display

The Microsoft Wireless Display Adapter plugs into a TV or monitor HDMI port and enables it to use Miracast technology to broadcast Video wireless.

It uses a USB port for power, so a USB power wall cable will be used if you have an older TV or monitor.

This is a good option if you have a Miracast capable smartphone or using Windows 10 PC.


Nyrius Aries

This unit from Nyrius can transmit HD resolution and sound wirelessly.

It has a simple setup with a transmitter and receiver.

The transmitter connects to the video device such as a gaming console, set-top box, or computer with HDMI.

The receiver connects to a TV and receives the signal broadcast from the transmitter.

This makes it compatible with almost any device that has an HDMI output port and makes the Nyrius ARIES unit a popular option.


J-Tech Digital HDbitT

J-Tech Digital makes a few versions of a wireless HDMI transmitter that can send an HD 1080p or even 4K signal.

A setup contains a transmission box and a receiver box that communicate together, transmitting an HD signal.

The installation is easy by plugging in the HDMI cables and giving the boxes a clear line of sight to broadcast.

Different versions can be bought that send up to 660 feet with some able to transmit 4K video.


EZCast 2

The EZCast is a small HDMI dongle that plugs into a TV and can receive a signal from any Miracast capable device.

This includes Android smartphones, Windows 10, and more.

There is also an app for non-miracast devices to mirror a screen and transmit it wirelessly.


Chromecast

The Chromecast can transmit 1080p video from almost any device such as a desktop, laptop, Mac, Android, iPhone, and so on.

It connects to a TV HDMI port and plugs into a USB port for power.

After plugging it in, software or apps for smartphones can be installed to display a screen to a TV.

If you are looking for a quick and easy solution to wireless video, definitely check out the reviews on Chromecast.


Actiontec ScreenBeam Kit

Actiontec makes this dedicated video streaming kit.

It plugs into a computer USB port and transmits to a TV or monitor wirelessly.

As with other types of setups, it does have lag, so be sure to read the reviews to see if it is right for you.


Diamond Multimedia USB 3.0 to DVI/HDMI Video Graphics Adapter

The Diamond Multimedia WPCTVPRO is a proprietary device that will transmit HD video wirelessly. It is set up with a USB 3.0 adapter for the computer and an HDMI adapter for a TV/monitor.

After the adapter is plugged in and the drivers are loaded, it will transmit video over the air.

Diamond Multimedia uses proprietary technology so it does not work with Miracast or Airplay.

As with any wireless video setup, there is a slight lag which is fine for watching a movie or surfing. Just don't think about gaming with it, as the lag will be annoying.
Types of Wireless Monitor Technologies
Miracast

Miracast was first introduced in 2012 and has slowly become the go to wireless protocol for wireless transmission of monitor screen.

It can transmit up-to 1080p video resolution without wires.

Many devices now come with Miracast built in such as Android phones version 4.2 or higher.

Miracast adapters can also be bought on the cheap that can enable it to be used with a computer monitor or TV to transmit video without wires wirelessly.

For example, an Android phone with Miracast can transmit its screen to a TV or monitor that has Miracast.

If the TV or monitor doesn't have Miracast capability an adapter/dongle can be bought that will make it capable.

Windows 10 and 11 come with Miracast built in along with new Samsung TVs and many other electronics.

AirPlay

AirPlay is an Apple standard that comes built into many Apple devices such as iPhones, Macs, iPad, and Apple TVs.

Airplay has been passed by Miracast as the standard of choice in wireless video transmission.

While Airplay started out strong, it only works with Apple devices and is not an open protocol-free to use as Miracast is.

Since any vendor can use Miracast, it is now being built into many new electronics.

If you have an Apple home ecosphere with an iPhone, Apple TV, Mac, and so on, Airplay may be the best option for you.

Miracast or a proprietary WiFi technology will likely be best for everyone else.