The Amazon Fire TV Stick is a nice addition to any home with tons of apps and streaming services.

The remote control that comes with the Fire Stick works OK but can be a pain to use with the on-screen keyboard.

Yes Alexa can be used but is not always accurate creating times when it is easier to simply type than speak into the mic.

Trying to type in a movie name or doing a simple search is much easier with a small Bluetooth keyboard.

With that in mind here is our picks for best Bluetooth keyboards to use with the Amazon Fire TV Stick.

In full disclosure these units have been sent to us from companies to review which we have done with our own honest opinion and results.

*This post contains affiliate links which at no cost to you allows us earn a commission on product purchases.

As always be sure to read the reviews on Amazon, forums, here, or elsewhere to be sure a unit is the right pick for you.

Our Picks for Best Amazon Fire TV Stick Bluetooth Keyboards 2019

1byone Wireless Bluetooth Keyboard with Built-in Multi-touch Touchpad, Touch Keyboard for Windows / Android Tablet / Galaxy Tabs / Smartphones, Black

1byone makes this great midsize unit with a built-in touch-pad.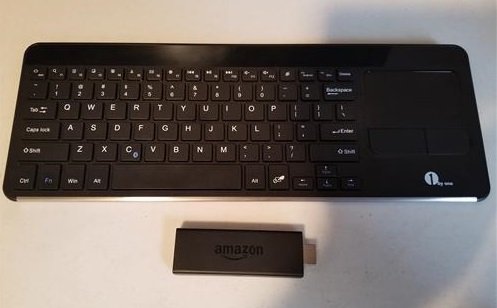 It is not as small as a mini unit but in-between a standard and small keyboard that also has a touch-pad built-in to move the mouse courser about.

This is one of my favorite options and setup in the living room with a Fire TV Stick to quickly navigate the menu along with Kodi.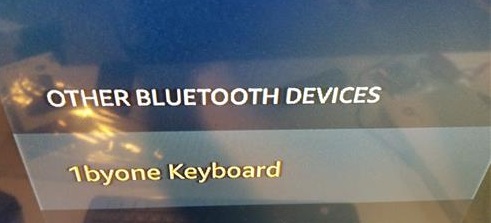 As with all touch-pad combinations while in the main Fire Stick menu only the keyboard buttons work. The touch-pad works when using Kodi or other Apps once they open up.

It uses 2 AAA batteries so is not rechargeable but last a long time with a rated 60 day standby mode.

…….
Fintie 10-Inch Ultrathin (4mm) Wireless Bluetooth Keyboard for Android Tablet Samsung Galaxy Tab E / Tab A / Tab S, ASUS, Google Nexus, Lenovo and Other Android Devices

The Fintie mini wireless Bluetooth keyboard is a 10-inch ultra thin unit that is compatible with Bluetooth devices such as the Fire TV Stick.

It pairs easily to the Fire TV with a security code for added protection.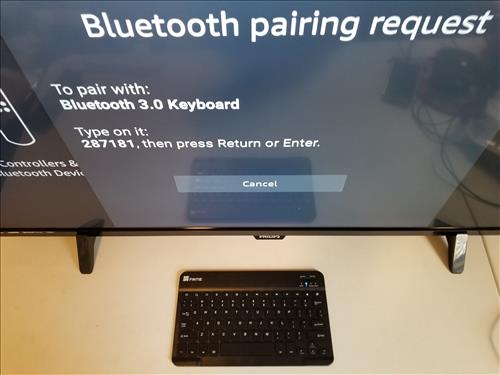 All the buttons worked well with the Fire TV including the Home and Search buttons.

Read Full Review Here

…….
Mini Keyboard, Updated Wireless Mini Keyboard with Touchpad Mouse and Multimedia Keys : Jelly Comb 2.4Ghz USB Rechargable Handheld Remote Control Keyboard for PC, HTPC, X-Box, Android TV Box,Smart TV

This mini keyboard touch-pad combo from Jelly Comb is a small unit about the size of a smartphone.

The touch-pad is built into the center with the keys on the outside for typing.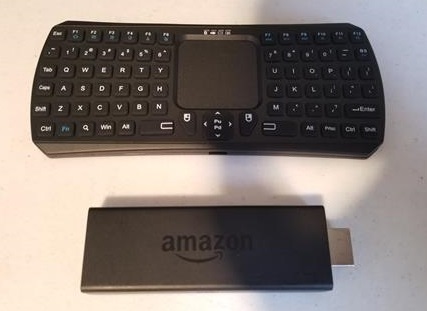 It has the Bluetooth Pair button built into the top that is pressed for 2-3 seconds which sends it into Pair mode.

The Fire Stick Pairs with it from the menu in Controllers and Bluetooth options.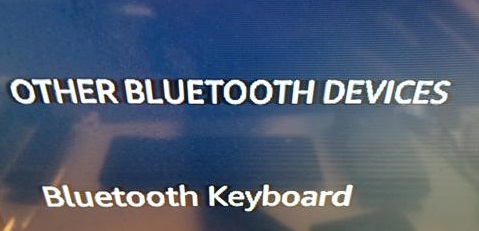 It comes up simply as Bluetooth Keyboard.

A rechargeable battery is built-in that recharges with a Micro-USB slot.

The Jelly Comb is a small unit that works well with the Fire Stick.

Read Full Review Here

…….
iPazzPort KP-810-30B Mini bluetooth Keyboard for Fire TV Stick with QWERTY

iPazzPort makes many small keyboards including the KP-810-30B made for the Fires TV Stick.

One side has a standard remote control buttons, while the other side has a small keyboard.

A button for voice controls with Alexa is also built-in which makes it a good all around controller.

The button side layout is the same as the remote that comes with the fire stick, but with a keyboard on the other side.

…….
Rii FMKBTL1-IV1 i8+ BT Mini Wireless Bluetooth Backlight Touchpad Keyboard with Mouse for PC/Mac/Android, Black (RTi8BT-5)

Rii is another mini keyboard manufacture with this style being very popular.

This style of keyboards as been available for awhile and has been copied by many others.

It fits well into any Fire TV Stick setup with keyboard on the bottom and mini touch-pad at the top.

…….
Bluetooth Keyboard, Jelly Comb Universal Wireless Bluetooth Keyboard Ultra Slim for Apple iOS iPad Pro, mini 4, iPhone X/8/7Plus/6, Android Tablets (Galaxy Tab), Windows Mac OS 6.0 & later (Black)

Jelly Comb also makes this mid-sized unit that is a keyboard only with no touch-pad.

While not as small as many other mini keyboards it works well and is a good unit for those looking for something between a standard unit and a mini.

It has wide compatibility and can work with most any device from an iPad Pro to an Android TV Stick.

…….
iClever Wireless Folding Keyboard (Designed for Better Typing), Ultra Slim Rechargeable Bluetooth Keyboard for Windows iOS Mac Android Tablets Smartphones, Gray

iClever has several Bluetooth keyboards that work well with the fire TV Stick.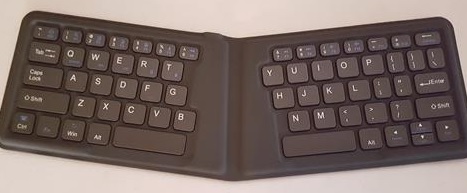 This one is small and easily stored away when not in use. It folds in half for easy storage.

Since it folds up for easy storage it would be better for anyone who travels a lot and takes a Fire Stick with them.

…….

How to Setup a Bluetooth Keyboard With the Fire TV Stick
Paring a Bluetooth Keyboard is easy to do with the Fire TV Stick.

Go to System –> Controllers & Bluetooth Devices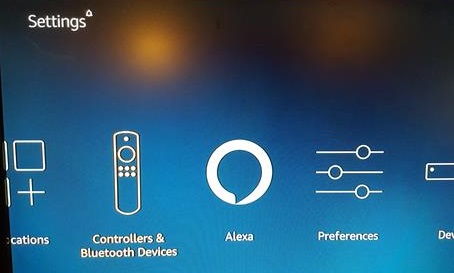 Go to Other Bluetooth Devices –> Add Bluetooth Devices.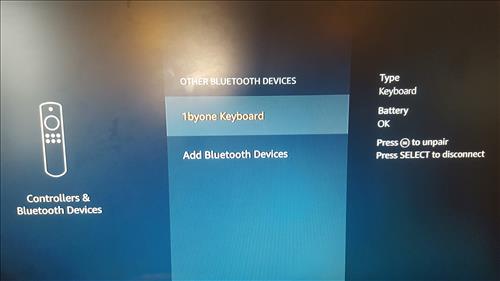 The Fire Stick will start to scan for any Bluetooth device, click connect when your unit is located.

Some keyboard will have their own setup such as pressing the FN key and Bluetooth for it to go into paring mode. Each keyboard will have its own setup which is usually a quick easy thing to do and should be in the instructions.

Summary
While the Amazon remote that comes with the Fire TV Stick is good it lacks when typing needs to be done.

Most will stay with the default remote but a Bluetooth keyboard is a low-cost fix that makes things much easier.
If you find the default Fire Stick on-screen keyboard annoying, the easy answer to this is a mini keyboard.

The above units are simple some of the ones we have found that work well with no-doubt many more available.

Do you have a unit that work good for you? Let us know in the comment below.