Kodi is great as a home media center and very good at playing movies or TV shows.
It is also very easy to customize from add-ons to different remote controls.
Kodi can be controlled in many ways from using a standard computer mouse to dedicated remote control.
After using a standard remote getting a small mini keyboard remote is a nice upgrade for controlling a box.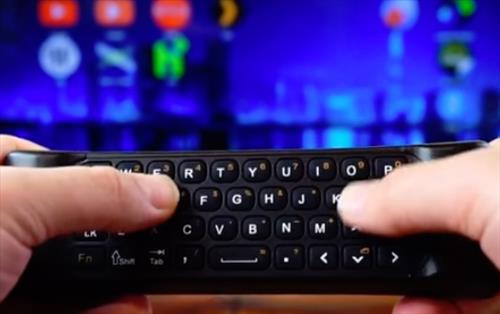 This is especially true when using the onscreen keyboard built into Kodi. While a standard remote does work it is much simpler and easier to have a small keyboard remote to type with.
The good news is dedicated Kodi remotes are cheap and come in many shapes and sizes. From using your android TV box to a HTPC there is a Kodi remote for everyone.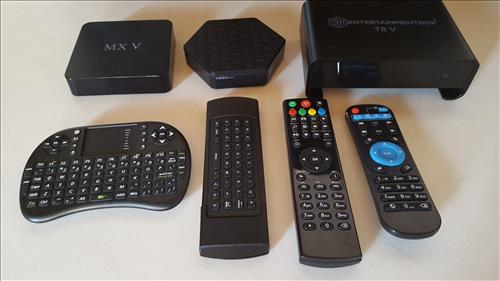 There are many low cost Kodi controllers that are multi functional and have a small built-in keyboard.
So What are the Best Kodi Remote Controls?
It is a matter of preference which remote is best to use.
With that in mind here is our favorite units are below.
As always be sure to read the reviews on Amazon, forums, or elsewhere to be sure a unit is a good fit for you.
*This post contains affiliate links
Our Picks For The Best Kodi Remote Controls
iPazzPort Mini Keyboard

(Upgraded)Rii 2.4GHz Mini Wireless Keyboard with Touchpad,QWERTY Keyboard,LED Backlit,Portable Keyboard Wireless for laptop/PC/Tablets/Windows/Mac/TV/Xbox/PS3/Raspberry Pi .(i8+ Black)

The iPazzPort is a popular remote for a variety of platforms including Kodi.

The layout and style have been available for a few years and steadily improved.

It has a touch-pad to control the mouse pointer and a small keyboard for typing.

A small USB dongle plugs in and automatically syncs to the keyboard.

The hardware compatibility of the iPazzPort is wide ranging from an android TV box to a PC.


Rii i4 Mini

(Upgrade) Rii i4 Mini Bluetooth Keyboard with Touchpad, Blacklit Portable Wireless Keyboard with 2.4G USB Dongle for Smartphones, PC, Tablet, Laptop TV Box iOS Android Windows Mac.Black

Rii makes this small touchpad remote control keyboard combo.

The touch-pad is in the center and keys on the bottom.

It is a good low-cost unit that is compatible with Android or Windows.

It communicates to most any device with built-in Bluetooth from an Android TV box to a PC setup.


T18-mini-keyboard

Mini Wireless Keyboard and Mouse Combo, Backlit Wireless Keyboard with Full Screen Mouse Touchpad, Rechargeable Keyboard Remote Control for Android TV Box, Projector, IPTV, HTPC, PC, Laptop and Smart

This mini keyboard is a good unit for anyone who doesn't use a touch-pad and only needs a small keyboard with basic buttons.

It uses a 2.4GHz wireless dongle that is compatible with most any hardware or operating system.

There is a built-in rechargeable 300mAh battery and also a slot for AAA batteries to power the unit.


Rii Mini

Rii Mini Wireless 2.4GHz Keyboard with Mouse Touchpad Remote Control, Black (mini X1)

The Rii Mini is another popular remote control keyboard that works well with Kodi.

It is small and fits into the palm of your hand with a small keyboard and touch pad to control the mouse cursor.

Like the iPazzPort it is also compatible with many hardware platforms including PC, Mac, Xbox 360, Xbox One, PS3, PS4, and Android TV Boxes.

The Rii Mini has been available for a while and is a popular low cost option to control Kodi remotely.


MX3 Pro Air Mouse

MX3 Pro Backlight 2.4G Mini Wireless Keyboard Air Remote Mouse 3D Fly Remote Controller Built-in 3-Gyro 3-Gsensor with Nano USB Receiver Perfect for Android TV Box HTPC IPTV Mini PC Smart Projector

Air mouse pointers move a pointer on a screen automatically without a touch pad.

Where ever the remote is pointed to on a screen the cursor is there.

Some don't like Air Mouse remotes while others love them. As with any controller Its a matter of preference.

There are several nice air mouse controllers with the MX3 a good unit for most any device.

It is compatible with Android TV boxes, Windows 10 PC, Projectors and more.

The MX3 is a nice remote that works very well with Kodi.


iClever Folding Keyboard

Bluetooth Keyboard, iClever Folding Keyboard with Sensitive Touch Pad (Sync Up to 3 Devices), Pocket-Sized Tri-folding Wireless Keyboard with Portable Carry Pouch for Smartphones, Tablets – Dark Gray

This small keyboard folds up when not being used making it easy to store away or be taken on a trip.

It works with Androids, Windows, and iOS devices making it compatible with most any device form a smartphone to a PC.

The iClever Tri-folding Keyboard is not an everyday remote control but would be ideal in many scenarios such as when traveling.

ANEWISH Mini Keyboard

(2020 Latest, Backlit) ANEWISH 2.4GHz Mini Wireless Keyboard with Touchpad Mouse Combo, Rechargable Li-ion Battery & Multi-media Handheld Remote for Google Android TV Box,PS3,PC,PAD (T16-BLUE)

This mini keyboard from ANEWISH has a built in touch-pad and controllers.

It uses a small USB dongle and is ready to use once plugged into a USB slot and battery charged.

There is also a back-lite display that lights the buttons when the room lights are off.

It is compatible with a wide variety of systems including Windows, Android TV boxes, and PS3.
Summary
There are many good remote controls for Kodi with those above just a few to choose from.
What type of hardware that is used to run Kodi will need to be taken into consideration and need to be compatible with the controller.
Keep in mind that most any computer mouse and keyboards will also work with Android TV boxes and can be a good option for some.
Having a good controller can go a long way to make a Kodi media center a much better experience.