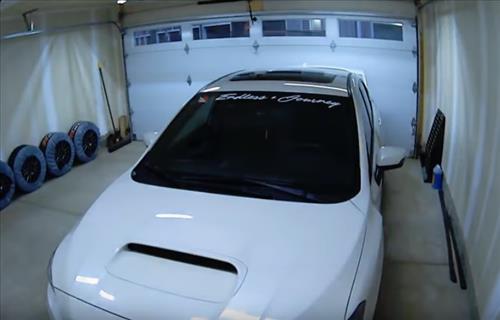 Having a security camera set up to monitor a garage is ideal for many reasons.
Installing a camera to view a garage is easy to do with many units available.
There are inside and outside cameras, with many able to turn and pan tilt about.
Inside cameras are ideal for viewing inside a garage and can be set up with multiple units.
Outside cameras can also be good for general viewing activity around a garage.
Most often, a combination of inside and outside is the best setup.
With the many available, below are some of our favorite options.
As always be sure to read reviews on Amazon, here, or elsewhere to be sure a unit is a right pick for you.
*This post contains affiliate links.
Our Picks for Best Wireless Security Camera for a Garage
REOLINK Argus PT Wireless Surveillance Camera

The REOLINK Argus PT is a wireless unit that can pan about and turn to get the best viewing angle.

It is battery or solar-powered, which makes setting it up quick and easy since there are no wires.

The REOLINK app that controls the unit works very well both when at home and when away on the go.

I have a REOLINK 8 camera system setup and have been very impressed with the app.

While many security cameras have apps, most fall short when away from home.

REOLINK systems work very well and, in my opinion, have the best app available.

Wyze Cam V3

The Wyze Cam 3 is a good inside unit that can be bought in packs and set up for more viewing angles.

The app will manage multiple camera connections, which makes for a good setup to see from different spots located around a garage.

They are box-looking units with a magnetic base that attaches to metal easily.

Night vision is built-in and works nicely with a black and white image.

More light, the better with full HD color image during the day or when the lights are on.

The base also pulls out and can twist to get the camera pointed in the desired location.

LaView R3

The LaView R3 is a nice streaming camera that works nicely in many scenarios, including inside a garage.

It is a small inside unit that can rotate about to get a better view of a location.

It can live stream a panoramic view of a room in 1080P HD quality along with a pan and tilt and move side-to-side.

An SD-card can be inserted and used as storage or the app can record video to a smartphone.

The LaView R3 is a nice unit that can be used in a variety of scenarios, from pet or baby monitors to garage security.

It is an inside unit so will not be good watching outside a garage but makes for a good inside wireless security camera.

NETVUE Outdoor Security Camera

NETVUE makes this wireless outside security camera that is a nice unit.

It can send an HD 1080p video wirelessly to a smartphone, SD-Card, or even Cloud storage.

It also has a lot of features built-in, such as motion detection, two-way audio, and alerts.

The NETVUE is a good unit at a low-cost that will monitor the outside of a garage nicely.

ieGeek Surveillance Camera

The ieGeek is a multi-purpose camera that can fit into many scenarios, including a garage camera.

It has a 5dBi antenna to pick up a wireless 2.4Ghz signal.

Other features include 2-way audio, motion detection, HD video, 2-way communication, and more.

The ieGeek is a good all-around camera for garage able to do many tasks.
Summary
Having the ability to monitor a garage is a nice thing to have, with streams able to be quickly viewed with a smartphone.
There are many good wireless cameras, with those above simply some of our favorite options.
Setting up multiple cameras is the best scenario, but one well-placed camera can do a lot of viewing.
Most all units today also have night vision along with the audio to speak or record sound.
Do you have a favorite garage camera? Let us know in the comments below.