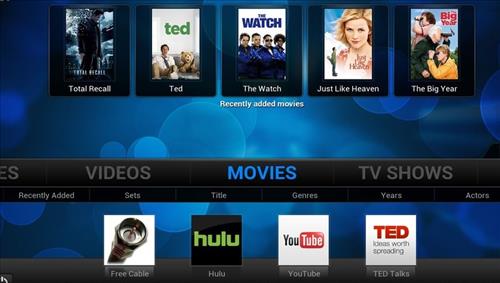 Buying or building a Windows 10 smart TV box as many positives from using Cortana to playing movies and TV shows.

Microsoft no longer supports Windows Media Center with Windows 10 but there are many better options to choose from.

Should You Buy or Build a Windows 10 Smart TV Box?
This is a decision that no doubt depends on the person. One person will likely go the build your own route while another simply will want a ready built solution.

Keep in mind any Windows 10 computer can be used as a smart TV box, but most don't want a large bulky machine next to their TV.

Many older computers that run Windows 7 and Windows 8 can be upgraded to Windows 10 and a smart TV box built.

What Ready-Built Solutions Are There?
There are several ready-built boxes and smart TV sticks that come with Windows 10 pre-installed. Here are some of our picks.

In full disclosure these units have been sent to us from companies to review which we have done with our own honest opinion and results.

*This post contains affiliate links which at no cost to you allows us earn a commission on product purchases.

Beelink AP34 Ultimate Intel Mini PC 8GB / 64GB Intel Celeron N3450 HD Graphics 500 Gigabit/ Bluetooth /Dual-Band /WiFi Mini Computer Windows 10 MINI PC

The Beelink AP34 is a good option for a small Windows 10 box.

It runs a Intel Core Processor N3450 with 8GB of RAM.

The Beelink AP34 also has a 60GB internal SSD hard drive for storage along with Win 10 installed.

In our test it had fast WiFi and no problems running 4K videos at 60FPS.

It is a nice small box about the same as a budget laptop at a much lower cost.

Read Full Review Here


…….
MINIX NEO Z83-4, Intel Cherry Trail Fanless Mini PC Windows 10 (64-bit) [4GB/32GB/Dual-Band Wi-Fi/Gigabit Ethernet/Dual Output/4K]. Sold Directly by MINIX Technology Limited.

The NEO Z83-4 is a popular option that runs Windows 10 and comes in different versions.

The basic version runs a NEO Z83-4 CPU and 4GB of RAM.

It is a small unit that doesn't use much power and is great for basic task.


…….

Best Media Player For Windows 10
Kodi is the best media player for Windows 10 and it is free.

For those that are unaware of Kodi it is a free media center that can stream and play all kinds of content from video to music.

After Kodi is installed it uses what are called add-ons to stream content straight to your TV from the internet.

Add-ons are like apps for a smart phone that are coded from third party sources and give functionality to Kodi.

Read Here For A Guide To Kodi.

Cortana As A Virtual Assistant.
Windows 10 boxes have a advantage over its predecessors since Cortana comes built in.

This takes a smart TV box to a new level.

A Window 10 box using Cortana can be setup much like the Amazon Echo, except unlike the Echo it can play movies, check email, and browse the internet.

The full advantages to using Cortana are yet to be fully seen, but most anyone can see the benefits of having a virtual assistant from asking for recipes to asking what the weather will be.

Summary
Windows 10 gives a user better options than ever before when it comes to using a smart TV box.

The combination of streaming movies and TV shows from the internet to Cortana make it a excellent platform to build on.

The main focus will be on the hardware to use to run your smart TV machine.

Whether you buy a pre-built solution or build your own it no doubt will give hours of entertainment.