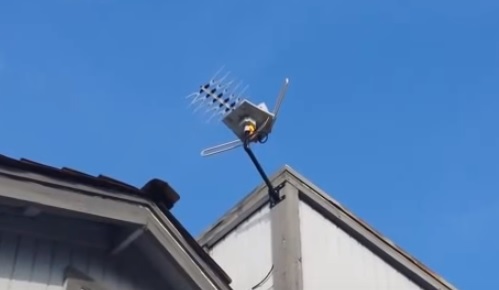 A digital TV and converter box can pick up free over-the-air broadcast from many stations, such as CBS, FOX, NBC and so on.

While a converter box can pick up a TV signal they often need a boost with an antenna to pick up the broadcast.

This makes it necessary to get a digital antenna or booster that fits your location to get a good signal.

Over-The-Air TV antennas vary greatly in size, shape, and indoor or outdoor units.

What Type of Antenna Do You Need?
This will depends on your location to the TV broadcast towers.

Most cites will have towers that are located close and many can pick up stations easily with a small cheap indoor antenna.

For those who live outside a city than an outdoor antenna that can be place on a roof or pole will likely be needed.

Our Picks for Best Antenna for Digital TV Converter Box
1byone Amplified HDTV Antenna

1byone TV Antenna, 50 Mile Range Amplified HDTV Antenna with Detachable Amplifier Signal Booster, USB Power Supply and 10 Feet Highest Performance Coaxial Cable-Black

The 1byone HDTV Antenna is an internal antenna that makes it easy to setup.

The antenna is placed in a window and pointed in the directions that gets the best signal.

This is a good option for those that live in a city and broadcast signals are relatively strong.


RCA Compact Outdoor Yagi

RCA Compact Outdoor Yagi HDTV Antenna with 70 Mile Range (ANT751E)

This outdoor digital TV antenna is made by RCA and is a Yagi style.

Yagi style antennas are the most widely used TV antennas and are directional, meaning they amplify a signal when it is pointed directly at the source.

Adjusting and turning a Yagi antenna is done until the best signal is received than it is bolted into place.

This makes them ideal for getting a good signal from a distance.


Winegard MS-3005 MetroStar

Winegard MS-3005 MetroStar Digital 360 VHF/UHF Amplified Omnidirectional Outdoor HDTV Antenna

The Winegard WF2-435 is an Omni Directional outdoor TV antenna.

Omni Directional antennas can receive and amplify a signal from any direction.

This makes them ideal in situations were the TV broadcast towers are located in different locations.

Most transmission towers are located in roughly the same area but in some cases they can be scattered about.

This is especially true in cases where a home is located close to the towers.

For example in some cities two towers may be a mile apart with a home in the middle. While this makes no difference from a distance the home located at the center would benefit from a Omni directional antenna.

Vansky Outdoor 150 Mile Motorized

Vansky Outdoor 150 Mile Motorized 360 Degree Rotation OTA Amplified HD TV Antenna for 2 TVs Support – UHF/VHF/1080P Channels Wireless Remote Control – 32.8′ Coax Cable (VS-OTX01)

This unit from Vansky is an outdoor antenna with a motor to turn it and tune into a signal.

Directional antennas work very well when pointed directly at a source and are good long range units.

The motor turns the antenna which can tune into a TV tower from far away getting the best signal possible.
Summary
With the many antennas available there should be little problems in choosing one that would bring in HD digital over-the-air TV broadcast.

In rare cases that a antennas does not boost a signal good enough TV signal boosters can be used in combination with a antenna to get a good signal.
After hooking up an antenna be sure to re-scan for TV stations as more broadcast should be found.