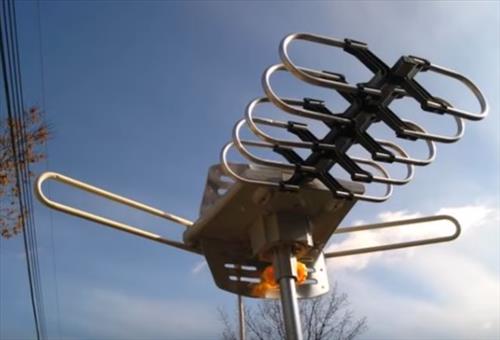 A good outdoor TV antenna makes it easy to pick up free over-the-air TV broadcasts.
It is a great option for cord-cutters since there is no monthly cost, only needing a good antenna.
How many stations can be picked up will vary from one location to another, but most will likely get 20-40 channels or more.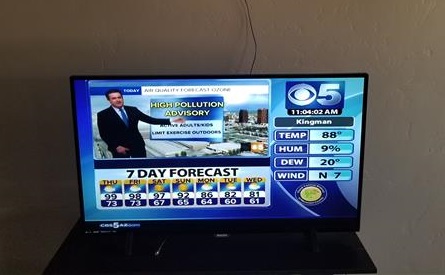 Big cities will have more broadcasts than small towns, so an antenna's range will matter for more stations.
There are many good outdoor TV antennas to choose from, with some of our picks below.
As always, be sure to read the reviews on Amazon, forums, here, or elsewhere to be sure a unit is a good fit for you.
*This post contains affiliate links.
Our Picks for Best OTA HDTV TV Antennas
ANTOP Big Boy AT-400B

The ANTOP AT-400B is a very nice unit able to pick up free OTA TV signals along with many added features.

Features include Smart-Pass Amplifier Technology, 4G LTE Filter, and VHS antennas.

The VHF antennas stick out the side of the unit to pick up any channels on those frequencies.

The unit can pick up both VHF and UHF bands between 54 and 216 MHz and the UHF band between 470 and 890 MHz.

It is also an indoor or outdoor unit and can be mounted just about anywhere, including an attic.

Vansky Outdoor 150 Mile

Yagi antennas make very good units; when pointed directly at a tower, the signal can be greatly improved.

There are several Yagi-style units that have motors built in to turn 360 degrees and narrow in on a broadcast tower.

Vansky makes this unit that comes with a booster that hooks to a TV along with a remote control to turn the antenna.

The Vansky is a directional antenna meaning it needs to be pointed directly at the source signal for the best reception.

Directional antennas are better at picking up stations from a distance but need to be turned toward the TV transmission towers. The built-in electric motor makes this easy with a remote control to fine-tune a station broadcast.

Setup is straightforward with mounting it in the air and running a coaxial cable to a TV.

The Vansky is a nice option for the price and will have a TV playing HD 1080p broadcast in no time.


RCA Outdoor Yagi HDTV

The RCA Outdoor Yagi HDTV antenna is a very popular unit that has been available for a few years.

I have installed one on a camper, and it works very well picking up stations and is one of the better units for the money.

Like most TV antennas, it does require some assembly with the mounting bracket and the small aluminum fins.

There is no motor to turn the unit, so it will need to be mounted at the best location, usually pointing at the TV towers.

The easiest way to do this is to watch the channels and slowly turn the antenna unit, so it gets the best reception and bolts it into place.

RCA Outdoor Yagi is a good unit that, with a bit of assembly, works very well.

ANTOP New Generation UFO Outdoor 360 Omnidirectional

Available Here on Amazon

ANTOP makes this round antenna that is Omnidirectional, meaning it can receive a signal from any direction.

This makes it a good unit that can pick up a signal without having to be pointed directly at TV towers.

Omnidirectional makes for good antennas on RVs, campers, and trailers since they are moving and don't need the antenna adjusted.

They also will work in any other environment such as a house, garage or detached building.


Shakespeare 3019 SeaWatch

Available Here on Amazon

For the ultimate outdoor TV antenna, the Shakespeare 3019 SeaWatch is built for boats but can be mounted anywhere.

This is one of their Omni-Directional antennas, which comes in a circular design. Omni-Directional antennas are built to pick up a signal from any direction and do not have to be pointed directly at the source.

Since it can pick a station up from any direction, it makes for a good boat, RV, or camper antenna.

The range is very good, but will depend on the terrain. For example, if the towers are mounted on a hill 30-50 miles away, and you have a clear line of sight, you likely will get a signal.

If there is anything hindering the signal, such as trees, hills, or even weather, the towers will need to be closer.

Even though it is an outside antenna, it can also be used indoors, such as in the attic.

This is a good Omni-Directional antenna; just don't expect a very long distance range unless you have a good clear line of sight to the towers.


Lava Omnipro HD-8008 Omni-Directional

The Lava OmniPro HD-8008 is a unique design made for urban environments where many towers may be around but in different locations.

It comes with an inline booster to help improve any signal coming in.

If you live in a city and have towers surrounding you in different spots this is a good one to get. The range is also decent.
Types of HDTV Outdoor TV Antennas
Directional Antennas

This type of antenna is built to receive a signal from far away but needs to be pointed at the frequency for best results.

Turning the unit until the best reception is displayed on a TV will be necessary.

A benefit of a directional antenna is once it is tuned to a signal, it has a very good range and can pick up from far away.

A directional antenna combined with a signal booster is the best option for those living far from TV transmission towers.

Omni-Directional Antennas

Omni-Directional OTA TV Antennas can pick up a broadcast no matter which direction it is coming from.

This makes Omni-Directional antennas better in most cases for over-the-air TV. If the TV towers are all bundled together in the same location a directional antenna can be pointed directly at them and can sometimes give a better gain.

The problem is that most TV towers are not located together and are spread out in different locations.

Since an Omni-Directional antenna can pick up a signal from any direction, they have a certain benefit over other antenna types.
How To Install a TV Antenna
Setting up and installing an over-the-air TV antenna requires mounting the unit in the air, usually on a pole.
A coaxial cable is run to a TV which converts the signal. Most TVs will need the channels scanned before they can display them.
Installing a unit is straightforward, but tools will be needed so it is mounted properly on a pole.
Running coaxial into a home must also be considered, with most tying into a home's existing cable lines.
Every home will be slightly different and should be thought out before installing.
Summary
Having a good over the air HDTV TV antenna is a very good option for free TV channels.
There are many good units to get with those above, simply some of our picks.
Getting a good HDTV TV antenna often depends on your location compared to the TV tower location.
If all the TV towers are in one spot, getting a cheaper directional antenna will work just as well as an Omni Directional.
The real benefit of Omni-Directional comes when the tower's locations are unknown or are spread out at different spots.
As always, be sure to read the reviews on Amazon or elsewhere to see which one fits your scenario. Which ever antenna is used, free over-the-air TV is always good to have