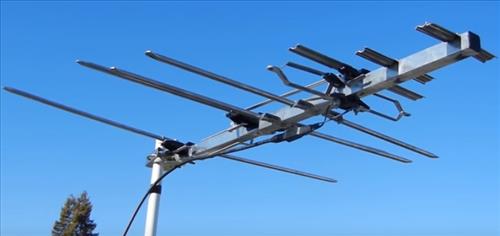 The RCA Yagi outdoor TV antenna is built to pick up free over-the-air TV channels up close or from a distance.
A Yagi design works best when pointed directly at a TV tower.
Most TV towers are clustered together so mounting it pointed at one location is usually not a problem.
There is Omni-Directional antennas that can pick pick up stations from any direction but are not as powerful as a Yagi pointed straight at a source.
Omni-Directional antennas are usually used on RVs or campers while Yagi used on homes.
The unit comes in a box with assembly required.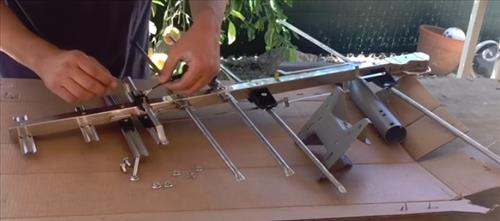 It is not difficult to put together but does need several pieces to be assembled.
The bottom has two bolts that hold the wiring which goes to a standard cable coaxial line.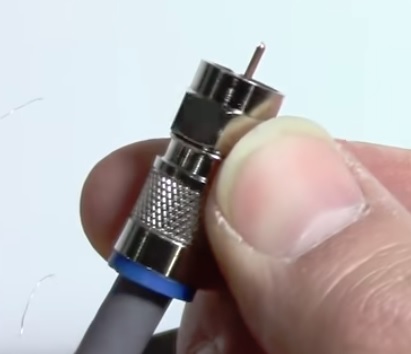 The mounting bracket can be screwed onto a flat wall or around a pole and mounted into the air.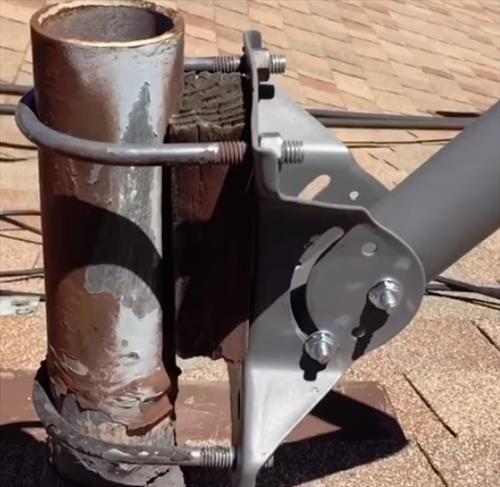 In this example it is mounted onto an existing roof pipe.
Since it is a Yagi antenna it will need to be pointed directly at the TV tower to get the best results.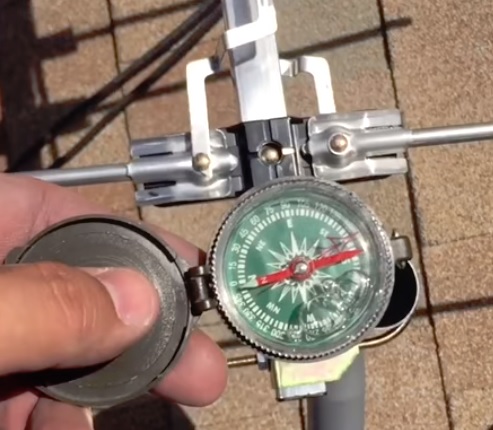 This can be done a few ways. The best way is to Google the towers location and point it toward them.
Another common method is to simply turn the antenna until the best reception is on the TV and the unit bolted into place.
After the cable coaxial line is attached to a TV the channels need to be scanned. Every TV has a different menu system but somewhere in the menu should be a TV antenna scan for channels setting.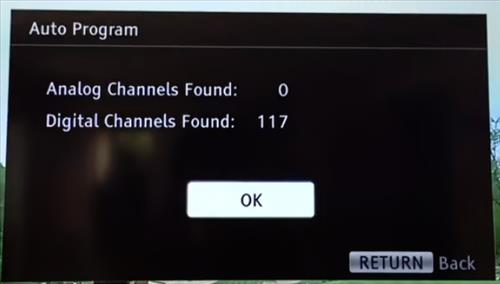 Using the RCA Yagi I was able to pick up 117 over-the-air stations at me location.
Of course, the channels are not premium with a lot of old movies and TV shows but it is all free and works very well.
*This post contains affiliate links.
Read More Reviews Here on Amazon
TV Antenna – RCA Outdoor Yagi Satellite HD Antenna with Over 70 Mile Range – Attic or Roof Mount TV Antenna, Long Range Digital OTA Antenna for Clear Reception, 4K 1080P

Summary
The RCA Yagi TV Antenna works very well when setup correctly.
There is some assembly and set up but it is not difficult for the average DIY type person.
I am impressed by the unit and how many station it picks up for free.
This include local stations along with the big networks such as ABC, CBS, FOX, CW and so on.
For the money it is well worth it and a good set up for any cord cutter.
I am still testing the unit so far with good results and will update if anything changes.
As always be sure to read the reviews on Amazon, forums, or elsewhere to be sure a unit is a good fit for you.