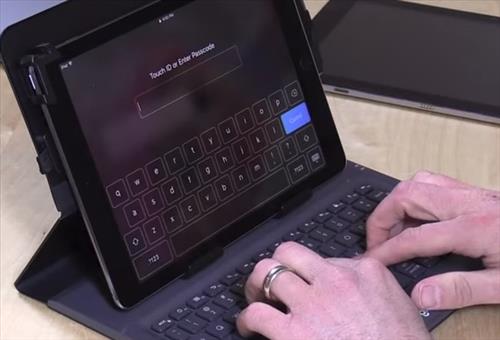 Having a wireless keyboard in combination with an Android tablet gives it nice functionality.
Here are a few of our picks for Bluetooth Android keyboards. If you have a favorite option, let us know in the comments below.
As always, be sure to read the reviews on Amazon, forums, here, or elsewhere to be sure a unit is a good fit for you.
*This post contains affiliate links.
Our Picks for Best Bluetooth Keyboard for Android Tablets
Cooper Infinite Executive Keyboard

Cooper Infinite Executive Keyboard Case for 9-10.5 inch Tablets | Universal Fit | 2-in-1 Bluetooth Wireless Keyboard & Leather Folio Cover (Black)

The Cooper Infinite Executive is a tablet keyboard that comes with a case.

The case and keyboard can be separated but it makes for a good unit for those who need a case and keyboard for a 9-10.5 inch tablet.

It uses Bluetooth 3.0 to connect to almost any tablet.

Fintie Ultrathin

Fintie 10-Inch Ultrathin (4mm) Wireless Bluetooth Keyboard for Android Tablet Samsung Galaxy Tab E/Tab A/Tab S, ASUS, Google Nexus, Lenovo and Other Android Devices

The Fintie mini wireless Bluetooth keyboard is a 10-inch ultra thin unit that is compatible with Bluetooth devices such as Android Smartphones and Tablets.

It Pairs easily with a security code for added protection.


Testing the unit it worked great and had no problems with any Android device.

Once Paired it works the same as the Android built-in On-Screen keyboard if nothing is typed the device will go to sleep and wake back up when a key is pressed.

Logitech K480

Logitech Bluetooth Multi-Device Keyboard K480 – Black – works with Windows and Mac Computers, Android and iOS Tablets and Smartphones

The Logitech K480 is a mid-size keyboard that will work with almost any device out there, Windows, iOS, and Android.

The mid-size is nice and makes it easily portable.

It works with almost any Android based devices including tablets and smartphones.


iClever Folding

iClever Wireless Folding Keyboard with 3-Color Backlight, Tri-Folding Bluetooth Keyboard with Aluminum Alloy Base for iOS Windows Android Tablets, Smartphones, Laptops, PC and More

For those looking for the ultimate portability in a tablet, keyboard iClever makes this small fold-able option.

It folds in on itself and is easily packed up and carried.

The iClever keyboard works with almost any Android device from a smartphone to a tablet.

It also will Pair and work with most other devices such as iOS, Laptops, Desktops, and more.

Summary
Bluetooth Android keyboards can be very handy devices, from typing to simply playing a game.

There are many types of layouts, from small to big, to a built-in touchpad.

Ergonomics can also come into play when looking for a good unit and is ultimately how an individual uses their setup.

Some will go with portable options, which are great for camping, traveling, or for those constantly on the go.

Giving your tablet a laptop-style layout is also a good option for those times when writing or other basic functions need to be done.

The above units are simply our picks for good units, with no-doubt many more units available.