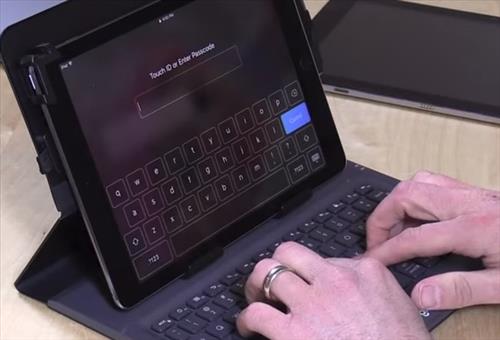 Having a wireless keyboard in combination with an Android tablet gives it nice functionality.
Here are a few of our picks for Bluetooth Android keyboards. If you have a favorite option let us know in the comments below.
As always be sure to read the reviews on Amazon, forums, here, or elsewhere to be sure a unit is a good fit for you.
*This post contains affiliate links.
Our Picks for Best Bluetooth Keyboard for Android Tablets
Fintie Ultrathin

Fintie 10-Inch Ultrathin (4mm) Wireless Bluetooth Keyboard for Android Tablet Samsung Galaxy Tab E/Tab A/Tab S, ASUS, Google Nexus, Lenovo and Other Android Devices

The Fintie mini wireless Bluetooth keyboard is a 10-inch ultra thin unit that is compatible with Bluetooth devices such as Android Smartphones and Tablets.

It Pairs easily with a security code for added protection.


Testing the unit it worked great and had no problems with any Android device.

Once Paired it works the same as the Android built-in On-Screen keyboard if nothing is typed the device will go to sleep and wake back up when a key is pressed.

Logitech K480

Logitech Bluetooth Multi-Device Keyboard K480 – Black – works with Windows and Mac Computers, Android and iOS Tablets and Smartphones

The Logitech K480 is a mid-size keyboard that will work with most any device out there, Windows, iOS, and Android.

The mid-size is nice and makes it easily portable.

It works with most any Android based device including tablets and smartphones.


iClever Folding

iClever Wireless Folding Keyboard with 3-Color Backlight, Tri-Folding Bluetooth Keyboard with Aluminum Alloy Base for iOS Windows Android Tablets, Smartphones, Laptops, PC and More

For those looking for the ultimate portability in a tablet keyboard iClever makes this small fold-able option.

It folds in on itself and is easily packed up and carried.

The iClever keyboard works with most any Android device from a smartphone to a tablet.

It also will Pair and work with most other devices such as iOS, Laptops, Desktops, and more.

Summary
Bluetooth Android keyboards can be very handy devices from typing to simply playing a game.

There are many types of layouts from small to big, to having a built-in touch-pad.

Ergonomics can also come into play when looking for a good unit and is ultimately how a individual uses their setup.

Some will go with portable options which are great for camping, traveling, or for those constantly on the go.

Giving your tablet a laptop style layout is also a good option for those times when writing or other basic functions need to be done.

The above units are simply our picks for good units with no-doubt many more units available.