There are more options than ever before to watch free movies and TV shows online.
The main sources include Kodi, Android APKs, IPTV, and free video streaming websites.
Free streaming websites have gained in popularity since they are easy to use and work from any browser.


Since they stream inside a browser such as Chrome, they also work from almost any online device.
There are both free known legal sources and legal grey sources that are questionable.
We recommend only use the known legal services since many other websites often have malicious content such as malware.
Types of Free Online Movie and TV Streaming Websites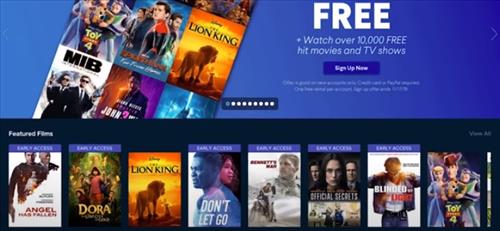 There are known free legal websites and others that are questionable.
The free legal websites have a lot of content and can be a great source with a wide variety of things to watch.
There are also many questionable websites that come and go with the site's URL often taken down.
Once a URL is taken down they will change it to something similar often with 5-10 different variations on a URL.
For example, 123Movies is a notorious website that streams movies and TV shows.
The original 123Movies website was shut down in 2017 but quickly reappeared with many clone sites.
Currently, there is many 123Movies clone sites that are up and streaming to users.
There are ads and popups on these clone sites often with redirecting links which need to be closed.
The list below only contains the best free legal websites to stream from with no malware.
If you know of any good websites for watching movies and TV shows let us know in the comments below.
Note To Users Outside the USA
The websites below have been tested from the USA with some Geo locked.
If you live outside the USA a VPN can be used to connect to a USA server.
If you need a good low-cost VPN Try Express VPN it having multiple worldwide high speed servers with no throttling or logs.
Best Free Online Movie and TV Streaming Websites 2022
Tubi TV


Tubi TV is a great source for movies and TV shows with a lot of content and best of all it is free and legal.

The downside is they don't have the newest movies and TV shows but do have lots of content to find something to watch.

While free services will not have the best content it can be surprising what they do have.

Tubi TV can be set up on almost any device from an Android TV box to a Fire TV Stick.

While Tubi may not have the best content it is always working free source that never buffers.

Click Here for Tubi TV Website

Pluto TV


Pluto TV is a very good free online source that is similar to Tubi TV but with different content.

They also don't have the latest movies or TV shows but are loaded with content that is free and legal to watch.

It has a TV guide interface to show what is available with 1-click to play a stream.

The On-Demand section has videos that can be watched anytime along with play/pause options.

Pluto TV can be watched from a computer, smartphone, and even the Fire TV Stick.

Click Here for Pluto TV Website

Roku Channel


Roku is best known for its streaming media devices but also has a free streaming video service.

A Roku device is not required with anybody able to watch and play videos from their library for free.

They have a lot of sections including Movies, TV shows, Relax and Stream, Whats Cooking, Summer Travels, News and more.

Click Here for Roku Channel Website

Just Watch


Just Watch is a new streaming service that combines all the top streaming platforms in once place.

This includes both paid and free services such as Netflix, Amazon, Hulu, Tubi and more.

To see the free option be sure to select Free from the menu.

Click Here for Just Watch Website

CWSeed


CWSeed has thousands of movies and TV shows both new and old.

The videos can be watched with a web browser such as Chrome or with an app.

Popcorn Flix


Popcorn Flix is another longtime favorite for many people with more than 1,500 movies that can be found on this site.

They have many popular classics and more recent films.

If you're having trouble finding something to watch scroll down to their staff picks and you'll find some great recommendations

Click Here for Popcorn Flix Website

Hoopla


Hoopla is different than the services mentioned so far as they stream from your local library services.

If you have a library card from your local library and they participate you'll have the ability to borrow movies TV shows audiobooks and other content from the comfort of your home.

Their selection does change periodically and some titles are only available for a limited time.

VUDU


VUDU is a free streaming service that has a lot of content to choose from including Movies, TV, Comedy, Horror, Family, Action-Adventure and more.

You will have to register an email address and commercials play periodically but it is free.

Signing up is quick and easy and the commercials usually last only 15 seconds.

Kanopy


Kanopy is another free service that like Hoopla requires a library card to stream videos.

They offer a large selection with a heavy focus on independent and classic films.

A library card is required to sign up.

Crackle


Crackle is another source of free movies and TV shows with a huge video library.

It has a lot of classics such as All In The Family, 3rd Rock from the Sun, Barney Miller, Fantasy Island, Bewitched, Charlies Angles and much more.

It also has many newer TV shows such as Dr. Ken, Just Shoot Me, Men at Work, Rosanne and more.

The movie section has a lot of classics mixed in with newer 2000-2010 releases such as Anaconda, 3000 Miles to Graceland, Chappie and much more.

Click Here for Crackle Website

Crunchyroll


Crunchyroll is an free streaming site for Anime.

They have videos for free that play adds or a paid account with no ads.

Click Here for Crunchy-Roll Website

CONtv

Con TV is a site for the Comic-Con community and has programming for Action, Anime, Cartoons, Fantasy, Horror, Martial Arts, Sci-Fi and Video Games.

It has a lot of content with many sections along with high quality streaming.

Classic Cinema Online


If you like old movies pre-1970s from the 20, 30s, 40s, 50, and 60s Classic Cinema Online is a good source.

They have a lot of old movies from James Cagney, and John Wayne, to Charlie Chaplin.

The videos stream very well with no sign up required.

Click Here for Classic Cinema Online Website

IMDB TV


IMDB is known best for its movie database and user reviews on movies and TV shows but it also now has a streaming service.

IMDB TV is a free movie and TV show provider.

It is supported by ads and requires a signup with an email address.

Click Here for IMDB TV Website

Veoh


Veoh much like YouTube has user uploaded content.

They have many sections and categories along with older movies and TV shows.

YouTube


YouTube is often overlooked as a source of movies and TV shows but has a huge collection of videos.

Movies and TV shows uploaded by users need to pass the algorithm looking to take them down so will often change the titles.

Typing in a movie name plus Full-Length-Film in the search box will usually bring videos that can be watched.

Click Here for YouTube Website

Peacock


Peacock TV was launched in 2020 and has many movies and TV shows including the Office.

It has a free trial to test the service.

Click Here for Peacocktv Website

Britbox

Britbox has UK British movies and TV shows.

It has a free 7 day trial.

Click Here for Britbox Website

Acorn.tv

Acorn.tv is very similar to Britbox and has UK British movies and TV shows.

It has a free 7 day trial.
How To Find Which Streaming Website Has a Movie or TV Show



If you have a movie or TV show you are looking for and wonder which website it is on a service called Yido can help you find it.
Yido is a search engine to give you the location of any movie or TV show and the website service it is on.
It is a search engine that will help you to find out where you can watch TV shows or movies for more than 100 different services.
If you're looking for a specific movie you could do a search and it will display all the options including paid or free.
To filter by Free Options click on Movies and on the left under Source click on Free.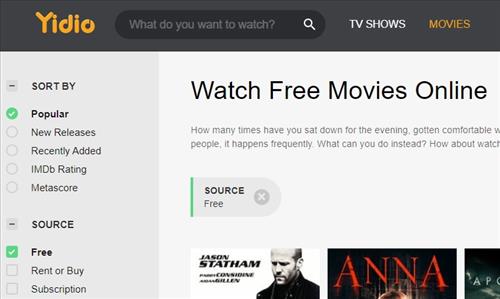 Looking through the free section will give a list of movies or TV shows that can be watched for free and their location.
Summary
There are many sources to stream movies and TV shows in 2021 from almost any device.
From a PC to a smartphone or Android TV box any device using a browser such as Chrome or Firefox will work.
It is best to stick to the known legal service as the many other websites may have malware.
With the many legal services available there is a lot of content to watch with something for anyone.
If you don't know which service has a movie or TV show use Yido which is a free search engine to list the location of a video.