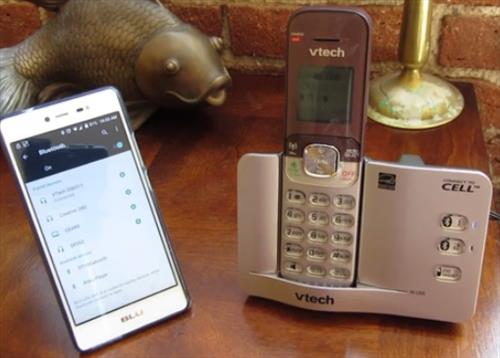 Landlines have become a thing of the past in many homes, with cellphones the primary way to communicate.
While smartphones have become primary, cordless Handsets still can be very useful and come with many new features.
For example, a Bluetooth set can pair with almost any smartphone and use handsets anywhere in a home.
This is usually done with a base station that pairs with a cellphone and communicates to the all the other units.
There are many units available with some of our favorite picks below.
As always be sure to read the reviews on Amazon or elsewhere to be sure a unit is a good fit for you.
*This post contains affiliate links.
Our Picks for Best Home Landline Phones with Bluetooth
VTech DS6621-2 DECT 6.0

VTech makes many types of cordless landline phones, including the VTech DS6621-2 that has a versatile setup with many features.

It can pair to a cell and answer calls or work in combination with a landline and cell to answer all your calls.

It is also easily expandable up to five handsets and can download 200 contacts from your cell phone

The package comes with two handsets, additional ones can be added if needed.

The VTech DS6621-2 is a low-cost solution, that with its many features, can fit into many scenarios a user may find useful.


Panasonic KX-TGE262S

The Panasonic KX-TGE262S comes with two handsets and a base station.

The base station pairs with your cell phone and rings the handsets and communicates via the handsets for all your calls.

This makes them ideal in many situations. For example, if you have a home with bad coverage but one spot that gets good reception, the base station and phone can be set there and communicate over the handsets.


Panasonic KX-TG833SK

The Panasonic KX-TG833SK has a base station that can control up-to 6 handsets.

It has Bluetooth, which allows for a smartphone to Pair with the base station.


ATT TL96273 DECT 6.0

AT&T makes this unit that is low-cost and also is packed full of nice features.

It can combine a landline with a cell phone, so only one handset can answer all calls or work individually as an extension of a cell phone or landline.

The cordless handsets range is excellent, along with a built-in answering machine and caller ID.
Summary
With landlines becoming a thing of the past in most homes, there is one exception that can make life easier when managing multiple phones.
Bluetooth landline phones can link up to any smartphone and answer calls as you would with a traditional cordless phone.
A Bluetooth landline phone can also link to more than one smartphone. This allows a user to use one phone to answer all their calls. This can come in handy for a user who wants to use a single phone that would require multiple managing phones.
All calls from the linked cell phones will be routed through a Bluetooth phone, including any landline calls.
Any phone will still be answered and used generally with the added benefit of controlling all from one.
Configuring the Bluetooth landline phone is usually a simple operation like any Bluetooth device syncs to a smartphone.
When a cell phone does ring, the new phone will ring as well. Most people set a unique ring tone to tell the cell phone apart from the landline synced phone.
Battery life will also be a consideration, with different models having different charge times.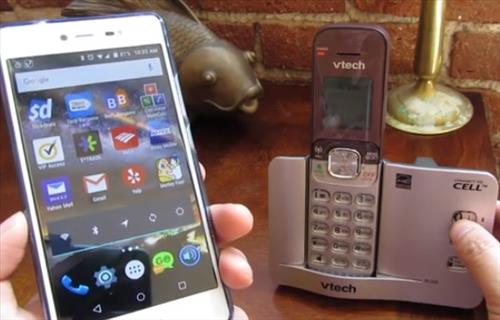 They are charged in the same manner as any traditional cordless landline phone by plugging it into the base station, which recharges the battery.
It is not completely necessary to have a landline to use one of these phones. If you don't have a landline, they can be used to manage multiple smartphones.
Most can also be used in a car so that multiple phones do not need to be managed while driving. Be sure to check the features to see if this is available. Other handy features include voice-activated caller ID, which speaks the name of the calling, so there is no need to look at the display.
Besides handsets, Bluetooth headphones with mics are also available, which may work better in some scenarios.
Another thing to look for when purchasing a Bluetooth landline phone is which smartphones they can sync. While most will build the sync to any Bluetooth phone, it always best to read the features and the reviews to be sure it matches your setup.