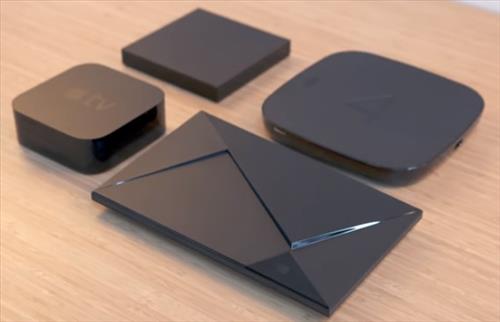 TV media player boxes that stream videos over WiFi have become very popular in homes over the last few years.
Their popularity has to do with a TV boxes ability to stream video content over the internet straight to a TV.
This makes them ideal for cable cord cutters or anyone wanting the best TV experience possible.
Most all units will also have built-in WiFi to stream wireless from a router.
There are many boxes available with those below some of our favorite options.
As always be sure to read reviews on Amazon, forums, or elsewhere to be sure a unit is the right pick for you.
*This post contains affiliate links.
Our Picks for Best WiFi Media Player Internet TV Boxes
ACEPC AK1 Mini PC

ACEPC AK1 Mini PC, Windows 10 (64-bit) Intel Celeron Apollo Lake J3455 Processor(up to 2.3GHz) Desktop Computer,4GB DDR3/64GB eMMC,2.4G+5G Dual WiFi,Gigabit Ethernet,BT 4.2,4K

The ACEPC AK1 Mini PC is a very small computer built into a small box.

It is a small mini computer that comes with Windows 10 installed and ready to run.

The ACEPC AK1 uses the same hardware as a mid-range laptop but cost much less since there is no display.

On one side the unit has an SD-card slot, 3 USB port. It also has dual band built-in WiFi.

The internal storage is 64GB which is expandable with a 2.5 inch laptop hard drive up-to 2TB if more space is needed.

The back has an Ethernet port and 2 HDMI output ports which can display on 2 monitors if needed.

It has no problems playing HD video resolution of 720p/1080p or 4K Ultra HD videos.

The ACEPC AK1 is a good box with very fast WiFi for those who like to use a familiar Operating System as a home entertainment system.



Amazon Fire TV

Amazon Fire TV with 4K Ultra HD

The Fire TV can play 4K video and has built in 802.11ac dual band WiFi

It has a Quad Core CPU with 2 GB of RAM.

The built-in storage is low (8 GB) but can be expanded up-to 128 GB with a SD-card.

The Fire TV Stick is also a popular option and smaller compared to the box version.

Fire TV options are very poplar allowing content to be watched over the internet from Amazon, Netflix, Hulu, YouTube and much more.


NVIDIA SHIELD

NVIDIA SHIELD TV Smart Home Edition | 4K HDR Streaming Media Player with SmartThings Link

The NVIDIA SHIELD is a top media center box with many added features.

It has been available for a while but still a top media box with many updates.

There is very good support and the price has dropped drastically since its introduction.

The NVIDIA SHIELD has a Quad core CPU and 3 GB of RAM.

The WiFi is the newest 802.11ac 2×2 with MIMO (Multiple In Multiple Out).

Most media center boxes come with limited internal storage space and require using a SD-Card or flash drive to add storage.

The NVIDIA SHIELD has different versions that come with more built-in storage if needed. Up-to a 500GB hard drive can come pre-installed.

While more expensive than most boxes the NVIDIA SHIELD is definitely a beast.


T95Z Plus Android Box

EVANPO T95Z PLUS Android 7.1 TV BOX Amlogic S912 Octa-core CPU 3GB RAM 32GB ROM (Backlight Wireless Keyboard Included)

The T95Z Plus is a Android TV box that comes with many apps installed.

It runs a S912 8 Core CPU and 3 GB of RAM. It also has 802.11ac WiFi.

There is not much internal storage (32GB) and is built to stream content from online. An SD-card or flash drive can be inserted to give it more internal storage if needed.

If your goal is to stream videos from your favorite online sources than the T95Z Plus does this well on a budget.

While not a high-end unit it does well at playing media from local or online sources.
Summary
Getting the best WiFi media center box that can play all your favorite content from the internet depends on your network setup.
While many home have no problems streaming WiFi and video other homes can sometimes have bad WiFi issues.
Many things can effect WiFi from walls to other wireless devices trying to get a signal through.
The router used should also be looked at to be sure it is performing at the speeds necessary to stream online content.
Keep in mind the new 802.11ac protocol while able to transfer data much faster than older protocols does not travel as well though walls or over distance.
802.11ac broadcast in the 5GHz range while older wireless protocols use 2.4GHz frequency.
Wireless-N the last protocol introduced has a transfer rate up-to 300 Mbps. While the new 802.11ac can transfer up-to 1200MBps.
Streaming HD video requires only a 10 Mbps connection, so while the new 802.11ac protocol is faster in some cases wireless-N is better since the signal can travels better than 802.11ac.
A wired connection will always be the best, but WiFi when setup right with a good media box is a good choice.