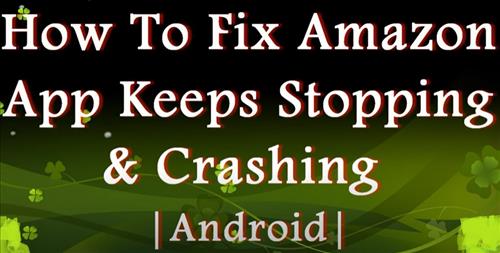 If you have an Android Smartphone or TV box and the Amazon app keeps crashing, there are a few ways to fix it.
Be sure your device is up-to-date, and the app is on the newest version.
Many times a smartphone or TV box will simply need a restart, and the app will work well again.
If the basic things do not fix the problem, clearing the Cache and Data can also be done.
The full steps are below for clearing the Cache and Data, along with pictures for a visual walk-through.
Top 5 Fixes for Amazon App That Keeps Crashing Android
Uninstall and Reinstall App
Update the App
Restart the Android Device
Clear App Cache
Clear App Data
Most Common Fix for Amazon App That Keeps Crashing on an Android
Go to Settings.

Select App and/or Manage App.

Find and select the Amazon App.

Click Force Stop.

Select Clear Cache and Clear Data.

Restart the Android Device, and the Amazon App should now work.
Why Does My Amazon App Keep Closing?
There can be many reasons the Amazon App keeps closing, including limited resources, OS compatibility, and more.
The best method to get the app working again is to check for an update, uninstall and reinstall the app, or clear the cache.
In some cases, an older device operating system may be too old to run the new version of the Amazon app.
If you have an older device, be sure to check for the latest OS compatibility.
The Amazon App is currently listed as supporting non-Amazon devices running Android 5.0 and above.
Summary
The Amazon app and Android devices usually work well together but can sometimes have issues.
When there is an issue and the app keeps crashing, there are several fixes that can help to solve the problem.
The steps above are the most common fix and will usually stop the Amazon app from crashing.
If none of the above fixes work, you may have to wait for an update to fix the problem.
A simple alternative to the Amazon app is to use a web browser such as Chrome and log into the Amazon website.
While a web browser is not as easy to use as the Amazon app, you will be able to buy items, listen to music, watch videos, and all many other things.
Have you had a problem with the Amazon app? Let us know how you fixed the issue below in the comments.