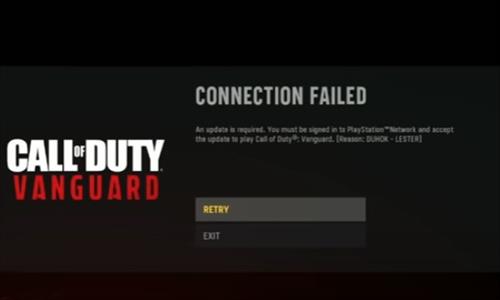 Many players of COD Vanguard report an error message DUHOK – LESTER appearing on the PlayStation 5 after an update.
The full error message reads. "An update is required. You must be signed in to PlayStation Network and accept the update to play Call of Duty Vanguard. [Reason DUHOK – LESTER]."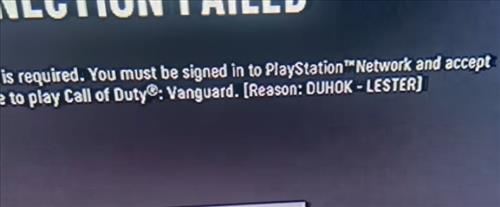 The error will display along with the buttons Retry and Exit. However, the Retry button will not connect and still display the error.
What is the PlayStation DUHOK – LESTER Error Message?
The PlayStation DUHOK – LESTER error message is a problem with an update file not downloading and installing.
It usually happens when an update is sent out, and there is an issue with the downloaded file or the install.
The problem seems to be specific to the PS5, with PS4 and PC users not reporting any issues as of yet.
How To Fix a PlayStation DUHOK – LESTER Error Message?
The main fix is to delete the update and retry to install it.
This doesn't always work the first time, but after a few try often will clear the error.
Many users also report that the PS4 version of COD Vanguard being played on the PS5 works.
Fixes for PlayStation Call of Duty Vanguard DUHOK – LESTER
Delete the Update and Try to Reinstall


Deleting the downloaded update and trying to reinstall it is the most common fix.

To do this, go to home and select Check for Update and then delete the update.

Go back and reload COD Vanguard and click on Retry again. Hopefully, the file downloads and installs.

Sometimes this requires multiple tries before the file will install.

Delete Any Old PS4 Data

If old COD PS4 data is on the PS5, it can sometimes conflict with an update.

Deleting the data can be done by going to Settings–> storage–> saved data and choosing PS4 Games.

Before deleting the data, there is an option to upload it to Cloud storage as a backup.

Once the PS4 data is removed, delete the download and try to install it again.
Summary
When an update for the Call of Duty Vanguard on the PlayStation gives a DUHOK – LESTER error message, it can no doubt be very frustrating.
If this happens, there is a problem with the new update file downloading and installing.
It can be even more frustrating since it does not affect all players and seems to randomly hit only certain users.
The error code DUHOK – LESTER appears after a new update and often becomes stuck.
Deleting the update and retrying to install it s the most common fix, but sometimes this does not work.
If you have an older PS4 version of COD Vanguard, it often will load and run.
Deleting the old PS4 data and retying often works for many users.
Have you had issues with the COD Vanguard DUHOK LESTER error message? Let us know us know if you have a fix that worked for you below.