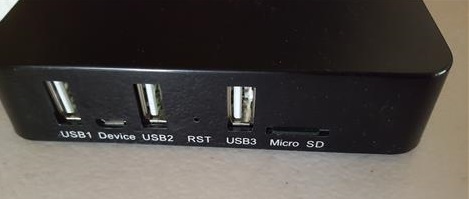 Most Android TV boxes come with limited storage which sometimes needs to be expanded.
It is easy enough to do with with a flash drive, external hard drive, or an SD-card.
While any three options will work, often the best method is a low cost SD-card since it is out of the way and easy to remove if necessary.
SD-cards come in three sizes Standard, Mini, and Micro SD-card.
Here is a Micro SD-card on the left and Standard size on the right.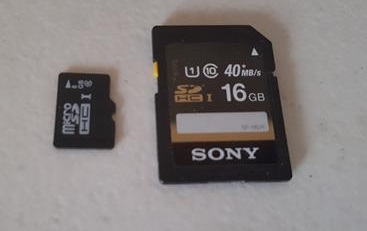 Most Android TV boxes use the Micro SD-card size, but be sure to look at the unit or read the documentation.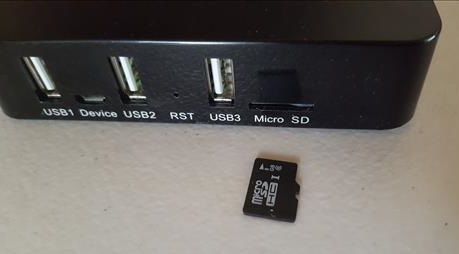 Also be sure to see what the max supported size the box can use.
Android 6.0 Marshmallow and above allows a SD-card to extend the internal storage of a box.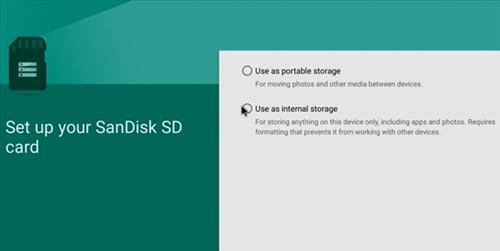 A SD-Card can still be used as an external portable storage as with previous Android versions if wanted.
Being able to extend the internal storage is a nice option for a unit with limited internal space.
To setup an SD-card to add internal storage (after being installed) swipe from the top with mouse or other controller and go to the setup option.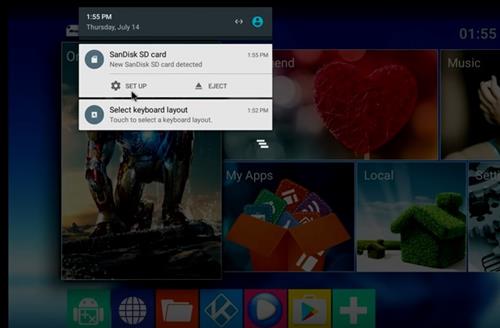 An easy to follow guide will come up be sure to select "Use as Internal Storage".

How To Use an SD-Card with an Android TV Box
Find the SD-Card slot on the Android TV box and plug in the correct sized card.

Go to File Browser

The SD-card will show up as External Storage Card


Android 6.0 and higher the card can be setup to extend the internal storage if needed.

Possible Problems and Troubleshooting
Most of the time an SD-card can simply be plugged in and will start working, occasionally there can be problems.

Here are some things to check if there is a problem
Be sure the card is inserted fully and not partially sticking out.

Older Android versions such as 4.4 KitKat limited how a user installed apps or could access the external SD card.

If you run into this problem the box may need updating.

Some boxes running Android 5.0 will crash if SD-card does not have a disk label name.

Most SD-cards have a label name but if this happens to you it is simple to put the SD-card into a computer and give it a name.
Summary
Adding more storage to an Android TV box is easy with an SD-card.
Keep in mind a flash drive or external hard drive can also be used by most units.
A flash drive is a good option to transfer files quickly or as a quick fix when no SD-card is available, but since it sticks out so far it is usually not a good long term solution.
A hard drive is good for a large storage library such as when many movies need to be stored or music files.
An SD-card is a good long term solution to add to a unit and be out of the way since it is inserted into the box.