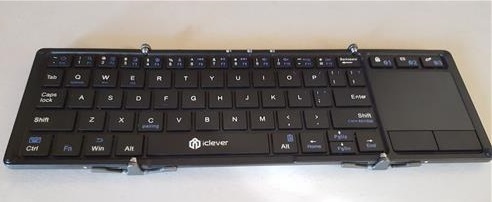 The iClever IC-BK08 is a small portable keyboard that is universally compatible with Bluetooth devices such as smartphones and Android TV boxes.

It is small and folds in on itself with a hard outer case to quickly be carried about.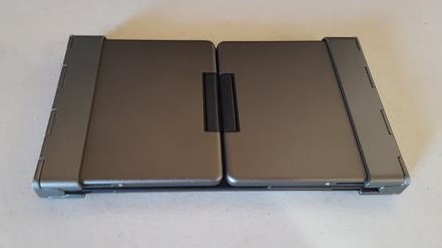 This unit was sent to me to review with my honest opinion and results below.

The box comes with comes with the keyboard, charging cable, carry bag, and instructions.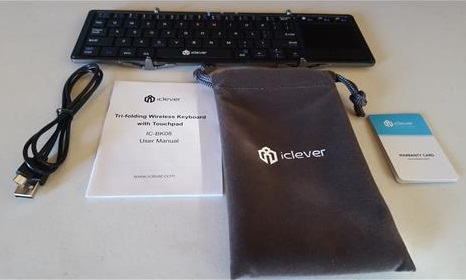 The iClever IC-BK08 has a lot of features such as a built-in touch-pad and three Bluetooth channels.

The three Bluetooth channels can connect to three separate devices at the same time and switch quickly between them.

It is universally compatible with iOS, Android, and Windows making it highly portable and versatile keyboard.

It also has a built-in battery that is charged with a micro USB cable.

Pairing a Bluetooth device is easy by pressing one of the three Bluetooth keys + the FN key.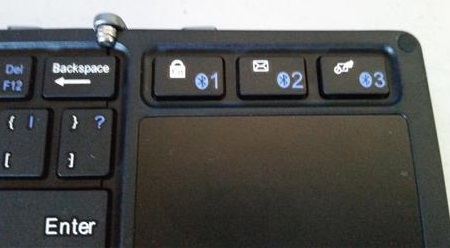 After pressing one of the keys a device can be paired from its Bluetooth settings.

Up to three devices can be paired at the same time and switched between on demand.

The first test I did with the unit was to Pair it with an Android TV box.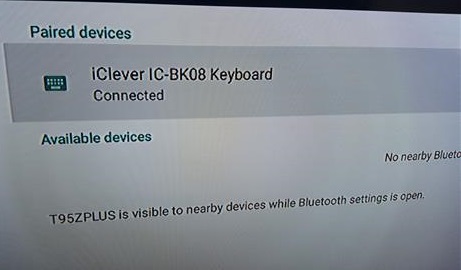 It paired up and worked nicely. The touch-pad also worked well.

Next I Paired it to a Galaxy S6 which also worked good.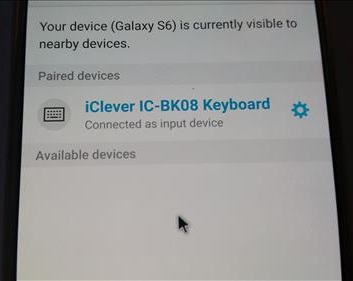 The touch-pad had no problems moving the mouse courser about.

*This post contains affiliate links which at no cost to you allows us earn a commission on product purchases.

Read More Reviews Here on Amazon
Bluetooth Keyboard, iClever Folding Keyboard with Sensitive Touch Pad (Sync Up to 3 Devices), Pocket-Sized Tri-Folding Wireless Keyboard with Portable Carry Pouch for Smartphones, Tablets – Dark Gray


Summary
The iClever IC-BK08 portable keyboard is a nice solidly built unit that works very well with most any Bluetooth device.

If you need a keyboard for home use with one device there are cheaper keyboards available.

If you need a highly portable, compact, well built keyboard that is universally compatible with most devices it is a nice unit to have.

I am still testing it but will update if anything changes.

As always be sure to read the reviews on Amazon or elsewhere to be sure a unit is a good fit for you.