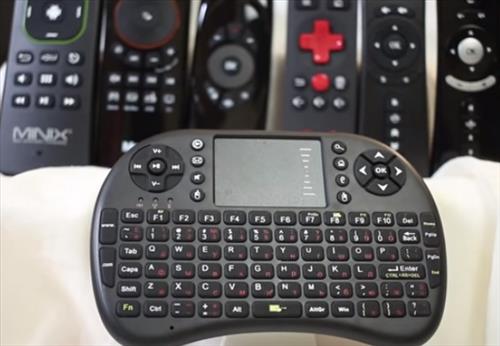 There are many different remote controls and mini keyboards that can be used with an android TV box which can greatly improve a users experience.

They come in all shapes and sizes, from standard classical design, to mini keyboards with touch pads to move a cursor around.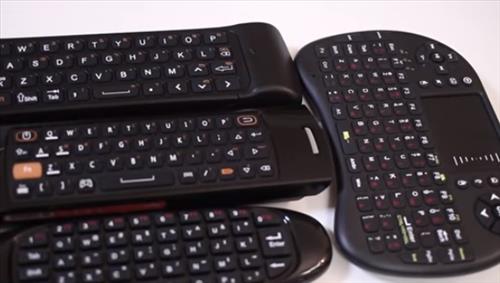 The best remote will depend on the user as to what is the easiest way to control their box.

For example someone who enters a lot of keywords may dislike the on-screen keyboard and prefer a small hand held unit with keys for typing.

The size of a unit also varies with some liking mid-sized models and others much smaller.

There are many good units with those below our picks for best remote controls and keyboards to use with a android TV box.

In full disclosure these units have been sent to us from companies to review which we have done with our own honest opinion and results.

*This post contains affiliate links which at no cost to you allows us earn a commission on product purchases.

Be sure to read reviews on Amazon, here, forums, or elsewhere to be sure a unit is the right pick for you.

Our Picks for Best Android TV Box Remote Controls and Keyboards

| NAME | INTERFACE | TOUCH-PAD |
| --- | --- | --- |
| ANEWISH T16 | USB Wireless Dongle | Yes |
| Rii I8 | USB Wireless Dongle | Yes |
| Jelly Comb | USB Wireless Dongle | Yes |
| Fintie | Bluetooth | No |
| MX3 Pro | USB WiFi Dongle | No |
| iPazzPort KP-810-19S | USB WiFi Dongle | Yes |
| 1byone | Bluetooth | Yes |
| MINIX | USB WiFi Dongle | No |
| LYNEC | USB WiFi Dongle | No |
ANEWISH T16

(2019 Latest, Backlit) ANEWISH 2.4GHz Mini Wireless Keyboard with Touchpad Mouse Combo, Rechargable Li-Ion Battery & Multi-Media Handheld Remote for Google Android TV Box, PS3, PC, Pad

The ANEWISH T16 is built for wide compatibility from a PC to an Android TV box.

It has a touch-pad in the center with controller on both side along with a mini keyboard at he bottom.

A 2.4GHz USB receiver is plugged into and Android Box and it is ready to be used.

The keys are backlit which makes it easy to read the keys when the lights are off.


Rii I8

(Updated, Backlit) Rii i8+ 2.4GHz Mini Wireless Keyboard with Touchpad Mouse, LED Backlit, Rechargable Li-ion Battery-Black

The Rii I8 has been a popular low-cost for awhile option for awhile and still going strong.

It has a mini keyboard to type with and a touch pad to move a mouse cursor around.

The size is small but still needs two hands to use.

A small USB dongle is included that simply plugs into an android box and syncs with the unit and starts working.

There is no setup and plugging in the dongle is all that's required to get it working. This makes it able to work with most any device since it has no need to connect to Bluetooth.


Jelly Comb Mini

Mini Keyboard Backlit, Jelly Comb Rechargable Wireless Small Keyboard with Touchpad Mouse and Multimedia Keys, 2.4Ghz USB Handheld Remote Control Keyboard for PC, HTPC, Media, Android TV Box, Smart TV

Jelly Comb makes this Mini Bluetooth Keyboard touch-pad combo.

It works with Android or Windows devices making it highly compatible.

The touch-pad is built into the center with the keys on the outside for typing.

It is a good low cost unit that works well with android TV boxes, smartphones and more.

Read Full Review Here


Fintie Mini

Fintie 10-Inch Ultrathin (4mm) Wireless Bluetooth Keyboard for Android Tablet Samsung Galaxy Tab E / Tab A / Tab S, ASUS, Google Nexus, Lenovo and Other Android Devices

The Fintie mini wireless Bluetooth keyboard is a 10-inch ultra thin unit that is compatible with Bluetooth devices such as Android TV boxes.

It Pairs easily with a security code for added protection.

All the buttons worked well including the Home and Search buttons.

Read Full Review Here



MX3 Pro

[Updated] FeBite MX3 Pro 2.4G Kodi Remote with Backlit Mini Wireless Keyboard Mouse Air Control for Android Smart TV Box IPTV HTPC Mini PC Compatible with Windows iOS MAC Linux PS3 Xbox One 360

The MX3 Pro is an Air mouse remote control that automatically moves a pointer around a screen.

Air mouse remotes have no need for a touch-pad as the mouse cursor automatically appears at the location pointed at.

One side of the unit is a standard remote while the other side has a keyboard.

The MX3 Pro is a good low cost options that works well with most any hardware from an Android TV box to a Windows PC.

Read Full Review Here



iPazzPort Mini

iPazzPort Wireless Mini Handheld Keyboard with Touchpad Mouse Combo for Android TV Box and Raspberry Pi 3 and HTPC and XBMC KP-810-19S

This small hand held design is another popular option for those wanting to control their box with one hand.

It uses 3 AAA batteries and a USB dongle to connect.

Although small, like a standard TV remote it is a nice design used by many manufactures.

It uses a USB receiver dongle which simply plugs into to a USB port to work, this makes it compatible with many android devices from a Raspberry Pi to an android TV box.


1byone

1byone Wireless Bluetooth Keyboard with Built-in Multi-touch Touchpad, Touch Keyboard for Windows/Android Tablet/Galaxy Tabs/Smartphones, Black

For those looking for something larger to type with along with a built-in touch pad a mid-sized keyboard is a good option.

This unit from 1byone uses Bluetooth and works well with android boxes that have built-in Bluetooth.

Mid-sized keyboards are a good fit between a small remote but not huge like a standard model.

This 1byone mid sized Bluetooth keyboard is also compatible with most any other android devices from smartphones to tablets.


MINIX NEO A2

MINIX NEO A2 Lite, QWERTY Keyboard for Android and Six-Axis Gyroscope Remote. Sold Directly by MINIX Technology Limited.

The MINIX is a nice combination remote with a standard buttons on one side and a keyboard on the back.

It has a nice build quality that is solid and a material that avoids fingerprints.

The buttons are made of a soft rubber and have a nice touch.

The back has a keyboard with the keys nicely spaced apart.

It uses a small USB dongle to transmit from the box to the remote.


LYNEC Air Mouse

OEM Mini 2.4Ghz Backlit Wireless Touchpad Keyboard with Mouse for Pc

Air mouse remotes are a nice option and move the cursor around by holding a button and waving the remote.

LYNEC makes this unit with standard keys on one side and a keyboard on the other side.



A USB dongle is used to sync up to the remote.

Air mouse units are not for everyone but do have a large following, and are very convenient once it is learned how to use.
Summary
The above units are a few of the types of remote controls available to android TV box users.

Many manufactures make their own remotes based on the types above so if you have a favorite brand than they likely have a version available.

Mini Keyboard remote controls try to be as small as possible and still fit in a keyboard and touch pad. While nice for many some do have problems with the small buttons.

Mid-sized keyboard remotes are another good option if you have big hands and don't like the small keys.

Air mouse units are also good. while they may take some getting used to they are another great way to control your TV box.

As always be sure to read reviews on a unit to get the right remote for your setup.