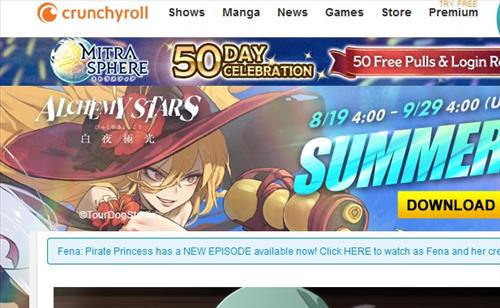 Crunchyroll is great for watching anime, manga, and more, but the free version can display many ads, which can be annoying.
The many commercials can become very annoying, especially when it is the same ad over and over again.
If you are tired of the ads, a few things can be done to remove them and stop them from playing.
Below are the best options we have found to remove Crunchyroll advertisements.
If you have a method not on the list below let us know in the comments.
3 Ways To Block Crunchyroll Ads
Use an Ad Blocker


Using an ad blocker can be a good method to remove ads for free.

Ad blockers and advertisers are in a constant struggle with each other.

Advertisers are always using new ways to stop ad blockers from working and ad blockers are always trying to adapt.

This means that a blocker may work well one day but not the next at least until an update and then work again.

There are many ad blocker services and apps with popular Crunchyroll ad blockers being AdBlocker and Blokada.

Download the Videos


Videos can be downloaded with a program called Crunchyroll Downloader.

It is available with several versions, which are listed here https://github.com/hama3254/Crunchyroll-Downloader-v3.0/releases.

Downloading the video also allows for it to be saved and watched anytime, which is nice to have, especially if the internet is not available.

There is also apps that can change the frame rate such as Flow Frames which many use to adjust the video quality.

Buy a Paid Subscription


Buying a paid subscription is the quickest and easiest method to get rid of commercials.

They currently have monthly plans starting at $9.99 that give ad-free videos.

If you have no money, there is other methods listed above which are a bit more evolved but also work.

Summary
Watching videos on Crunchyroll is great but the ads can be annoying.

This can be especially true when the same commercial plays over and over.

There is three main way to get rid of the ads with a paid subscription, ad blocker, or download the video.

A paid subscription is the best option if possible with different plans available.

Using an ad blocker also can work but be sure to get a good one and keep it updated.

Downloading the video is also an option and can be a benefit since it can be stored and watched at any time.

Do you have a good method for Watching videos on Crunchyroll with no ads, not on the list above? Let us know your thoughts below.