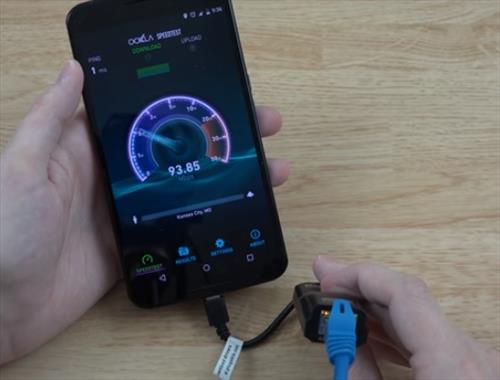 If you have an android tablet or smartphone and want to use a wired Ethernet connection it is easy to do.

There are a few requirements.
Android Ethernet Requirements
First Android Marshmallow 6.0.1 which was released October 2015 must be installed.


To see which version you have go to Settings –> About Device.

Previous android versions needed to be rooted which is no longer the case with Android Marshmallow 6.0.1 and above.


Second an OTG to Ethernet adapter will be needed.


OTG stands for On-The-Go and simply plugs into an android micro USB port. It is mainly used to copy files to external storage such as a flash drive but also can be used for a LAN internet connection.

The Ethernet adapter will transmit the signals over the network. These items can be bought separately or in one package ready to go.

Not all the adapters are compatible with every android device and should be verified it works with your device.

While most will not have any problems the chipset in the adapter and the phone/tablet must be compatible. Simply be sure an adapter will work with your android device before getting one.
*This post contains affiliate links which at no cost to you allows us earn a commission on product purchases.

Here is an OTG to Ethernet Adapter on Amazon
Plugable USB 2.0 OTG Micro-B to 10/100 Fast Ethernet Adapter Compatible With Windows Tablets & Raspberry Pi Zero (ASIX AX88772A chipset)


Most android devices simply need to be plugged in and will automatically connect. Be sure to turn off your WiFi to know for sure it is only on Ethernet.


Some devices require it to be in Airplane mode in settings and depends on the ROM.

Summary
Hooking an android smartphone or tablet to an Ethernet line is easy to do, with android Marshmallow or higher.

While most will not have any issues the phone or tablet must have the drivers for the chipset in the Ethernet adapter to work.

Every manufacture customizes android for their devices and may remove or add drivers.

Simply be sure to read the specs of an adapter and the reviews to be sure it works with your android smartphone or tablet.