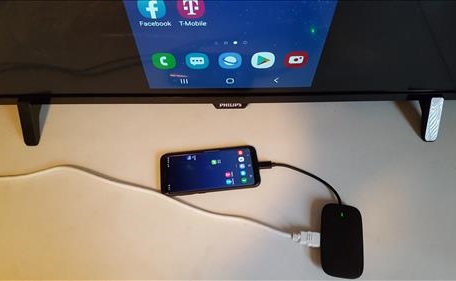 The new USB-C port comes built-in to most new devices and is often the only port available.
This includes new Android devices from smartphones to Android TV boxes.
Like any device with a USB-C port, older ports are often no longer available to use.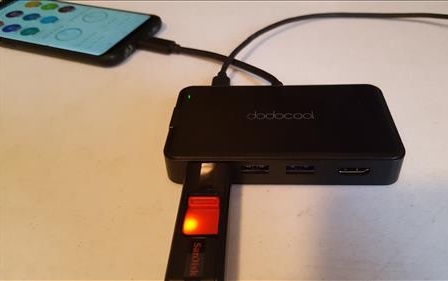 This is an easy fix with a USB-C Hub which adds all the older type outputs and inputs.
Ports that can be added include HDMI, VGA, Ethernet, Old USB standards, SD-Card, or most any port that can be thought of.
What is USB-C?
USB Type-C is the new standard port used on new Android smartphones and other devices.
It has a small oval shape that may look similar to the older micro-USB but has many improvements.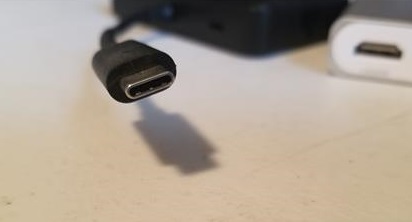 Type-C plugs can not only be used to charge a smartphone but also can carry audio, video, and data.
For example, with a low-cost adapter, they can display 4K video or even the older VGA video standard.
They can also connect to an Ethernet cable for a wired internet connection or transfer data from a flash drive, and much more.
What is a USB-C HUB?
A USB Type-C Hub has many older style inputs and outputs that are converted to the Type-C port.
While Type-C is much faster and more advanced than older dedicated ports, most devices from TV and monitors to USB flash drives still use the older style ports.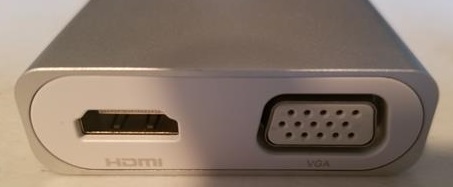 A Type-C Hub gives a central location to plug in any of the older style interfaces and convert it to Type-C.
This can be handy in many scenarios, such as using a smartphone to display a video on a 4K TV or simply copying files from an old flash drive.
There are many units available, with some of our favorite picks below.
As always, be sure to read the reviews on Amazon, forums, here, or elsewhere to be sure an adapter is a good fit for you.
*This post contains affiliate links.
Our Picks for the Best USB-C Hub for Android Smartphones
QGeeM M7VC01 USB-C 7 in 1

This unit from QGeeM has seven ports, including USB 3.0, SD-Card, and HDMI for video.

It can also display a video stream at 4K@30Hz (3840 x 2160) resolution.

The QGeeM M7VC01 is a good basic unit with many add-on ports that makes for a good hub.

AUKEY USB C Hub 8-in-1 Adapter

This unit from AUKEY has eight ports, including USB 3.0, SD-Card, and HDMI for video.

The unit has three USB 3.0 ports, Standard SD-card, Micro SD-card, and HDMI video.

Power can be taken from a smartphone making it a good portable unit to quickly copy files when needed.

It also has an HDMI output port that can display 4K video to a monitor or TV.

This makes it a good unit for presentations or any time a smartphone screen needs to be shared.

To view a smartphone on a TV in full screen be sure the Portrait mode is enabled.

The AUKEY C69 is a good unit to transfer media to an Android smartphone as well as displaying video to a TV or monitor.

The one downside is there is no external power port so a smartphone battery will slowly drain while in use.

For someone who needs a good portable unit to copy files or show a smartphone screen for a quick presentation, it is worth a look.

UGREEN USB Type-C Hub 6 in 1

This Type-C HUB from UGREEN has 6 ports including HDMI, USB 3.0, and Micro-SD card slots.

It works great with Android smartphones such as the Galaxy Note 10 and Samsung Galaxy S8, S9, and S10.

UGREEN is a known manufacturer of many USB communication devices with many well-built units.


ORICO ADS2 Type-C Smart Hub

The ORICO ADS2 is another good Type-C Smart Hub with 2 USB ports, HDMI, VGA, Lightning, and Ethernet.

It has no problems copying files from a flash drive or other media.

The HDMI port can output 4K video @ 30fps to an HD TV or use an older VGA video connector.


It works very well displaying an Android smartphone screen to a TV playing videos or showing pictures.

It also has an Ethernet port for when there is a weak WiFi signal.

AUKEY CB-C70

The AUKEY CB-C70 is a hybrid unit that is a HUB with a built-in Qi smartphone wireless charger.

It has HDMI, Type-C input/output, and 2 USB 3.0 Slots.

The unit works very well with Android as well as wireless charging if needed.


Dodocool 7 in 1 Type C Hub

Dodocool makes many good products including this Type-C USB Hub.

It has 7 ports including 3 USB, HDMI, VGA, and Ethernet.

The back of the unit has a USB-C PD port for power so as not to drain a smartphone's battery while using it.

This makes it a good unit for long use such as long presentations or watching a movie on a TV from an Android smartphone.

The HDMI port works very well and can output 4K video to a monitor or TV.

The unit also has a VGA output port for older monitors and TVs.

The Dodocool Type-C USB hub is a good unit for copying files or displaying HD video to a TV.

Since it has an external power port it doesn't drain the phone while using it and even charges it when plugged in.

If you need a unit for extended use over many hours the Dodocool is a good unit that is worth a look.
Summary
There are many good USB Type-C Hubs for android devices that come in handy in a variety of scenarios.
They can output 4K video to an HDTV or even to older standards such as SVGA.
They also make coping media from a flash drive or SD card easy for backing up or sharing files.
Each unit will have different ports, so be sure a unit has the ones you will need.
Also, keep in mind if an external power source will be needed for long-term use.
Most units can run from a smartphone battery, but this can quickly drain it and is only good for short amounts of time.
This may be good for copying files or a quick presentation, but for watching a movie, or other longer use, an eternal power source is good to have.
A Type-C hub can be a good option for turning a compatible smartphone into a nice media center, running games, playing videos and music, or simply being online.
Do you have a favorite Type-C hub for Android devices? Let us know in the comments below.