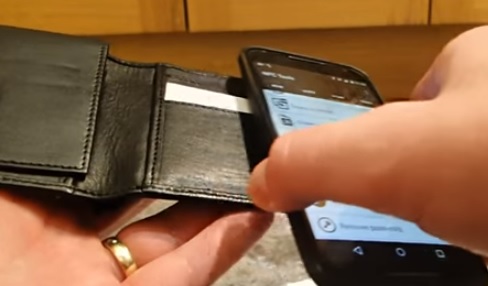 As most know, RFID (Radio-frequency identification) is installed on many credit cards, passports, and other forms of identification.
There have been numerous articles written about how unscrupulous individuals can copy this information and cause problems.
Keep in mind the vast majority of people will never have a problem with their RFID cards.
Most fraud with credit cards is still done with skimmers at restaurants, gas stations, and so on.
This means you are much more likely to have to fear the waitress at a restaurant than someone scanning the airwaves for your information.
With that said, RFID blocking wallets and sleeves are very low-cost items that do no harm and put those people who are worried minds at ease.
One very low-cost DIY solution is to use aluminum foil and wrap all your card in it. Using aluminum foil is a good short-term solution but can become problematic after using your cards a few times.
Here is a list of some of our favorite RFID blocking wallets and sleeves that combine functionality with security.
As always, be sure to read reviews on Amazon, here, or elsewhere to be sure a unit is a right pick for you.
*This post contains affiliate links.
Our Picks for Best RFID Blocking Wallets and Sleeves
Slim Leather Bifold Wallets For Men

Slim Leather Bifold Wallets For Men – Minimalist Mens Wallet RFID Blocking Card Holder With ID Window Box Gifts For Men

For those who like a bigger wallet Access Denied makes many good units.

This one has six credit card pockets plus a quick flip pocket, so the most used card doesn't have to be removed.

It is also rated to pass the US Government FIPS-201 security standard, which is a rating for government security personnel.


Aluminium RFID Blocking Wallet Case

Credit card protector, Aluminium RFID blocking credit card wallet, protect credit cards, business cards, slim and lightweight protective sleeves

Small aluminum cases are another good option and come in a variety of styles and colors.

Their lightweight and compact design mean you can take it wherever you go and have peace of mind that your credit and debit cards are safe.

An accordion-style design separates your cards, allowing you to view them at a moment's notice and choose what you need when you need it.

Aluminum RFID Wallet cases are conveniently flat, allowing one to fit in your pocket or bag when you're on the go.


Farley iPhone XR Executive Wallet Case

Olixar Farley iPhone XR Executive Wallet Case – PU Faux Leather – RFID Blocking – Slim Protective Cover – Card Storage Slots – Leather Style – Black

A number of us use our phone cases to store cards as it's very convenient.

The Farley is one such unit that gives great protection to your handset.

It has two RFID blocking card slots for quick access.

I really like the style of the integrated card storage and it looks perfect regardless of where you go. It is also easy to get to those important cards at a moment's notice.

The Farley allows you to have peace of mind that your cards are safe, plus you can also keep your phone safe from bumps knocks and scratches.


RFID Blocking Sleeves

RFID Blocking Sleeves Credit Card Holder,6 Set-Premium Identity Theft Protection-Smart Slim Design fits Wallet/Purse

Using an RFID blocking protection sleeve is quite possibly the cheapest and most simplistic option available.

The sleeve keeps those important cards secure at all times.

They are incredibly slim, meaning you can fit them into any card slot with no issues.

One thing I really like about this is you aren't limited to where you can store your cards; you can keep them in your pocket bag, wallet, and even in the back of your phone case.

This is definitely the perfect option for anybody wanting to add some security to their wallet without having to replace it.

Travelambo RFID Blocking Wallet

Travelambo Front Pocket Minimalist Leather Slim Wallet RFID Blocking Medium Size

The Travelambo RFID blocking card holder wallet is a nice option and provides solid all-around protection for your cards.

It offers the convenience of storing bills as well as a little pocket for cards.

It is a minimalist design and can fit into a front pocket as well as a back pocket.

The wallet is lined with the special RFID blocking material meaning readers will not be able to access your cards when you're out and about.

The storage and level of protection you get with this are incredible, all while sporting a stylish and sophisticated look.
Summary
For those worried about electronic pick pocketing, there are many protection methods, from home DIY methods to low-cost options.
Testing your cards can be done easily for those with smartphones by downloading one of the many RFID reading apps such as NFC Tools.
Of course, a malicious person will have better tools, but using an RFID reader app can give you a good idea if a product is working or not.
Having a protective wallet or sleeve is not a guarantee against your information being stolen but does add a layer of protection.