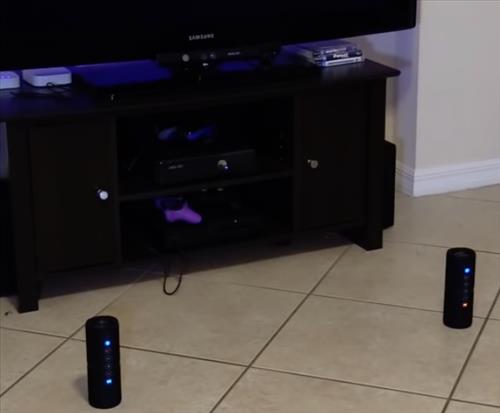 Connecting wireless speakers to a TV can be done easily with the right hard hardware.
Bluetooth is the main way sound is wirelessly broadcast to speakers, but other options are also available.
This means that a Bluetooth speaker will likely be needed along with a signal from a TV.
While not common, some TVs may have Bluetooth built-in, so be sure to check.
Can I Add Wireless Speakers to My TV?
Yes, wireless speakers can be connected to a TV with a Bluetooth Transmitter.
Most Bluetooth Transmitters connect to a TV with a 3.5mm headphone jack or component audio output ports.
They then Pair to Bluetooth speakers playing the TVs sound wirelessly.
How To Install and Setup a TV with Wireless Speaker Method #1 (Bluetooth Transmitter)
Connect a Bluetooth Transmitter to the TV audio output.
Add power to the transmitter if needed.
Pair the Transmitter with Bluetooth Speakers.
Using a low-cost Bluetooth transmitter is the most common way to transmit sound wirelessly from a TV to speakers.
A Bluetooth transmitter converts a TV's output to a wireless signal.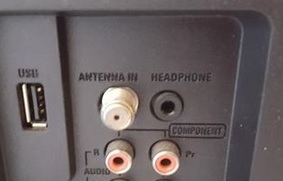 The unit hooks to the component out or the headphone jack on a TV.
The transmitter Pairs with speakers wireless sending audio.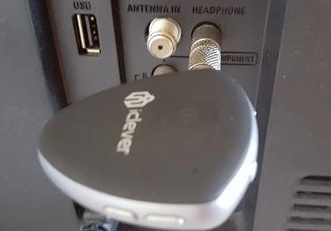 There are several different TV Bluetooth transmitters to fit almost any TV.
Read Here for Our Picks of Best Bluetooth Adapter for a TV.
Example TV Bluetooth Transmitter Receiver on Amazon


Connect Wireless Speakers to a TV Method #2 (Fire TV Stick)
If you have an Amazon Fire TV Stick it has Bluetooth built-in and can broadcast to wireless speakers.
This is a good option for those who use a Fire TV Stick a lot to watch content.
Here are the steps to Pair a Fire TV stick to a Bluetooth Speaker.

How To Setup a Bluetooth Speaker With the Amazon Fire TV Stick
Paring a Bluetooth speaker with the Amazon Stick is easy.
Go to Settings and Controllers & Bluetooth Devices.

Select Other Bluetooth Devices

Select Add Bluetooth Devices

The Fire Stick will then go and search for any Bluetooth device within range. Simply select the unit to automatically Pair.


Most Bluetooth speakers will automatically be ready to be paired when powered on.
Summary
Playing audio from a TV to wireless speakers is easy enough to do with the right hardware.
Adding a Bluetooth Transmitter to a TV is the most common method.
Be sure to see what audio output ports your TV has to buy the right adapter for your set.
As always be sure to read the reviews on Amazon or elsewhere to be sure a unit is a good fit for you.