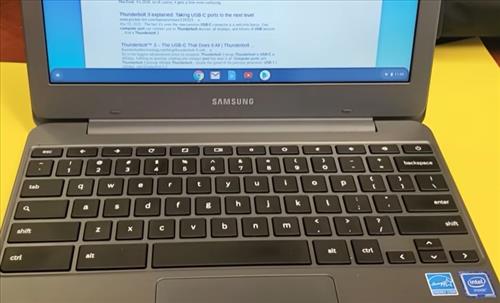 If you are a Chromebook user and are having difficulty copying and pasting text, it is quick and easy to do with a few keyboard shortcuts.
The two main keyboard shortcuts are CTRL + C (Copy) and CTRL + V (Paste).
The text will need to be highlighted so it can be copied, which is usually done by double clicking quickly on the touch-pad.
Text can also be highlighted by using two fingers, one to hold the text, and the other to scroll, which will highlight the text to be copied.
Alternatively, using the keyboard shortcut CTRL + A will highlight all the text on the given page making it easy to copy.
Chromebook Copy and Paste Keyboard Shortcuts
How To Copy and Paste on Chromebook
Highlight the text to be copied by double clicking it with the touch-pad.

Press the keyboard keys Crtl and C at the same time to Copy the text.

Open the page the text is to be copied to.

Press the keyboard keys Crtl and V at the same time to Paste the text.
Summery
Copy and pasting is a necessary part of using any computer when text needs to be moved from one document to another.
Using the keyboard shortcut keys is the usual fast and easy way to copy the text on a Chromebook.
Editing software such as Google Docs or Microsoft Word will usually also have copy and paste commands in the menu bar.
Highlighting the text can require a bit of practice but is done with the touch-pad by double tapping the text or using two fingers, one to scroll and one to hold.
Do you have a favorite way to copy and paste text using a Chromebook? Let us know your thought below.