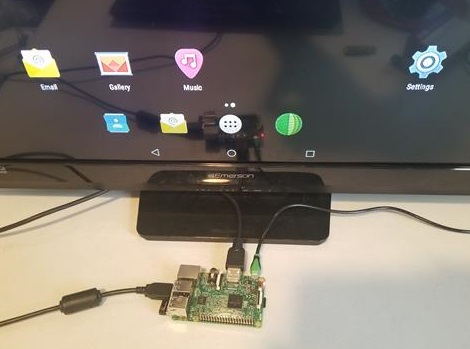 The Android Operating System has been slow to come to the Raspberry Pi even though it uses an ARM CPU.
There are a packages floating around that can be installed to a Pi and have Android up and running.
I have tried many of them in the past with varying success.
Recently, I went looking again for an Android OS version to install to the Pi 3 and came across a nice Build from konstakang.com.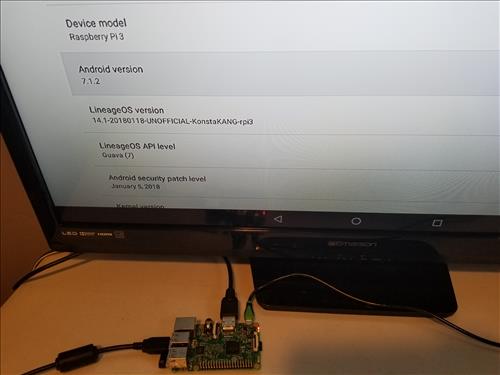 It runs a modified versions of LineageOS 14.1 (Android 7.1.2) setup for the Raspberry Pi 3.
It comes with a basic install of a Browser, File folder and a few other Apps.
The Play Store is not installed which was fine by me since I load the APK from sites such as T-TV or Kodi.
After installing the Android Build from Konstakang I downloaded and installed T-TV and it all worked very well.
Kodi is also very popular and can also be installed using a package installer such as OSMC which may be easier if only Kodi will be used.
Running Kodi and T-TV on the same OS is nice to have and switching back and forth is the best scenario.
Read Here for How To Install Kodi to a Raspberry Pi 3
Of course, many other Apps can be used and installed since it is the Android 7.1.2 OS.
Below is the steps I used to load Android to the Raspberry Pi and T-TV.
How To Install the Android OS To a Raspberry Pi 3
The first step is to download the LineageOS 14.1 Android 7.1.2 Build from konstakang.com which has the Download link.

Go to the page page scroll down and Download the newest version here. https://konstakang.com/devices/rpi3/CM14.1/


After the file is download it will need to be Extracted to get to the Image file.


If you are using Windows simply right click on the Downloaded File and click Extract ALL.

Once the Image file is unzipped it can be written to a Micro SD-card the Pi uses.

Image writing software is used to write the package to a SD-Card. If you already have Image software use it.

If you dont have any Win32 Disk Imager is a popular free version that can be used.

To use it simply load the Extracted Android Image File and Write it to an SD Card.

Any SD-Card 8-32GB in size will work.

Download Win32DiskImager Here https://sourceforge.net/projects/win32diskimager/

Once the Android Image file is written to the SD card remove it and insert it into the Raspberry Pi.




Plug everything in and a boot logo will display on the screen for a bit. Let it run until the main screen comes up.
Installing T-TV to the Raspberry Pi 3
T-TV is a popular APK that streams movies and TV shows.
The links for it go up and down and can change.
The link I installed from is
Simply open the default Android Browser, go to the Download page, and Download the T-TV APK.
It should open and ask to install. If it doesn't automatically ask to install open the File Manager go to Downloads and click it to install.